Easy Cranberry Fluff Recipe
Susan Olayinka/Mashed
Cranberries are a curious kind of fruit. Throughout most of the year, we tend to consume them either in the form of juice or else in dried "craisin" form. For just one short season out of the year, however, fresh cranberries finally come into their own. Thanksgiving dinner, of course, would not be complete without cranberry sauce, but cranberries, much like pumpkins and their pies, manage to find their way out of their signature dish and into a variety of other side dishes and desserts. We love cranberry bread, cranberry scones, and cranberry muffins, but we'd never tried cranberry fluff before being introduced to this dish by recipe developer Susan Olayinka of The Flexible Fridge.
Olayinka says this unusual dessert "is so good!" What she likes best about this recipe is "the simplicity and the fact that it uses ingredients that you wouldn't usually put together." Once you try it, you'll see what all the fuss is about. In fact, you may even have a new go-to dessert that will have you buying and freezing fresh cranberries to use throughout the year.
Gather the ingredients for cranberry fluff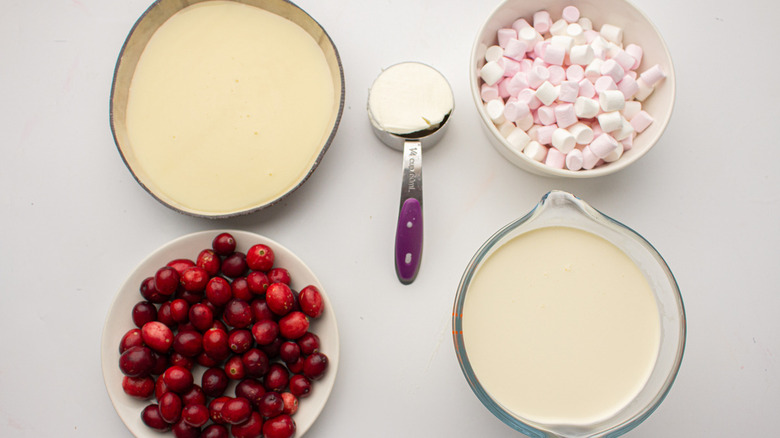 Susan Olayinka/Mashed
Don't you just love recipes that don't have a mile-long list of ingredients? To make this recipe, you can count off the ingredients on one hand: cranberries (fresh, not dried), heavy (aka whipping) cream, cream cheese, sweetened condensed milk, and mini marshmallows. That's it!
We have a couple notes on the last two ingredients. Olayinka's recipe calls for 1 ½ cups of sweetened condensed milk, but this is approximately the contents of the standard-sized 14-ounce can. If you have a tiny bit more or less, in a recipe like this one, the exact amount isn't crucial, so you should be okay using the entire can. Also, from the pictures, you can see that the marshmallows Olayinka used were pink and white. She does note, however, "They're not flavored — they both taste exactly the same."
Prepare the cranberries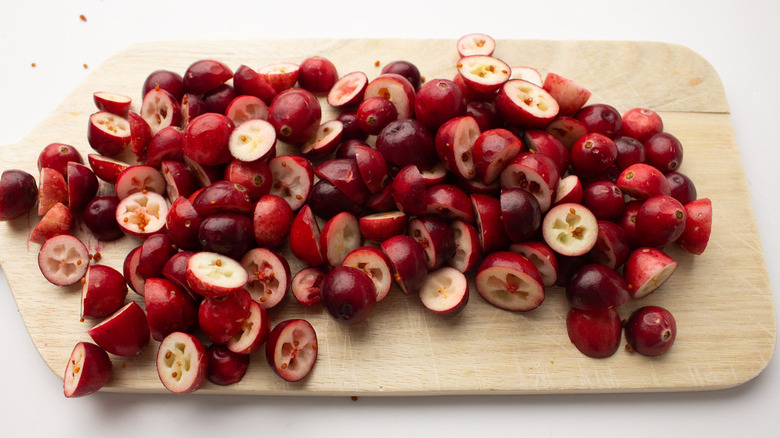 Susan Olayinka/Mashed
As you'll be starting with fresh cranberries, you'll need to rinse them in cool water before using them. You can also use cranberries that have been frozen, but you will need to thaw them first. Do so in a colander in the sink, that way any excess moisture will drain away. If you've bought cranberries in a standard 12-ounce bag, you'll be using about half the bag for this recipe. Slice each cranberry in half, then move on to the next step.
Whip the cream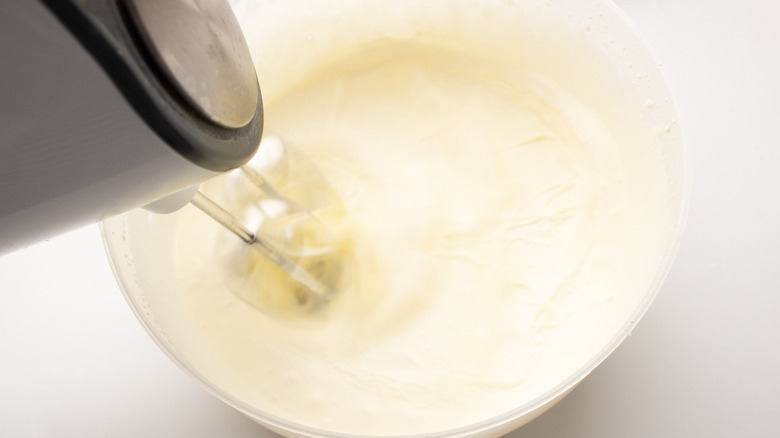 Susan Olayinka/Mashed
This step involves making whipped cream. This is easier if you've had the foresight to chill not only the cream, but also the beaters and even the bowl. You'll need to beat the cream until it forms stiff peaks, meaning that when you remove the beaters, the pointy little "mountains" of cream will hold their shape without drooping. Be careful not to over-whip the cream, though, as it might become grainy or even curdle if you beat it too long.
Mix in the rest of the ingredients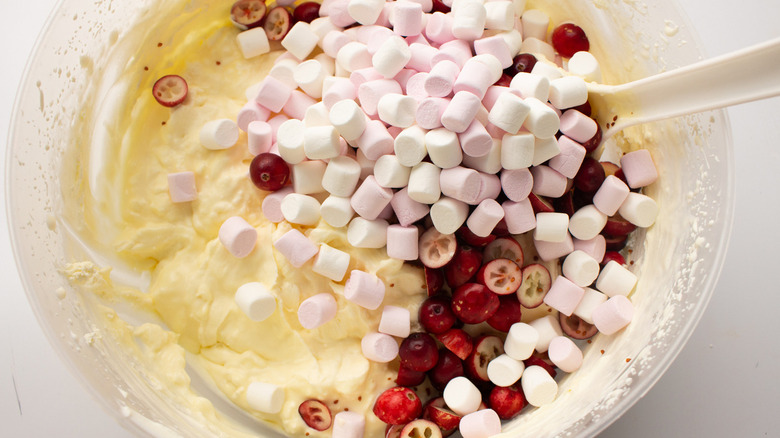 Susan Olayinka/Mashed
Once the cream is whipped, mix in the cream cheese along with the condensed milk. If you are using a stand mixer, these can pretty much handle anything. If you're using a hand mixer or giving your arm muscles a workout by using a whisk, though, it will be a lot easier to add the cheese if you let it soften at room temperature first.
Once all of the dairy products are thoroughly combined, gently fold in the cranberries and the marshmallows. Chill the cranberry fluff before serving.
Olayinka remarks that this dish "is served at the end of quite a big meal as it's quite light." If you'd like to top off your cranberry fluff, she suggests additional chopped cranberries or chopped pecans or other nuts.
Easy Cranberry Fluff Recipe
Once you try this delicious cranberry fluff recipe, you'll see what all the fuss is about.
Ingredients
1 ½ cups fresh cranberries, sliced in half
2 ½ cups heavy cream
¼ cup cream cheese
1 ½ cups sweetened condensed milk
2 cups mini marshmallows
Directions
Slice the cranberries in half.
Whip the heavy cream in a large mixing bowl until it forms stiff peaks.
Mix the cream cheese and sweetened condensed milk with the whipped cream until thoroughly combined.
Mix the cranberries and mini marshmallows into the fluff.
Chill the cranberry fluff before serving.
Nutrition
| | |
| --- | --- |
| Calories per Serving | 1,030 |
| Total Fat | 70.1 g |
| Saturated Fat | 43.4 g |
| Trans Fat | 0.0 |
| Cholesterol | 258.8 mg |
| | |
| --- | --- |
| Total Carbohydrates | 92.5 g |
| Dietary Fiber | 1.9 g |
| Total Sugars | 83.1 g |
| Sodium | 276.0 mg |
| Protein | 13.6 g |