The Worst Applebee's Burger According To 42% Of People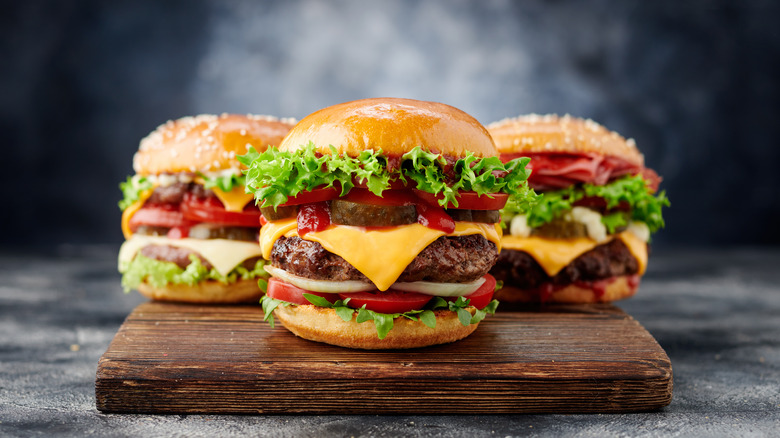 ER_09/Shutterstock
Applebee's is a chain restaurant to the point where, once you're inside, it may be difficult to remember whether you're in an Applebee's at all, as opposed to a Chili's or even a TGI Fridays. At least you won't mistake it for a Bennigan's, since those are pretty much gone by now. True to form for its essentially generic nature, Applebee's doesn't really have what you'd call a signature dish, unless you want to count those $1 margaritas. Of course, there's the standard range of bar snacks and appetizers available to help you soak up all the booze (not that there's much of it in those Dollaritas, as per Applebee's infamous drink-watering scandal). If you want something more substantial, Applebee's menu stretches so far as to cover chicken, pasta, salad, and, of course, "handcrafted burgers."
Not all burgers are created equal, however, and Applebee's is no Red Robin. They do offer a small range of specialty burgers including a classic burger, classic cheeseburger, classic bacon cheeseburger, quesadilla burger, and whiskey bacon burger, although this last item appears not to be featured on the menu at present. Mashed put out the call to render a definitive verdict on which of these burgers is not worth your while. 604 people responded, and when all the votes were in, we had a clear loser.
The quesadilla burger is perhaps too indulgent
When it comes to Applebee's burgers, it seems basic is best, as the least-disliked offerings were 2 classics: the cheeseburger (deemed least favorite by 5% of voters) and the bacon cheeseburger (8%). The just plain classic burger was a bit too plain and classic, however, as it was unpopular with nearly one quarter of respondents, giving it a 2nd place finish in our poll. The whiskey bacon burger did so-so, polling right in the middle of the pack with 20% of the vote.
The big loser, reviled by a whopping 42% of pollees, was the quesadilla burger. The menu description makes this mashup sound pretty tasty — basically, it's a bacon cheeseburger wrapped in a tortilla and topped with pico de gallo and spicy ranch. The calorie count, though, is a shocker: 1630! Lunch Blog KC called it "the culinary equivalent of the Applebee's 'a garage sale exploded in a '70s parlor' décor'" that "gives the finger to fine dining." They acknowledged that the burger itself was greasy, but ultimately did enjoy the taste. Another Applebee's customer complained on Trip Advisor that the burger doesn't come with extra salsa or sour cream like the chain's actual quesadillas do, which is a fair critique, especially considering how hefty the patty looks.