Food Signifies More In The Great Than You Might Have Thought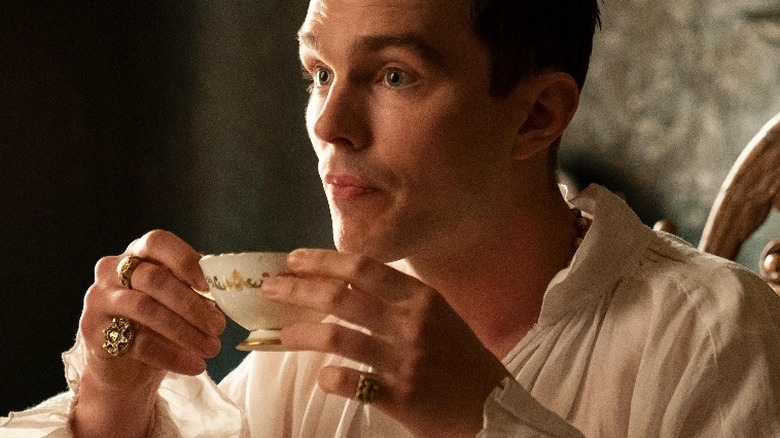 Hulu
Season 2 of Hulu's "The Great" is serving hedonism on a platter by featuring decadent food displays and hunger-inducing menus that have fans' stomachs grumbling. The dramedy created by Tony McNamara follows the luxurious lifestyle of Catherine the Great and her husband, Peter III, as they rule Russia and indulge in all things royal, including lavish feasts and fancy food. 
According to Eater, McNamara sees the character, Peter, as a "frustrated foodie who was born into the wrong job" whose obsession with delicious foods would likely make him an award-winning chef by today's standards. According to Vulture, Nicholas Hoult, who plays the part of Peter, makes every effort to keep it real on set and has tried most of the Russian cuisine prepared for each episode. He has even gone as far as eating roasted squirrel.
Season 2 also finds Catherine pregnant, which has caused a power shift that gives her the upper hand over Peter. While she is concerned with fulfilling her odd pregnancy cravings, the king is comfortable eating and overindulging in exotic fare while plotting his next move. McNamara discusses that Peter's hedonistic approach to food signifies an insatiable appetite for power and says, "He'd hate to be hungry because he's an emperor and he's never had to go hungry."
The Great characters have an emotional connection to food
When asked about the focus on Peter's infatuation with food in "The Great," McNamara tells Eater, "Mostly, he's obsessed with food because I'm obsessed with food," noting that he grew up in a family that loves food, wine, and the emotional connections made at mealtime. The characters in the show each have their own relationship with food that mirrors their individual approach to life. 
The royals' gluttonous eating habits, excessive libations, and preoccupation with food highlight the glaring disparities between the haves and the have-nots under a serf system. McNamara says, "I think the way people consume or don't consume food is often a telling aspect of their personality." Each character has a different interest level and approach to food that gives viewers a sense of their identity, how they rule, and how they interact with each other. 
The mouth-watering dialogue, elaborate feasts, and focus on food in Season 2 of "The Great" imparts an understanding of royal privilege through culinary excess that has viewers hanging on every bite.