Is Dunkin' Open On Christmas 2021?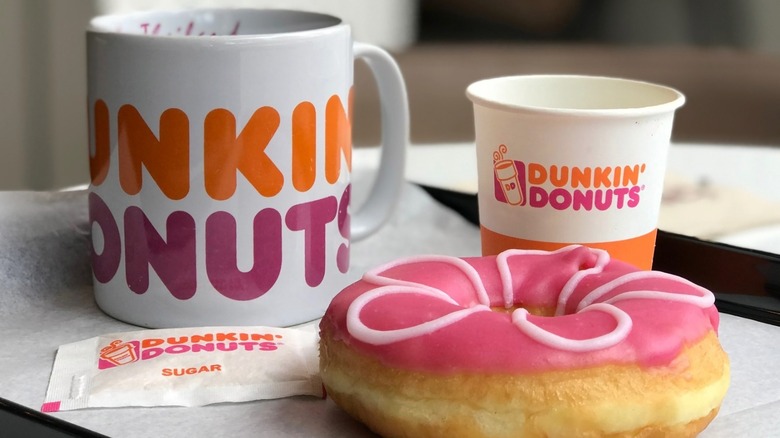 pancha.me/Shutterstock
As the slogan goes, "America runs on Dunkin'." You can find the familiar pink and orange sign in almost every city in the U.S. The popular chain is of course known for its donuts (the treats were formerly called out in the name), which it sells some 2.9 billion of every single year worldwide, according to a 2018 press release. On the menu you'll find everything from classic glazed or strawberry frosted with sprinkles, to filled donuts like the Boston kreme, to French crullers. But Dunkin' is also just as popular with fans for its coffee as it is its doughy delights. The brand reports it sells 1.8 billion cups of the stuff — both hot and iced — each year, and it brews a new pot every 18 minutes (via Dunkin').
As it primarily deals in what most consider to be breakfast fare, Dunkin' locations typically open early in the morning. Closing hours on the Dunkin' website vary, but in general you can expect them to be open till at least mid-afternoon, if not later in the evening — and some locations are even 24 hours! But is the popular fast food chain going to be open on Christmas 2021? Here's what you need to know, and whether or not you can visit Dunkin' on Christmas Eve and Christmas Day. 
Select Dunkin' locations will be open on Christmas Eve and Christmas Day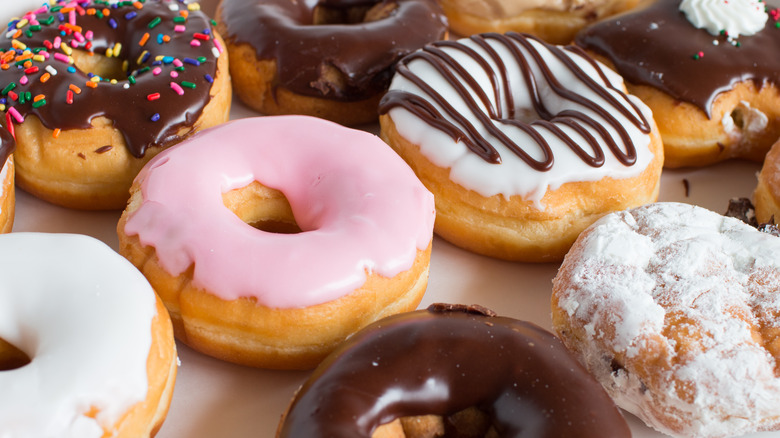 Busara/Shutterstock
If you're craving something from Dunkin' on December 24 or 25 of this year (whether it be an extra large iced coffee to help you survive the present-opening chaos or a box of glazed donuts to take home to the fam) you may be in luck. While hours vary from store to store, many Dunkin' locations will likely be open on both Christmas Eve and Christmas Day.
But not so fast: "While many Dunkin' locations will be open on Christmas, we encourage our guests to check the Dunkin' Mobile App to confirm if their local store is open before visiting," a spokesperson from the national chain told CountryLiving.com.
If you're not exactly app savvy, you can also call ahead to find out if your nearest Dunkin' is open and what their hours are, as the holidays may result in shortened hours. The Pioneer Woman cautions that some locations may even be fully closed on Christmas Day, so there's a chance you may need to settle for a home-brewed cup of joe, or at least wait until December 26 to hit up the drive-thru.