Basic Sweet Bread Recipe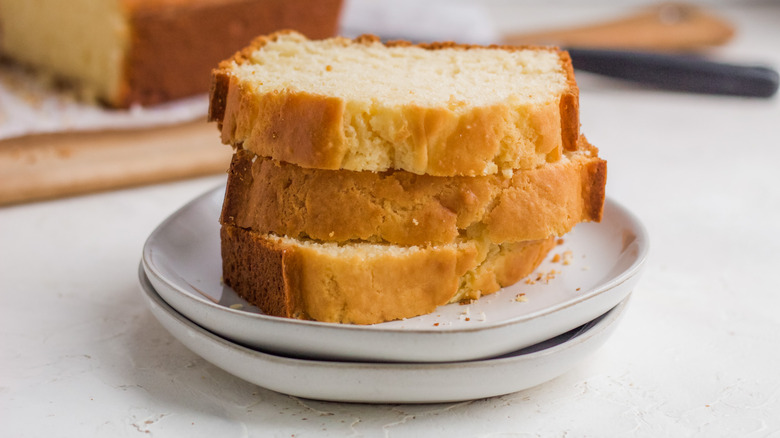 Jaime Shelbert/Mashed
When it comes to bread, there are hundreds maybe even thousands of varieties that you can try. While white bread has to be one of the most popular, it's pretty basic and can be fairly bland if you ask us. This recipe for sweet bread kicks up your standard bread a notch, and it's incredibly easy to prepare, making it a win in more ways than one. Recipe developer Jaime Shelbert of Wholly Nourished came up with this recipe and it's one of our new favorites. 
There is a whole lot to love about it, but Shelbert says it best: "I love how customizable this recipe is. It is your basic sweet bread recipe so you can enjoy it as is or you can change it up by swapping the extract to almond, lemon, etc.," she shares. She adds, "You can dress it with a glaze or add nuts. There are so many options." We love a piece of bread that is not only tasty but super versatile because there are endless possibilities when it comes to serving it. If you're interested in trying this tasty bread, keep scrolling and we'll walk you through the process. Trust us — it will not disappoint.
Gather the ingredients for this basic sweet bread recipe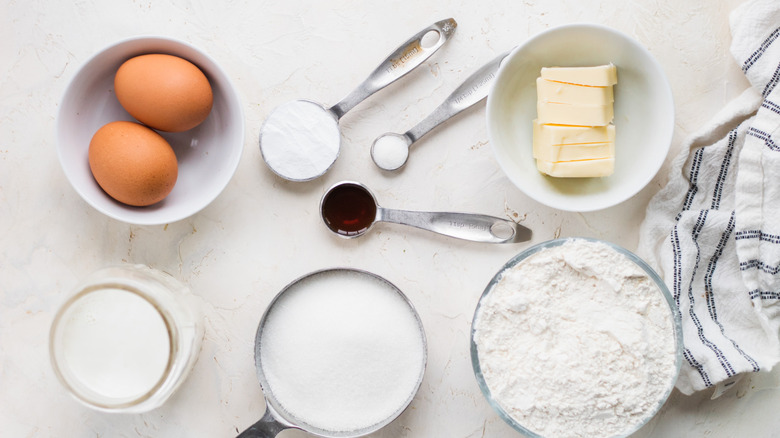 Jaime Shelbert/Mashed
To begin, make a list of ingredients that you will need to bake this bread. Luckily, there are only a few items, which makes it simple and affordable. Start your trip to the grocery store with a stop in the baking aisle and add all-purpose flour and baking powder to your cart. You will also need some salt, which is common in most baking recipes. Then, be sure to pick up some milk and unsalted butter. To add sweetness to this basic bread, get vanilla and granulated sugar. Last but not least, be sure to pick up a pair of eggs.
Prep the loaf pan, and mix the dry ingredients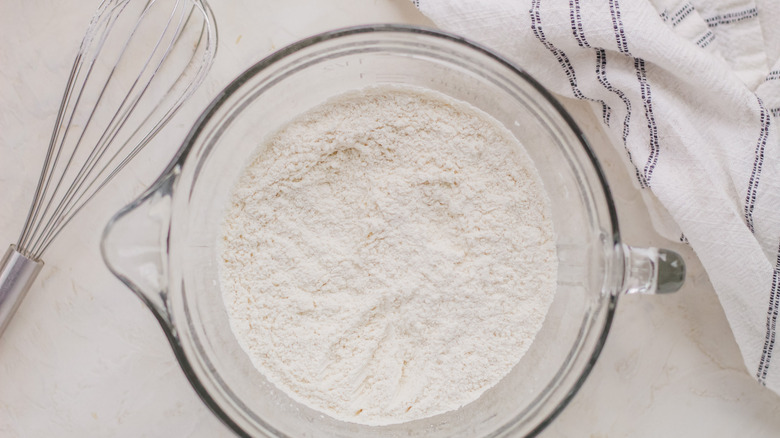 Jaime Shelbert/Mashed
Since this recipe requires the use of an oven, set the dial to 350 F and let it get nice and hot while you tend to the rest of the prep work. Next, take out a loaf pan and spray it with nonstick spray to prevent the bread from sticking. 
Then, take out your favorite medium-sized mixing bowl. Toss in the dry ingredients, starting with the all-purpose flour. Then, add the baking powder followed by the salt. Whisk the dry ingredients well so they are incorporated. This will only take about a minute or so. "I use a whisk because I feel like it incorporates the ingredients quicker, but a spoon is completely fine," Shelbert shares.
Add in the remaining ingredients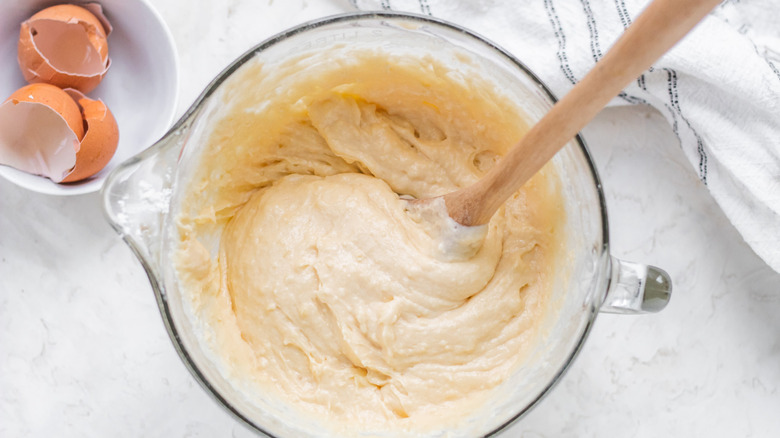 Jaime Shelbert/Mashed
After combining all of the dry ingredients and whisking well, it's time to add in everything else. This includes the cup of milk and unsalted butter (remember you should have melted this ahead of time). Then, add the vanilla, granulated sugar, and two eggs. Mix everything well to incorporate the wet and the dry together. It should only take about a minute or so if you're doing it by hand. Alternatively, you can use something else to mix. "You can absolutely use a power mixer but just be sure not to over mix," Shelbert shares. The mix will still be a bit lumpy, but that's totally fine!
Pour the batter into a pan, and bake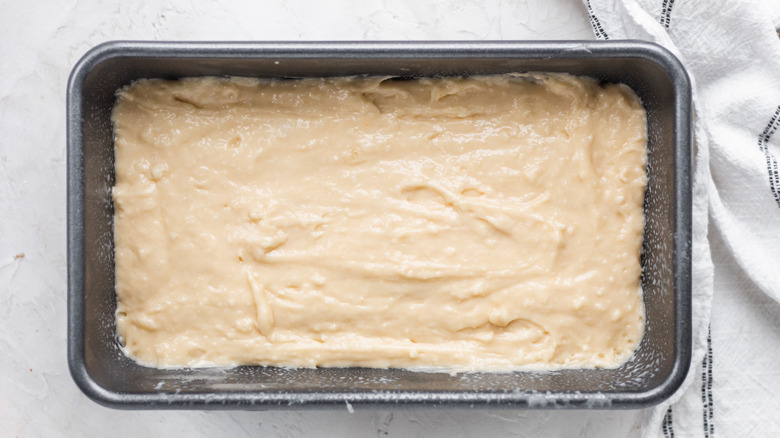 Jaime Shelbert/Mashed
Only a few more steps and you're well on your way to enjoying this delicious bread. Grab the prepared loaf pan and pour the batter in. Be sure to use a spatula to smooth the top to make sure that everything is even.
Then, pop the loaf pan into the oven for about 45 to 50 minutes, until the bread turns golden brown. You can also check doneness by inserting a toothpick in the center and seeing if it comes out clean. If it does, that means the bread is good to go.
Let the bread cool, and enjoy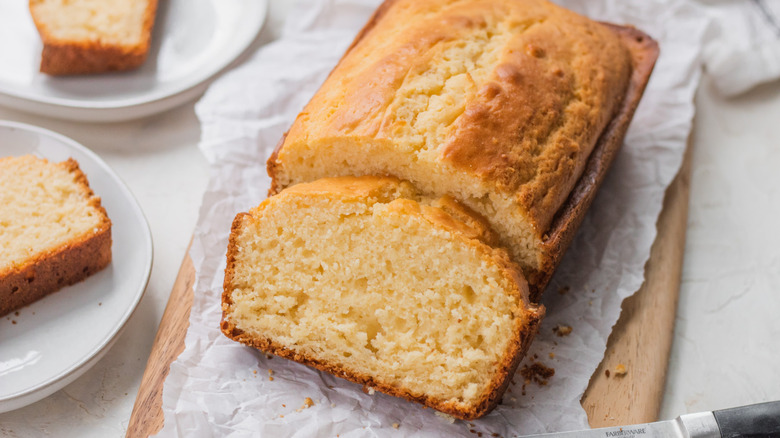 Jaime Shelbert/Mashed
Once you take the bread out of the oven, you will need to wait just a few more minutes for it to cool. This bread is great on its own, but would also go well with a few other items. "Coffee or tea are great accompaniments to this sweet bread," Shelbert shares. We also think that it would be wonderful with a glass of milk. If you have leftovers, don't throw them out! "Store up to 5 days in an airtight container or freeze for up to 2 months," Shelbert shares. 
Basic Sweet Bread Recipe
Ordinary white bread gets a makeover with this easy sweet bread recipe. Enjoy it with coffee or tea for breakfast or have it as a snack you're sure to devour.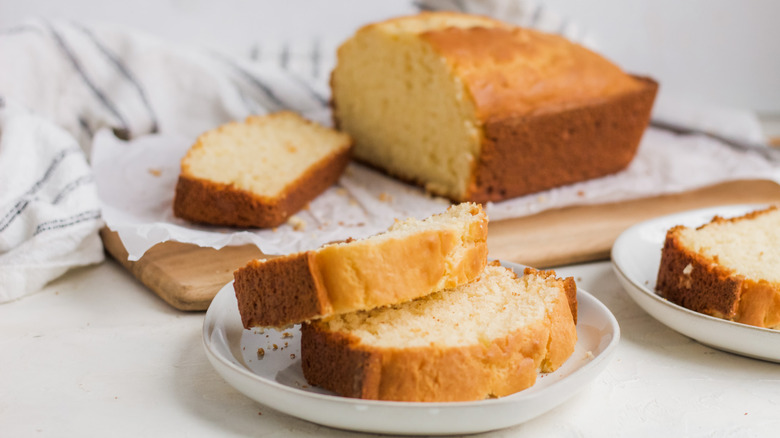 Ingredients
2 cups all-purpose flour
2 teaspoons baking powder
¼ teaspoon salt
1 cup milk
6 tablespoons unsalted butter, melted
1 teaspoon vanilla
¾ cup granulated sugar
2 eggs
Directions
Preheat the oven to 350 F and spray a 9x5 loaf pan with nonstick spray.
Add the flour, baking powder, and salt to a medium-sized mixing bowl and whisk to combine.
Add the remaining ingredients and stir for about 1 minute until everything is incorporated. It will be a bit lumpy, but that is okay.
Spread the batter evenly into the prepared loaf pan, smoothing the top with a spatula.
Bake in the preheated oven for 45 to 50 minutes until the top is golden and a toothpick inserted into the center comes out clean.
Cool before removing from pan.
Nutrition
| | |
| --- | --- |
| Calories per Serving | 299 |
| Total Fat | 11.0 g |
| Saturated Fat | 6.4 g |
| Trans Fat | 0.4 g |
| Cholesterol | 65.9 mg |
| | |
| --- | --- |
| Total Carbohydrates | 44.5 g |
| Dietary Fiber | 0.8 g |
| Total Sugars | 20.4 g |
| Sodium | 193.9 mg |
| Protein | 5.6 g |