How Trader Joe's Made Brie More Accessible In The US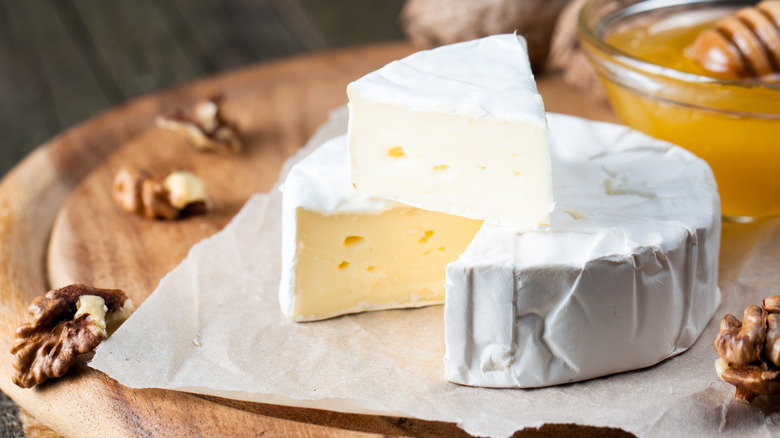 Jeny Che/Shutterstock
The '60s and '70s were exciting times in the grocery store world. Specialty and health food stores were popping up more and more in the United States, and as their numbers rose, so did their popularity, as The Orange County Register reports. One such store is still going strong today: Trader Joe's. The grocery chain exploded in the U.S. beginning with its flagship store in Pasadena, California, in 1967. Now headquartered in Monrovia, California, Trader Joe's has 530 locations. 
You likely know Trader Joe's for its range of unique in-house products that have cult followings, such as those in its bountiful cheese section. What you may not know is how one of the grocer's most popular cheeses, Brie, made its way onto Trader Joe's shelves — and how it forever changed the cheese offerings of many other supermarket chains thereafter. Continually rating high on many lists of the best cheeses at Trader Joe's, even clinching the number-one spot from Food52, Brie wasn't always a mainstay of American stores' cheese departments. We have Trader Joe himself, Joe Coulombe, to thank now that it is.
What is Brie?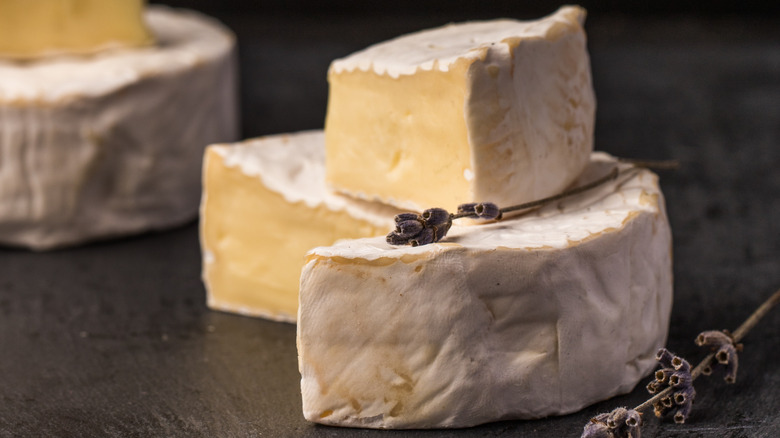 Liudmyla Kulias/Shutterstock
According to Cheese.com, centuries-old Brie is known to many as "The Queen of Cheeses" and at one point served as a tribute to be paid to French kings. If you've ever sunk your teeth into a piece of Brie, you can probably guess why. It's usually a cow's milk cheese with a firm, white rind and a gooey, creamy interior. Hailing from the Seine-et-Marne region of France, Brie is a soft, unpasteurized cheese that can come in many varieties.
Because of its mild flavor, Brie pairs well with almost anything. It's incredibly versatile and can be used in all sorts of different recipes, like the party favorite baked Brie, on a well-curated cheese board, or even in a bacon and apple panini, as Trader Joe's suggests. It's not hard to find a wheel or wedge of Brie to please any crowd, especially if you stop by the Trader Joe's cheese section to get it.
How Trader Joe's "cornered the market" on Brie
Patty Civalleri, who co-wrote Trader Joe's founder Joe Coulombe's autobiography, "Becoming Trader Joe," told The Orange County Register how the chain became the first to introduce Americans to Brie. "Joe was able to bring Brie to the stores because the American Dairy consortium wasn't allowed to regulate foreign cheese," she said. "And Joe was able to sell it for less than what grocery stores were charging for Velveeta." At the time, the two most common types of cheese in most U.S. grocery stores were cheddar and Swiss. When Coulombe's employee, Leroy Watson, traveled to Europe and experienced Brie for the first time, they knew they had to get other people to try it. When they did, they in turn helped start this country's love affair with Brie.
Of course, Brie soon became a popular pick for people who wanted to enjoy a delicious, more sophisticated type of cheese. As Jason Tesauro, author of "The Modern Gentleman: A Guide to Essential Manners, Savvy & Vice," told The New York Times, "It was the first imported cheese that we knew and we could pronounce." Today, Brie is still going strong — and not only at Trader Joe's. Another article from The New York Times reports that Murray's Cheese, which has been a fixture of New York's cheese culture since 1940, says that Brie has been a top-10 seller for decades.