How Cruise Ship Kitchens Are Different From Restaurant Kitchens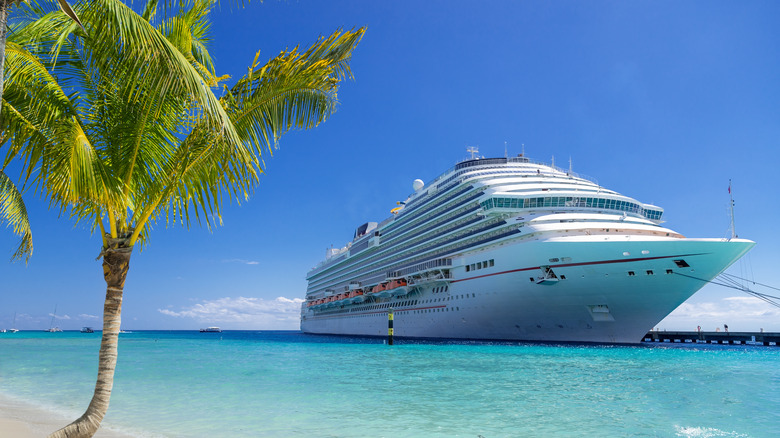 NAN728/Shutterstock
With entertainment including full casinos, Broadway shows, and even activities like glow-in-the-dark laser tag (via Royal Caribbean Cruises), it's not difficult to see why so many people choose cruises as a top vacation destination each year, per The Florida-Caribbean Cruise Association. And that's not to mention the food.
Cruises are known by many for their opulent buffets and impressive eateries. The 24/7, all-you-can-eat offerings are a huge draw for cruise-goers — but they're not so easy for companies to prepare. Cruises often have at least 100 times more diners to feed at a given time than a large restaurant does, which makes every successful dinner service a huge feat of planning and preparation. CNN reports that Royal Caribbean's Symphony of the Seas, which has a 6,600 passenger capacity, goes through 60,000 eggs, 9,700 pounds of chicken, and 20,000 pounds of potatoes on just a week-long trip. Restaurant cooking, in general, requires a lot of advance coordination, known as mise en place, and a kitchen on a cruise ship is no different in that way.
Cruise ship kitchens use different appliances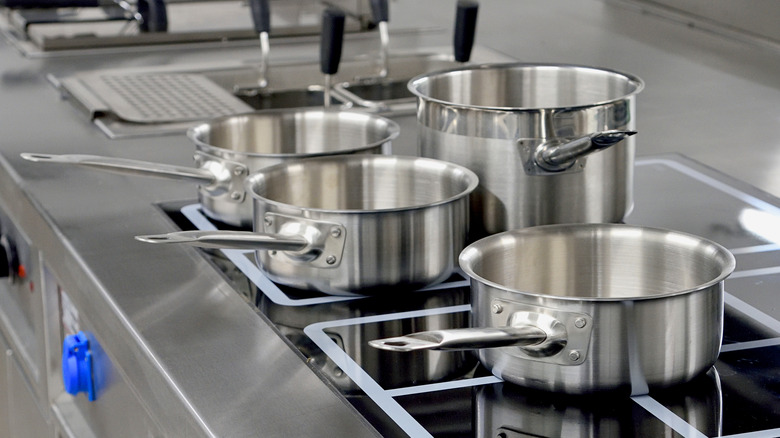 Radek Havlicek/Shutterstock
Cruise ship kitchens abide by many of the same practices as on-land restaurants, such as food safety guidelines and strict recipe testing, according to The Daily Meal. However, they differ in some key ways. For one, while many restaurants receive frequent deliveries of fresh produce, meat, dairy, and other items to keep up with the daily needs of service, this isn't the case for cruise ships, which are often at sea for several days at a time. Instead, the ship receives a delivery before it sets out, and ingredients are refrigerated or frozen and cataloged diligently for freshness and organization. Of course, on longer voyages, some ships are able to restock essentials when they make port during the trip.
Another obvious difference is that cruise ship restaurants have to scale up their recipes in order to accommodate a large number of passengers. According to the Royal Caribbean Cruises website, the company currently boasts the largest ship in the world with a capacity for a whopping 6,988 passengers and 2,300 crew members. This means that whatever is on the menu, there needs to be a lot of it.
Finally, perhaps the most important difference between a kitchen on a cruise ship and one on land, according to the American College of Culinary Language and Arts, is that there are no open flames on a cruise ship, as they would pose a fire hazard. Instead, food is cooked with electric stoves and ovens, rather than gas-powered appliances — except, of course, for the blowtorched sugar on crème brûlée.