The Connection Between Morton Salt And The Challenger Disaster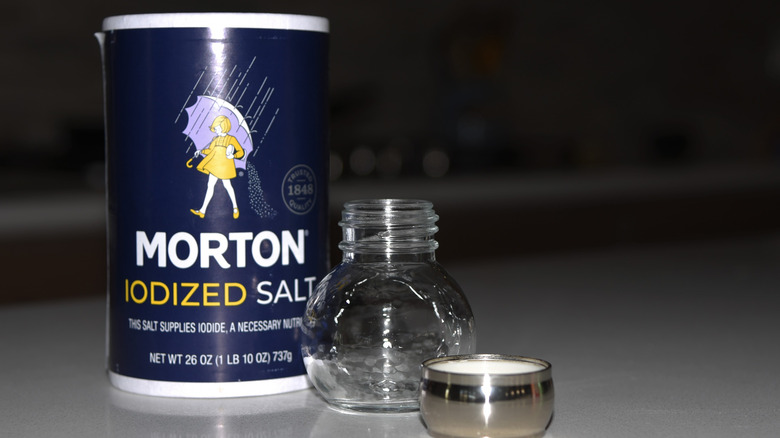 Thomas Trompeter/Shutterstock
In 1848, a Chicago man named Alonzo Richmond opened his new business, Richmond & Company, which acted as agents for the salt company Ondondaga Salt to sell their products in the Midwest. In 1889, the company was acquired by Joy Morton, son of Arbor Day founder Julius Sterling Morton, and renamed as Joy Morton & Company. In 1910, the company became the Morton Salt Company and eventually developed "free-flowing salt," a type of salt that didn't clump up due to humidity. In 1914, a little girl with an umbrella and a container of salt made her way into the public's heart. 
This is the history behind Morton Salt, per the company's website, one of the most famous food companies in the world, with its simple product — salt — now being found in almost every home.
In 1986, the Space Shuttle Challenger lifted off from NASA's Kennedy Space Center in Florida on live television, per NASA. But just 73 seconds later, the shuttle and the seven crew members onboard exploded into a fireball, with the tragedy broadcast to living rooms across the nation, noted the Rogers Commission Report.
So, what does Morton Salt have to do with the Challenger? How is an American salt company connected to one of the worst disasters in American history? The answer lies within the company's history, and a very brief merger that occurred in the 1980s.
Morton Salt was once merged with a rocket propulsion company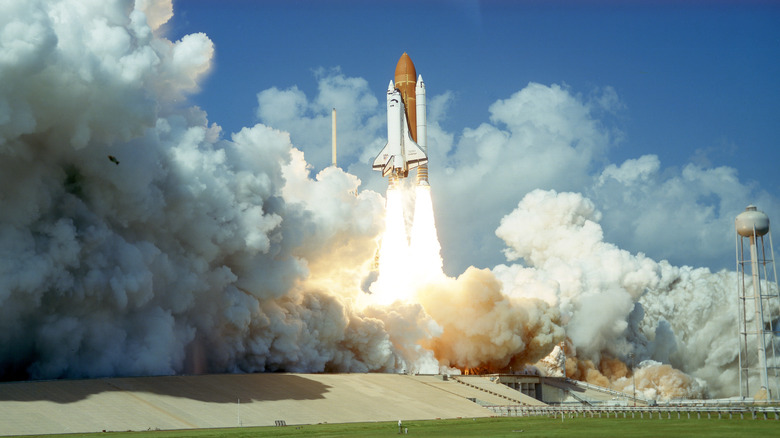 Print Collector/Getty Images
The Thiokol Corporation, in the 1980s, was a driving manufacturer of rockets and rocket-based propulsion systems, as well as chemical sealants and rubbers. Morton Salt produced, well, salt. Why did these two corporations partner up, despite both being in radically different fields? 
According to a 1982 article from The Washington Post, the partnership wasn't so much about the product, but rather the "chemistry" they share. The article explains that, much like how Thiokol's work involved the study of chemicals, Morton-Norwich's work involved the study of pharmaceutical chemicals and adhesives (via The Encyclopedia of Chicago). The merged companies would have a specialty chemical business totaling $600 million. With the profits from salt sales and rocket investments, the company could easily take over the chemical market.
"It really does make a tremendous amount of sense," said Morton-Norwich Chairman Charles S. Locke at the time of the merger. "It's a very strong company that's going to be able to finance anything within reason it wants to do."
Despite such grand optimism, the Morton-Thiokol relationship wouldn't last. Morton-Thiokol manufactured the booster rocket that was placed on the Space Shuttle Challenger despite objections from engineers, per a 1986 edition of The Harvard Crimson. Three years later, in 1989, Thiokol and Morton split, perhaps to rid themselves of any unfavorable publicity. Once again, Morton found themselves on the ground, selling salt instead of seeing stars.