Ree Drummond's Son Isn't 'Too Old' For This Sweet Christmas Tradition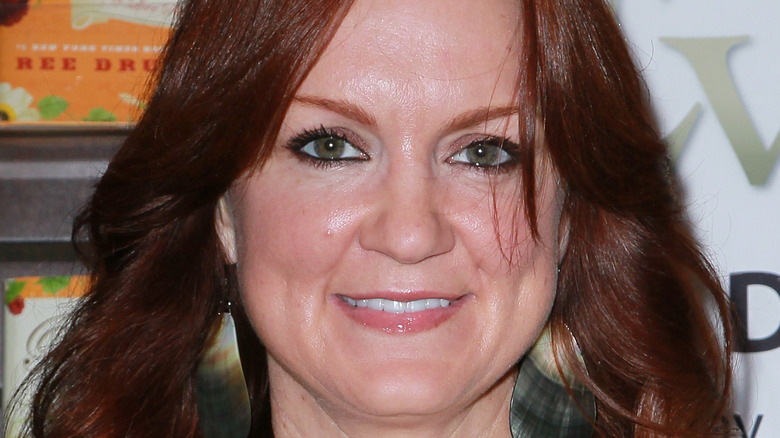 David Livingston/Getty Images
It's no secret that Ree Drummond — aka The Pioneer Woman — is passionate about and dedicated to her family. Drummond and her husband Ladd are parents to Alex, Paige, Bryce, and Todd, as well as to foster son Jamar. Alex, Paige, Bryce, and Todd grew up on the Drummond family ranch, and Drummond says they were "naturals on camera" when the Food Network first started filming in their home (via The Pioneer Woman website).
Recently, Drummond has been highlighting her son Todd on Instagram as he has followed in the footsteps of his older brother Bryce by playing quarterback on the Pawhuska High School football team. In addition to being a standout football player, Todd is also an avid skier, wrestler, and all-around talented athlete (via The Pioneer Woman website). Given his many talents, it's no surprise his mom is super proud of him and wants to brag about him any chance she gets. Isn't that what good moms do?
The big QB didn't pass up the Christmas pageant
Ree Drummond called her latest Instagram installment a "Todd Drummond appreciation post," writing about how much he trained and his impressive football stats alongside action shots of her son playing in a game and pics posing with her on the field afterward. "I'm sharing that not to brag, but instead to illustrate the heart this kid has for football, and the dedication he's shown every single day ... I couldn't be prouder of my youngest kid. Love you Todd," Drummond wrote.
Apparently, Todd is on a hot streak when it comes to impressing Mom, as one of Drummond's recent Instagram Stories featured him participating in a church pageant. "BTW Todd may be QB, but he's still not too old to be in the Christmas pageant," Drummond wrote in the post. She has passed down her own values to Todd, as, according to Outsider, Drummond and Ladd look to religion to guide them in all aspects of their lives. "I consider my faith, which has stayed close to me throughout the many ages and stages of my life to be a gift ... one I hope I never take for granted," Drummond said.