Twitter Is Divided Over This Bizarre Heinz Chocolate Orange Mayo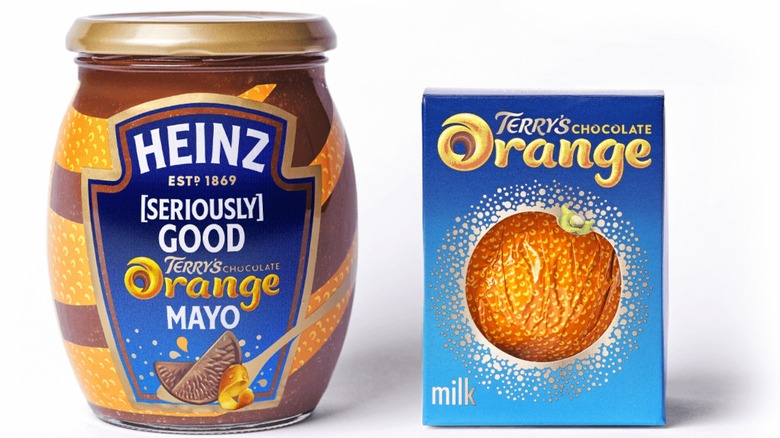 Heinz
Famed ketchup and mayo maker Heinz wants to know, "Are you dreaming of a chocolate orange mayo Christmas?" It's okay if you answered in the negative, but Heinz is banking on the adventurous palates in the U.K. taking the lead. In what is being billed as "the absolute ultimate in Yuletide pairings," Heinz merged its mayo with Terry's Chocolate Orange, which contains milk chocolate and orange oil, to create Heinz [Seriously] Good Terry's Chocolate Orange Mayo. It might not sound like the first condiment a person might think to reach for when tipping their favorite hamburgers, hot dogs, or fries. But as James Bond would say, never say never (again).
It appears this condiment was made with breakfast and afternoon tea in mind. Per The Independent. in a statement, the two brands call the mayo a "smooth and delicious spread that works perfectly dolloped onto your festive desserts or spread onto brioche, crumpets, pancakes, or croissants this festive season." But will consumers think this chocolate orange mayo sounds really delicious or 100% the opposite? We turned to the internet for an answer, and the Twitterverse is divided on this out-of-the-box concept.
What Twitter is tweeting
The Heinz website shared that up to 200 bottles of Chocolate Orange Mayo will be given away in the U.K. People who want one have to enter a drawing by December 13, but how eager will people be to get one? One social media user opined in a tweet, "Chocolate orange mayo erm think I'll pass," followed by vomiting emojis. That reaction was cheered on by multiple people, one of whom replied, "Wise move!" "Good Morning Britain" clearly didn't want to start its morning with the new spread, posting on Twitter, "Anyone for chocolate orange mayonnaise?... It's a collective N-O from us at GMB." And user @biloddy had a short but strong response: "This is SO WRONG."
But it wasn't all naysaying on Twitter – there are some who say they would be happy to try Heinz's flavor combination. One pro-Chocolate Orange Mayo fan wrote, "I feel like the odds are working in my favour. [sic] I'm yet to see ANYONE on social media who feels like this is the best Christmas present ever as much as I do. Everything is crossed!!!!" When @Snopes asked if folks would try it, @batbird said the spread "sounds delicious." And of course, there is always at least one person with the pressing question. In this case, @thisgoesnowhere typed, "Will this come in squeeze bottle form? It would be so much easier to spread this on my peanut butter and jam sandwiches if it did."