This Nearly $57,000 Bottle Of Perrier-Jouët Champagne Just Set A Record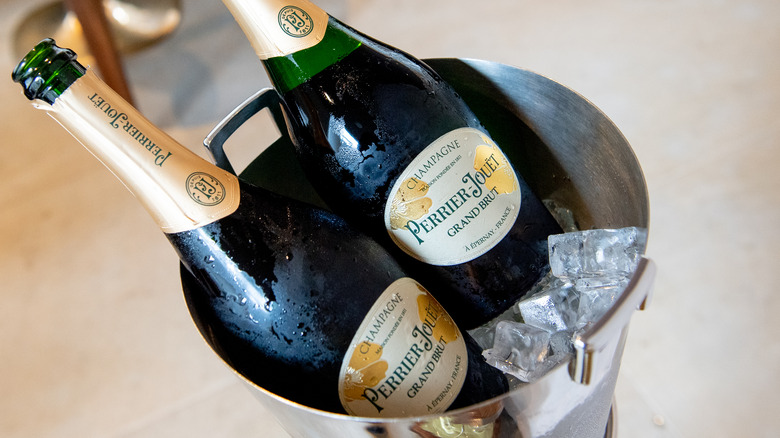 Roy Rochlin/Getty Images
While Champagne might be in short supply this holiday season, someone could be celebrating in unprecedented style if they decide to pop open their newly purchased $57,000 bottle of Perrier-Jouët Brut Millésimé Champagne this New Year's Eve. You read that correctly: A bottle of 1874 Perrier-Jouët Champagne was just auctioned off by the London auction house Christie's for the price of a luxury car. The high bid was nearly triple the $20,000 ceiling the house estimated the pricey bottle would fetch, reports Food & Wine.
Well-known for the iconic floral design that decorates its Belle Epoque bottles, Perrier-Jouët has roots that date back to 1811. According to Robb Report, the unlabeled bottle was pulled from Perrier-Jouët cellars by the brand's cellar master Séverine Frerson for Christie's recent Finest and Rarest Wines and Spirits auction. Other prized bottles from the 210-year-old Champagne producer were also auctioned off, but none fetched anything close to this price.
Robb Report also stated that this particular 1874 cuvée was blended by Charles Perrier, the son of Perrier-Jouët's founding vintners. The batch was made from exceptional Chardonnay grapes from Cramant, one of the grower's most prestigious vineyards, and harvested during an exceptional growing year (via Falstaff). A bottle of this vintage set another record for the very same auction house, Christie's, in 1888. In fact, this transaction held the distinction of being the most expensive bottle of Champagne ever sold at auction until 1967, as reported by Food & Wine.
This Champagne aged under ideal conditions
Before the auction, Tim Triptree, international director for Christie's Wine & Spirits Department, said it is believed that no one other than Perrier-Jouët itself was in possession of any bottles of Brut Millésimé Champagne 1874. He explained some of the reason for its value: "It has spent almost 150 years in ideal conditions ... It's had no movement, and the vault's darkness, temperature of 11 to 14 degrees Celsius, and 98 percent relative humidity, are perfect for maturation" (via Food & Wine).
Perrier-Jouët famously created "brut," or dry Champagne, in a time when most Champagnes were sweet (per Vine Pair). How might this almost 150-year-old Champagne taste? Triptree said it will likely be more flat than bubbly, but will probably retain its "vibrant acidity and freshness." The color will have matured "from a pale lemon-green to a golden amber, and it will also have developed additional complexities, changing from the notes of citrus and green apple that are common in young champagne to a more mature palate of butterscotch, caramel and honey." Another expert said the Champagne will have developed aromas of incense, cognac, vanilla, tobacco, marmalade, and possibly even chocolate.
The question is: What occasion is worthy of this 147-year-old treasure? Furthermore, will its anonymous new owner drink it or keep it as an investment? We imagine the longer it remains untouched, the more valuable it might become — but it would be a shame not to taste it.