Every 2021 Goose Island Bourbon County Stout Variant, Ranked From Worst To Best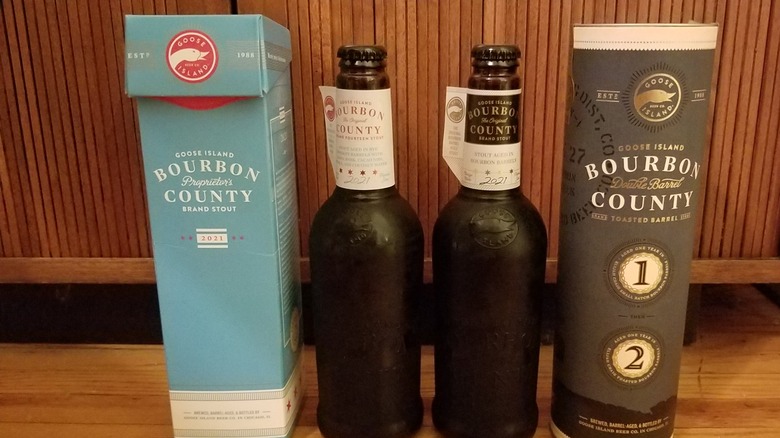 Sarah Gardner/Mashed
It's been nearly 30 years since Chicago brewery Goose Island wrote the playbook on aging beers in used spirits barrels when it debuted Bourbon County Stout (via The Chicago Tribune). While our fandom for the groundbreaking brew doesn't quite date back that far, we've enjoyed our fair share of BCBS over the years.
Though we long for the days of those $20 4-packs sitting at the ready on the shelves of BevMo!, it's been a blast watching (and tasting) the evolution of the line. Goose Island has expanded the Bourbon County series beyond the flagship beer to include an ever-changing roster of variants. The beers are aged in a wide variety of different bourbon barrels and are finished off with an array of added ingredients (adjuncts), including fruits, spices, and chocolate. The brewery also shrewdly designated the biggest shopping day of the year as the official release date for the entire line, and every Black Friday, beer geeks across the country scramble to local liquor stores (and often beyond their city limits) to snag those coveted bottles.
While we may not be thrilled with the increasing prices, there is no denying that Bourbon County Stout and its ilk continue to be some of the best beers in their class despite an ever-growing field. This year's lineup is no exception, and fortunately we were able to get a hold of all eight bottles. Here are our thoughts on the 2021 Bourbon County Stout variants, which we've ranked from worst to best.
8. Bourbon County Reserve 150 Stout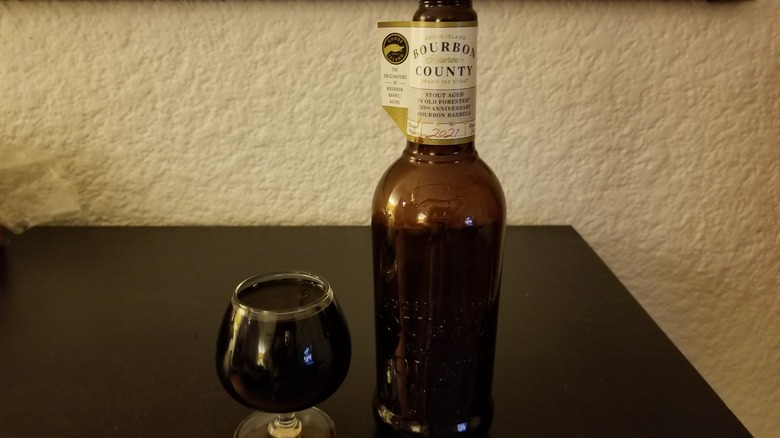 Sarah Gardner/Mashed
One important observation that we've made over the years when sipping on barrel-aged stouts is to take the bourbon lineage with a grain of salt. Some of our favorite beers have taken up residency in used Pappy Van Winkle real estate, including Goose Island's inaugural Rare Bourbon County Stout, the illustrious 2010 release that spent two years in PVW 23 barrels (via Untappd). However, we've also tasted plenty of dud stouts that sat in hype-soaked barrels. Same goes for mid-tier bourbons: a lot of great barrel-aged stouts, and a lot of not so great ones too.
If only we took our own advice when it came to this exclusive Bourbon County variant, aged for a year in barrels that previously held Old Forester's ultra-limited 150th Anniversary release (bottles of which fetch several hundred dollars). Reserve 150 was the beer in 2021 lineup we were most excited to try, but it fell way short of our expectations. Despite an almost-greasy mouthfeel, the initial flavor impact is virtually non-existent, as if it were a bourbon barrel-aged hard seltzer. Thankfully, the beer is almost redeemed on the finish which pops with the sensation of top quality, high percentage cacao dark chocolate. However, it's simply too little, too late and the aggressive price tag doesn't make 150 any easier to swallow, especially when, just like every beer on this list, the bottle is only 16.9 ounces.
7. Bourbon County Cherry Wood Stout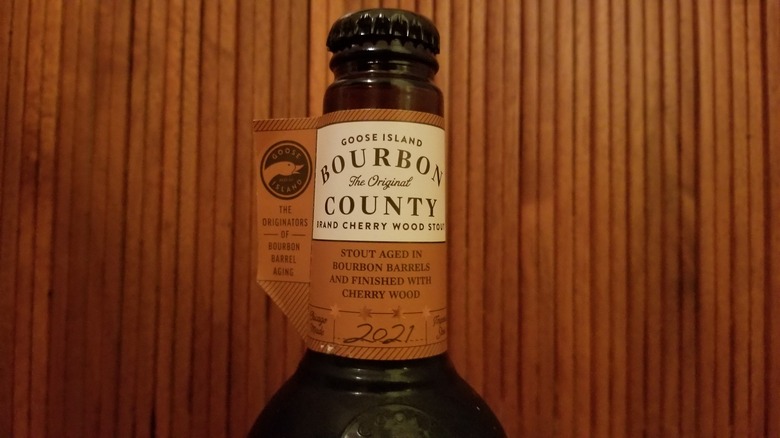 Sarah Gardner/Mashed
A quick skim of the description might lead you to believe that this is a retread of 2012's Cherry Rye, one of the most notable releases in the history of the Bourbon County series. If you look closer, you'll see that "cherry wood" is the featured attraction, not cherry fruit. According to a press release from Goose Island, "This year, we took wood complexities to another level by doing something we've never done before: we took fully-matured Bourbon County Stout and finished it with toasted fruitwood—specifically, honeycomb-shaped cherry wood chips. The versatility of the cherry wood and honeycomb shape allowed for maximum flavor extraction."
That all sounds great, but in reality, rather than enhancing the Bourbon County Stout base (which we'll get to in a bit), the wood chips somehow took the beer down a peg. The body felt thinner and the flavor was lacking — more of a flambéed sugar atop a crème brûlée situation than rich, fudgy goodness. If you're a longtime Bourbon County Stout drinker, you might want to try this for science (a bottle is a few bucks more than the regular version), but otherwise this one isn't worth it.
6. Bourbon County Classic Cola Stout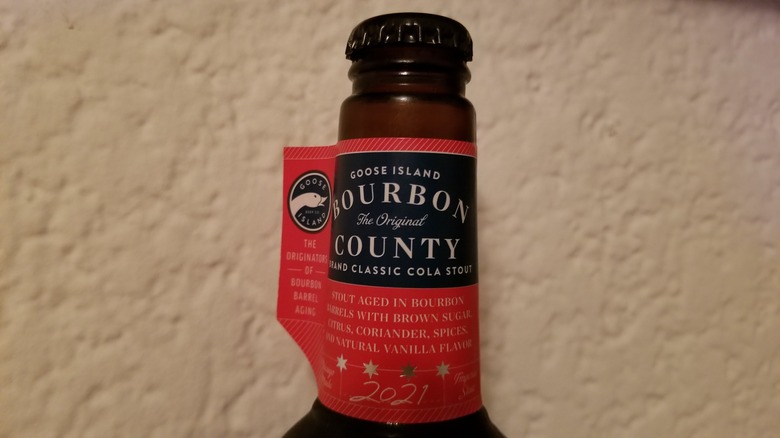 Sarah Gardner/Mashed
Full disclosure: Prior to sampling the lineup, Classic Cola Stout was towards the bottom of our list of variants we were most eager to try. We've had mixed results with cola-inspired beers in the past, and the laundry list of adjuncts — lime and orange juice and zest, cassia bark (also known as Chinese cinnamon), nutmeg, brown sugar, and vanilla — seemed over-the-top. Our wariness seemed to be justified upon the first sip, as an unanticipated clash of flavors muddied any notion of replicating "the real thing." But as the stout warmed up, the citrus slowly began to shine. The tang was soon followed by the spices, and suddenly those disparate notes were somewhat in tune. It doesn't quite coalesce as Coke (it veered closer to Milky Way territory with sharp caramel leading the way), but we didn't object to the results.
The Classic Cola Stout is a bit of a challenge on the palate, but in a good way. It's not a beer that we're necessarily eager to revisit, but we appreciated the change of pace.
5. Bourbon County Stout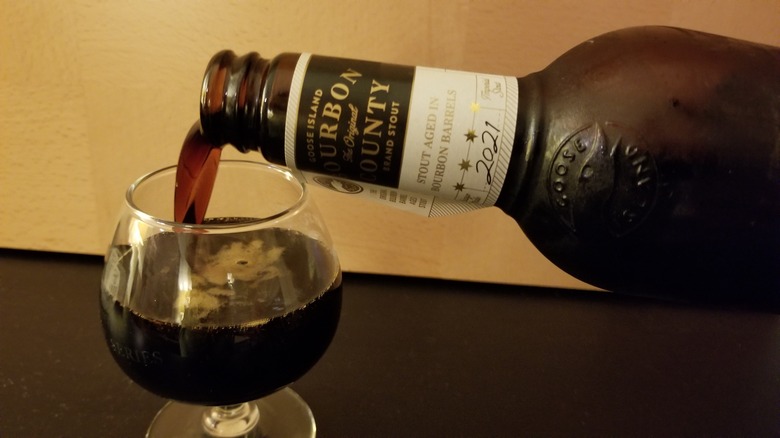 Sarah Gardner/Mashed
The flagship Bourbon County Stout may fall in the middle of the pack for this particular list, but it is by no means a mediocre stout. Far from it: This remains one of the prime examples of the style that is being brewed today, and to our recollection, the best vintage of BCS we've had in recent memory. Per Goose Island, the 2021 version is "blended from a mix of bourbon barrels from distilleries such as Heaven Hill, Wild Turkey and Buffalo Trace, each aged in freshly emptied bourbon barrels for 8-14 months."
The key word with this beer is restraint. Unlike the Reserve 150 Stout, the stout gently coats your tongue without creating an oil slick, plus, that deep cocoa goodness with hints of cherry and brown sugar that we've come to expect from the flagship is apparent right up front and doesn't relent. Normally we find that a year or two in the cellar does Bourbon County some good, but for the 2021 vintage, it may already be at its peak — and if not, we're very excited for what is to come.
4. Proprietor's Bourbon County Stout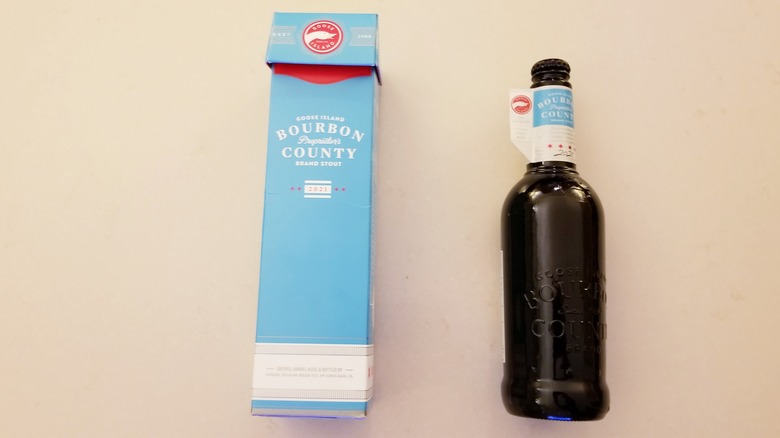 Sarah Gardner/Mashed
We did a deep dive into 2021 Proprietor's Bourbon County Stout, but if you're just looking for a "taster" portion of what the beer is all about, here's what you need to know. Like every vintage of Prop, which has been part of the Bourbon County roster since 2013, this year's version is reserved for the hometown crowd, and you'll only be able to find it (officially) in the Chicagoland area (via Not Another Beer Review). The recipe is never the same. This time around, it's an ode to the classic Good Humor Strawberry Shortcake ice cream bar.
Beyond loads of strawberries, the beer also features vanilla to represent the outer ice cream core, as well as coconut to replicate the bar's delectable crunchy exterior. Like the Classic Cola Stout, Proprietor's isn't quite as advertised, but that is not necessarily a bad thing. The fruit seizes virtually all control over the aroma and flavor profile from its adjunct companions, meshing with base barrel-aged stout to form a loving chocolate covered strawberry union. Our suggestion: Share this with a loved one for dessert on Valentine's Day and it's sure to be extra special.
3. Bourbon County Fourteen Stout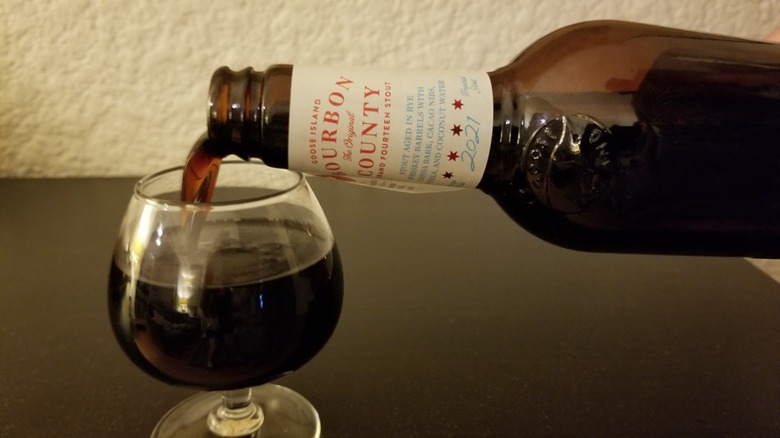 Sarah Gardner/Mashed
The Proprietor's series has never repeated a beer, but there's a first time for everything. Goose Island announced that the 2021 Bourbon County lineup would include Fourteen Stout, an ode to the highly sought-after 2014 iteration, and it certainly did not disappoint. This falls into the remix category rather than a full blown cover version, as the recipe has been tweaked slightly for this year. This is the only Bourbon County variant this year that doesn't play off of the standard base, as rye has been added to the mash bill.
Yep, there is a lot going on here, but it all comes together. Despite its Black Friday release date, Bourbon County isn't necessarily a "holiday" beer release, but Fourteen brings holiday cheer, with a spice blend reminiscent of gingerbread joining forces with the undeniable sensation of coconut macaroons to create the ultimate Christmas and Hanukkah mashup. We have to give, pardon the pun, props for that rye addition, which helps to tone down the sweetness of the beer.
2. Bourbon County Reserve Blanton's Stout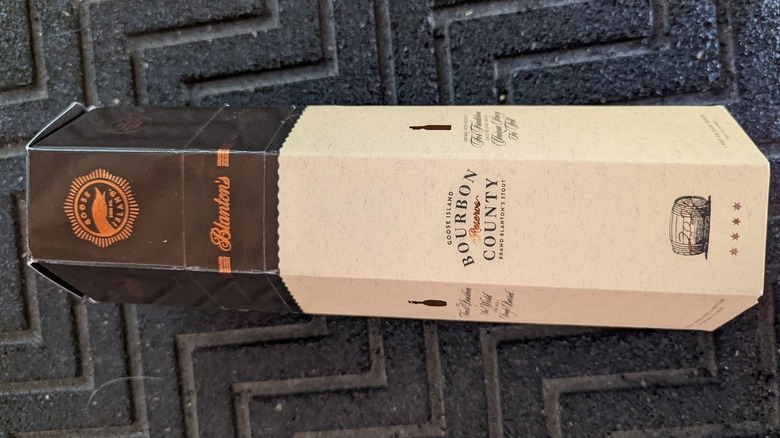 Stan Wang/Mashed
If you happen to have a friend who's willing to travel 150 miles to sit on hot asphalt for several hours in order to grab a single bottle of the latest hypebeast beer, don't mock them. One day, you're gonna need your pal to score an elusive brew for you, which happened to be the case when we needed to sample Reserve Blanton's Stout. Every year the Bourbon County line seems to have at least one breakout sensation, and this is the must-have bottle for 2021.
As we mentioned earlier, bourbon origin is only a small part of the equation when it comes to barrel-aged stouts, and while Blanton's Single Barrel is becoming increasingly difficult to come by, it's not on the level of Old Forester 150 in terms of scarcity. Unlike its Reserve counterpart, this is not only worth the price of admission, but it's a Bourbon County all-timer. The 18-month aging has allowed the core of the elements of the stout to develop into a sublime fusion of sweet and spice that goes down smooth as silk. Do believe the hype.
1. Bourbon County Double Barrel Toasted Barrel Stout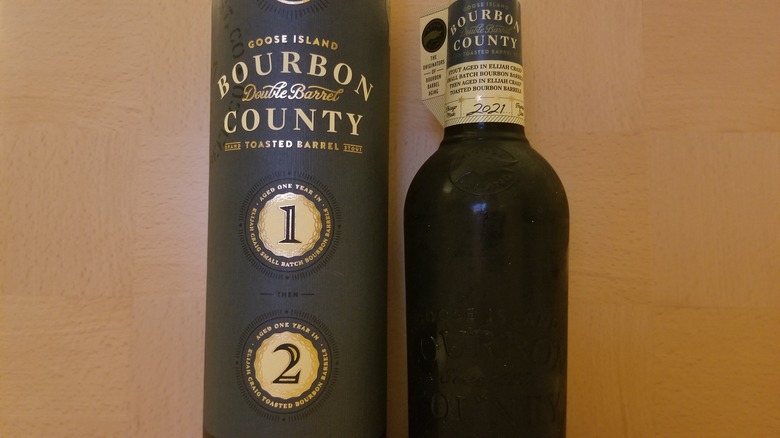 Sarah Gardner/Mashed
We're not gonna lie: Deciding the top spot for this year's Bourbon County lineup was essentially a King James versus Air Jordan debate. But ultimately you have to throw down your cards and make the call for the absolute greatest, and in this case, Double Barrel Toasted Barrel Stout bests Blanton's by the slimmest of margins.
As the name suggests, two barrels were involved in this beauty's creation. The stout spent one year in an Elijah Craig Small Batch barrel, then made the move to an Elijah Craig Toasted Bourbon barrel where it spent an additional 365 days to relax and unwind. Time was certainly on this beauty's side. If the standard Bourbon County Stout is like a fresh baked chocolate chip cookie, this is the double fudge brownie of your dreams, with an epic flavor explosion that even includes some nuttiness on the finish, and a delightfully chewy mouthfeel. The fact that it carries a hefty 16% ABV is a bit of a shock since it goes down the gullet like liquid velvet. This is a bottle that is worthy of its fancy schmancy scotch-like cardboard tube box. Buy. Buy. Buy. (If you can find it.)