Here's How Free Fries Can Be Yours At KFC This Month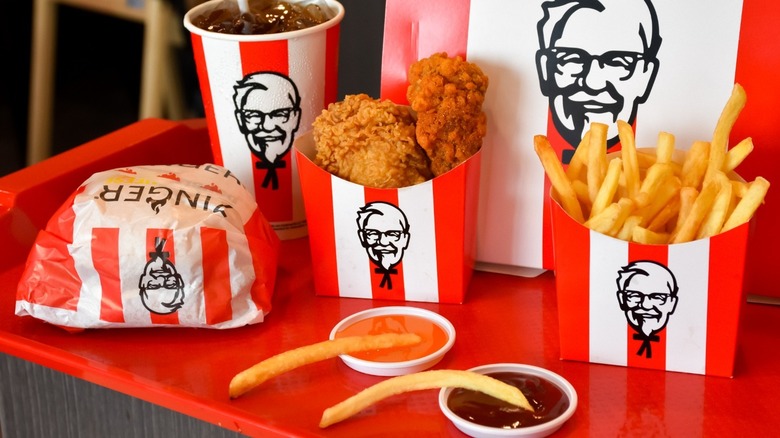 Patcharaporn Puttipon 636/Shutterstock
When you're craving comfort food on the go, Kentucky Fried Chicken is a solid choice. With more than 25,000 locations around the world, its website reports, the popular fast food chain sells some 400 pieces of its famous fried chicken every single minute (via Daily Mail). But there's more on the menu at KFC than just poultry. After all, what's a bucket of crispy wings, thighs, and drums without a few Southern-inspired side dishes that are just as delicious and indulgent? KFC delivers on both fronts, with plenty of drool-worthy options that include flaky biscuits, creamy coleslaw, gooey macaroni and cheese, and fluffy mashed potatoes smothered in gravy.
Another perfect pairing for your fried chicken, of course, is an order of french fries. Available in individual or large sizes, KFC's secret recipe fries are "seasoned with a secret blend of herbs and spices and fried to crispy perfection," according to the chain's website. If you're a fan of these fries, you're in luck — right now you can get them for free. Here's how.
You have to order from KFC online to get free fries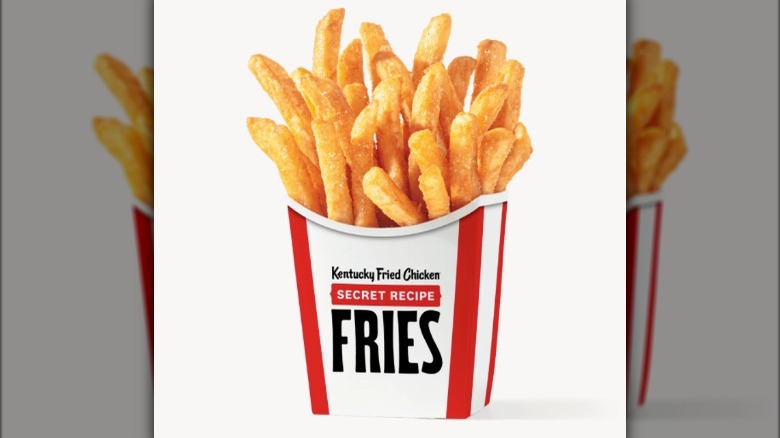 Kentucky Fried Chicken
Now through December 27, 2021, you can get a free large order of french fries from participating Kentucky Fried Chicken locations, according to a press release from the chain. But there's a catch — you can't just ask for free fries when you step up to the counter. Instead, you have to place an order of $5 or more online at KFC.com or through KFC's mobile app to qualify for the deal. The app is available from both Google Play for Android devices and the App Store for Apple users.
Based on the announcement from KFC, the promotion appears to be part of the chain's mission to decrease wait times at its drive-thrus. It's offering free fries as a way to encourage people to order ahead for Quick Pick-Up rather than wait until they get to the restaurant to place their orders. Note that you can only get one free container of secret recipe fries per order. If you've never tried them, they're worth checking out: Fast Food Geek described them as a "winner," saying, "These chicken fried fries had very good texture, with just enough bend that they were juicy and not stiff."