Easy One-Pot Butter Chicken Recipe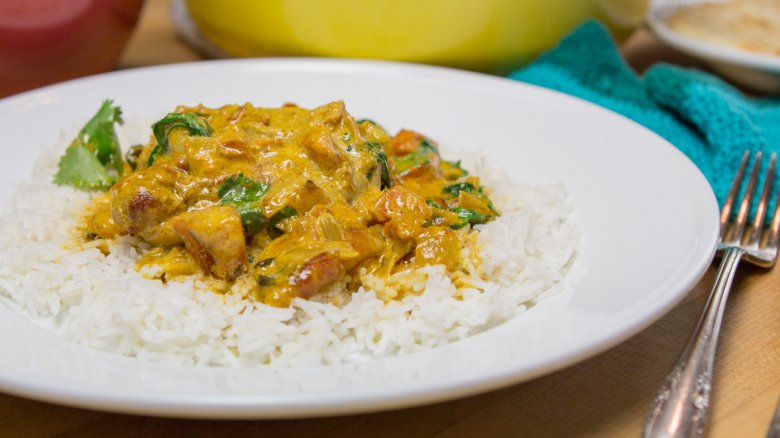 An Indian restaurant favorite, butter chicken, also called murgh makhani, is beloved for its unabashed richness and bold flavor. With origins in North India, this insanely popular dish was invented in 1948 by Kundan Lal Gujral. When his renown restaurant in Dehli needed to use up the tandoori chicken on hand for other dishes, the clever owner decided to keep the meat moist by simmering it with juicy tomatoes, spices, and yep, butter! As the saying goes, necessity is the mother of invention.
What makes butter chicken so gosh darn dreamy? Well, let's start with the incredibly smooth and deeply flavored marinade the chicken is treated to before being cooked. This, along with the rich mixture of butter, tomatoes, and aromatics, yields ridiculously moist, tender chicken. The sauce itself thickens into a delicious gravy that happens to be perfect for soaking up with fragrant basmati rice or pillowy pieces of traditional naan bread.
Here, bone-in chicken thighs are marinated in a mixture of Greek yogurt, lemon juice, turmeric, garam masala, and cumin. Cooked in a sauce made with butter, cream, tomato, onion, garlic, and ginger, the chicken is rendered undeniably succulent. I like to serve this with plenty of rice and plenty of naan because sopping up every last bit of the amazing sauce is crucial to the dining experience.
Gather your ingredients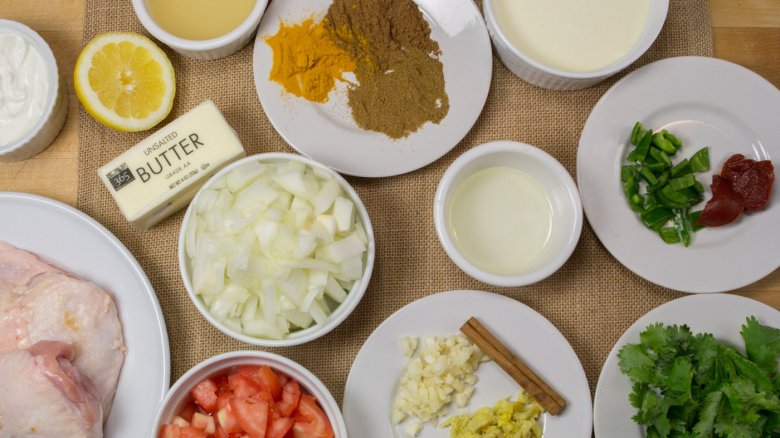 For a nuanced, complexly flavored Indian dish, you need very few ingredients to make butter chicken a reality. While you can use boneless chicken breasts cut up into small pieces, I prefer bone-in chicken thighs since they're infinitely more flavorful. Full-fat Greek yogurt is balanced by lemon juice and a medley of spices to make the marinade: turmeric, garam masala, and cumin. For the sauce, butter, a splash of canola oil, tomato, onion, jalapeno, garlic, ginger, a cinnamon stick, tomato paste, and cream lend depth and richness. Cilantro adds fragrance and brightness as a garnish. 
Get the full ingredient list, as well as step-by-step instructions, at the end of this article. 
Make the marinade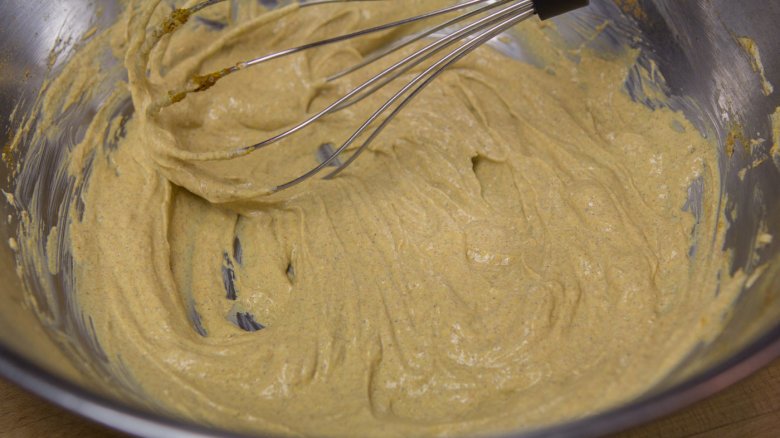 Many Indian dishes are marinated in yogurt to help keep the chicken tender. This one sits in a mixture of Greek yogurt, spices, and lemon juice.
Marinate the chicken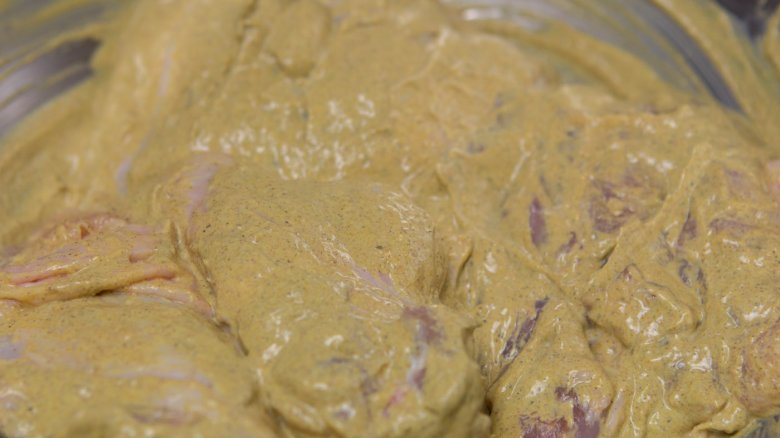 I set the bowl of chicken in the fridge for two hours, but the longer you let it sit, the better — up to a day.
Get the onion going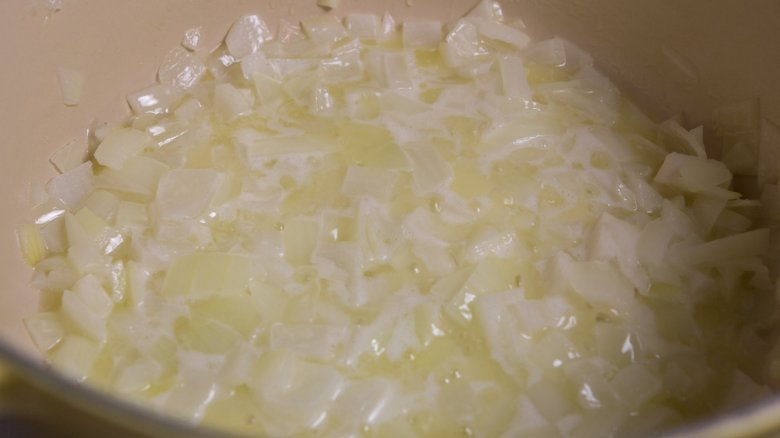 The base of this dish is the onion, so you want to make sure to cook it in the butter and oil mixture until it's completely soft and translucent. Take your time and stir often to prevent sticking.
Add to the base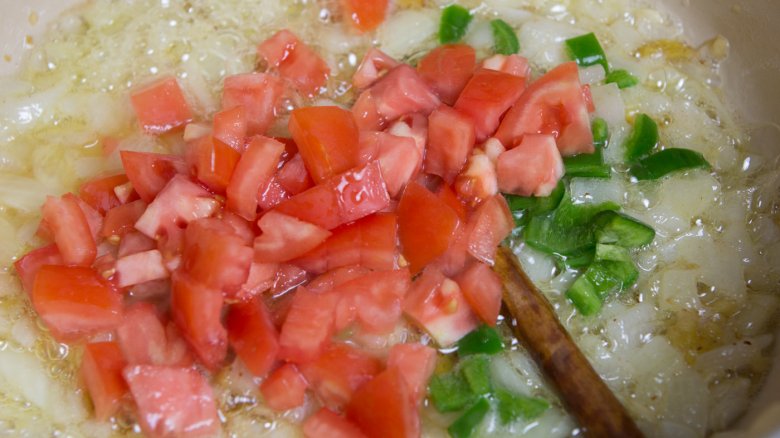 Time to add the next layer of flavor to the onion base. Stir in the garlic and ginger and cook until the onions start to brown a little bit — but be careful not to burn them. This is easy to do if you step away from the stove even for a few minutes. Le sigh. Add the tomato, cinnamon stick, and jalapeno and cook them until the tomato breaks down a little and the pepper is soft. This usually takes a good 10 minutes. Be patient, as I'm sure you'll be dying to add the chicken at this point.
Time to bring the chicken into the picture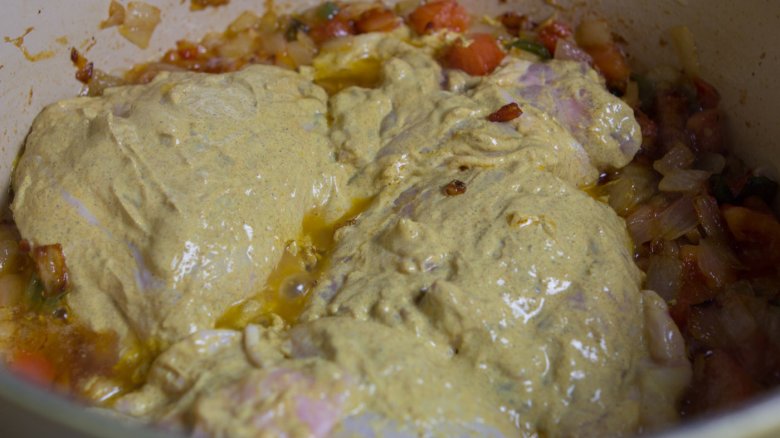 Yay, chicken time! Here, you add the chicken pieces and stock and simmer until the chicken is nearly done. I like to turn the chicken every few minutes so they cook evenly over about a 20-minute period.
So close!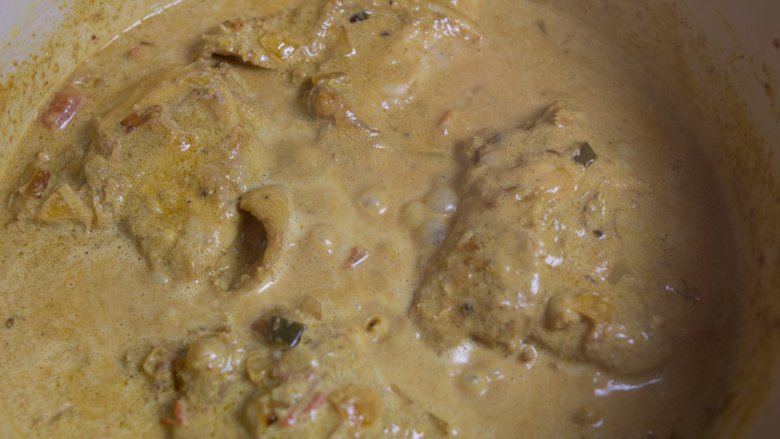 Stir in the tomato paste and cream, and simmer until the chicken is completely cooked through and the sauce is impossibly velvety. You'll notice the sauce thickening and that's a good thing. Stir often so everything cooks evenly.
Now garnish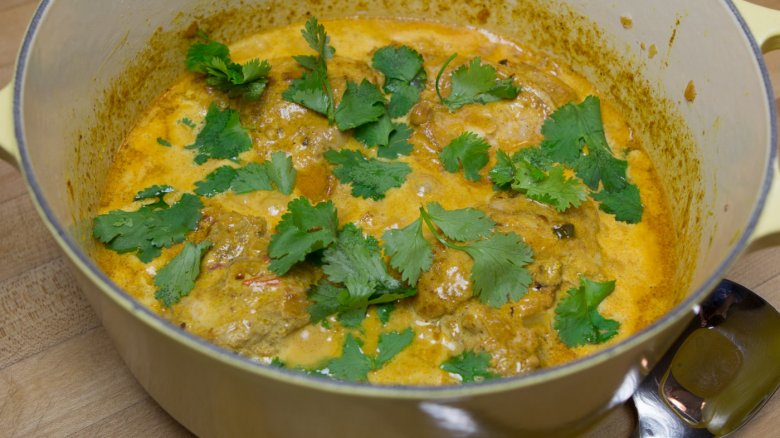 Scatter the cilantro leaves over your finished dish. I love the way they brighten up the meal and bring tons of aromatic goodness. Yum!
Serve the butter chicken proudly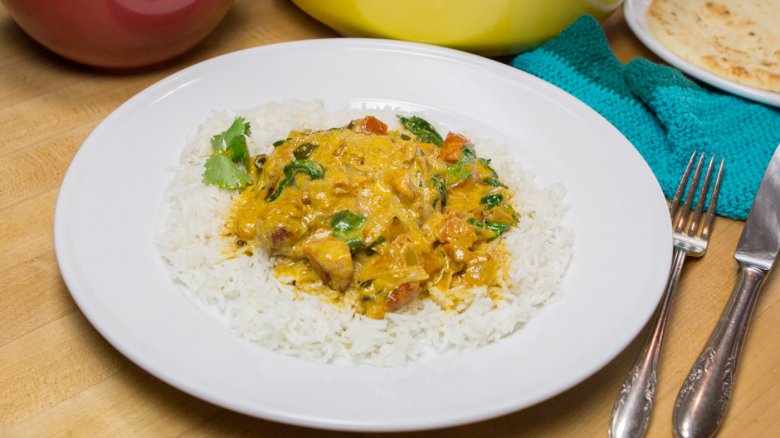 Enjoy your butter chicken with heaps of basmati rice and lots of naan bread alongside—if that's your kind of thing.
Directions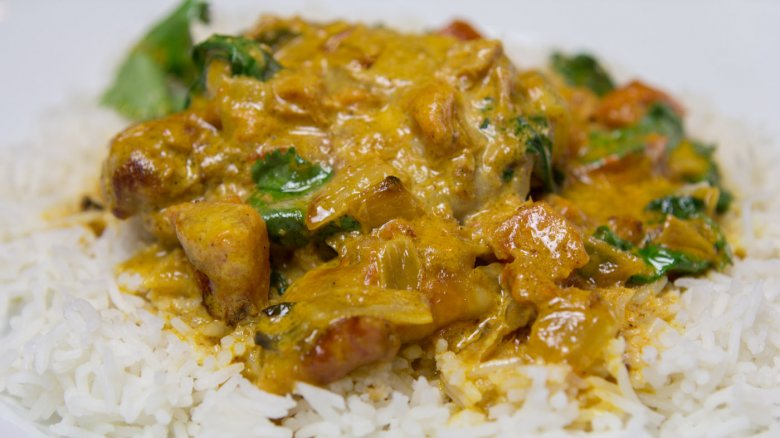 Prep time: 70 minutes
Cook time: 50 minutes
Servings: 3-4
Ingredients:
¾ cup Greek yogurt
juice of ½ lemon
1 tablespoon turmeric
1 tablespoon garam masala
1 tablespoon ground cumin
1 ½ pounds bone-in chicken thighs
4 tablespoons unsalted butter
1 tablespoon canola oil
1 medium yellow onion, diced
2 cloves garlic, minced
1 tablespoon ginger, minced or finely grated
1 cinnamon stick
1 Roma tomato, diced
1 jalapeno, seeded and minced
Kosher salt
⅓ cup low-sodium chicken stock
¾ cup heavy cream
2 teaspoons tomato paste
Cilantro leaves for garnish
Naan bread and basmati rice for serving, optional
The process:
In a large bowl, whisk together the yogurt, lemon juice, turmeric, garam masala, and cumin until fully combined. Add the chicken, turn to coat, and cover with plastic. Place in the refrigerator to chill for at least one hour and up to a day.
Heat the butter and oil in a large pot or Dutch oven over medium heat. When the butter is foamy, add the onion and cook, stirring occasionally, until they are soft and translucent, 2-3 minutes. 
Add the garlic and ginger and continue to cook, stirring, until the onion begins to brown, 3-4 minutes more.
Add the cinnamon stick, tomato, and jalapeno to the pot with the onion mixture over medium heat and cook, stirring occasionally, until the jalapeno is soft, 8-10 minutes. Season with salt as desired.
Add the chicken and marinade and cook for about five minutes, then add the chicken stock. 
Bring to a boil over high heat, then reduce heat to low and simmer until the chicken is almost cooked through, 20-25 minutes.  
Add the heavy cream and tomato paste to the pot with the chicken over low heat and cook until warmed through, 6-8 minutes. 
Remove the pot from the heat and set aside to rest for about five minutes. 
Garnish the chicken with the cilantro and serve with naan bread and basmati rice alongside if you like. 
Enjoy the feast!