This Was Anthony Bourdain's Go-To Kitchen Gadget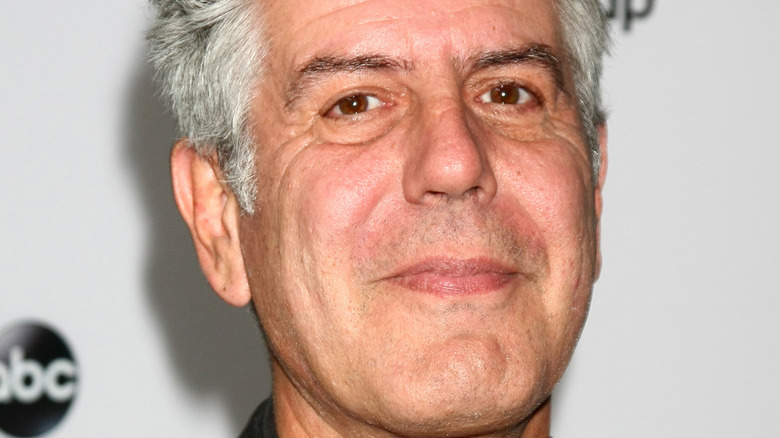 Kathy Hutchins/Shutterstock
We may receive a commission on purchases made from links.
We all have our favorite gadgets. Some might be high-tech while others are simple, but we all have that one item we love to use over and over again. This is especially true in the kitchen. Whether you are a fan of the instant pot, the garlic press, or the food processor, we love gadgets that make cooking and baking easier. Celebrity chefs are no different. "Top Chef All-Stars" Richard Blais is a fan of the spoon, while "Struggle Meals" Frankie Celenza swears by his blender. As we said, the range of favoritism is pretty broad.
Even everyone's favorite host and author Anthony Bourdain had a favorite gadget. Bourdain traveled the world and introduced viewers to a global food perspective in CNN's "Parts Unknown," so one might conjecture that Bourdain's gadget of choice was exotic. But according to CNN Underscored, it wasn't anything big or flashy. Instead, it was a humble tool that every chef swears by and is essential when preparing most meals.
Bourdain wasn't a fan of knife sets
According to CNN Underscored, Bourdain's favorite gadget of choice was his Global G-2 Chef's Knife, and he wasn't shy about sharing its slicing and dicing virtues in his documentary, "Wasted: The Story of Food Waste." The Daily Meal explained that Bourdain thought it was good for both newbs and pros. "As a starter chef knife, the Global is pretty good for a first-timer. It's also beloved by other professionals as well," the celebrity chef shared.
Why this knife and not a set? Per Kitchn, Bourdain shunned knife sets, especially for home cooks, because they just weren't practical and would never be used enough to justify their hefty price tag. But the Global G-2 Chef's Knife rings up at just a little over $100 on Amazon and has a 4.8-star rating from close to 2,000 reviewers. What makes this knife so great? The straight edge makes this knife "dramatically sharper," and reviewers seem to agree. One shopper wrote, "It is factory sharp! I used it to cut some vegetables and it did the job as you would expect."