How To Score Free Iced Coffee At Carl's Jr. Next Week
While most people think of Carl's Jr., the first thing they probably think of is the chain's charbroiled burgers, onion rings, or CrissCut fries. However, the fast food giant also has a robust breakfast menu, as well as a selection of everyone's favorite pick-me-up: coffee. While the brand does sell cups of standard hot Arabica coffee, it also decided to expand its caffeinated beverage selection just a few years ago.
In 2015, the brand introduced a cold offering with their new Iced Coffee. According to Brand Eating, the chilled release featured creamy and flavorful cold brew, with French vanilla notes and a hint of salt. The iced coffee turned out to be a success, so Carl's Jr. launched another coffee drink, Vanilla Cold Brew, in 2019, according to Foodsided. This new crafted coffee drink, which features "a 100% Arabica Central American blend" slow steeped and flavored with vanilla and cream, has remained a permanent fixture on the menu ever since. So now, coffee fans no longer have to make a separate run to Starbucks or Dunkin to get their caffeine fix.
Carl's Jr. is offering free coffee with any purchase for one day only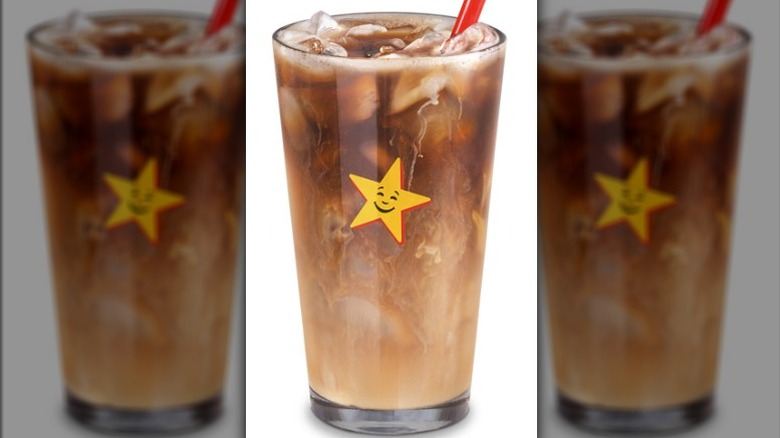 Carl's Jr.
Now, with the busy holiday season upon us, many of us could probably use a little extra boost of energy to help us get through our day. Luckily, this holiday season, Carl Jr's will be offering its customers the chance to get their daily jolt of caffeine for absolutely free. The chain has just announced it will be offering its customers the chance to score free iced coffee for one day only this busy holiday season.
On Monday, December 13, 2021, Carl's Jr. fans can get "a free Carl's Jr. Craft-Brewed Cold Brew with any purchase all day long," according to a press release sent to Mashed. "Whether you're enjoying it with your breakfast ahead of the work day, need an afternoon pick-me-up, or have a busy day filled with holiday to-do's, Carl's Jr. has got you covered!" the company said of the new deal.
It's just another in a line of holiday perks offered by Carl's Jr., which previously honored a BOGO deal on sourdough burgers for Labor Day 2021, and special pricing on its Big Carl Small Combo for National Fast Food Day 2021. It sounds like fans of the chain would do well from marking off their holiday calendars with a reminder to visit their favorite burger spot on certain days. They just might have something special in store.