36% Believe This Classic Christmas Dish Is The Absolute Best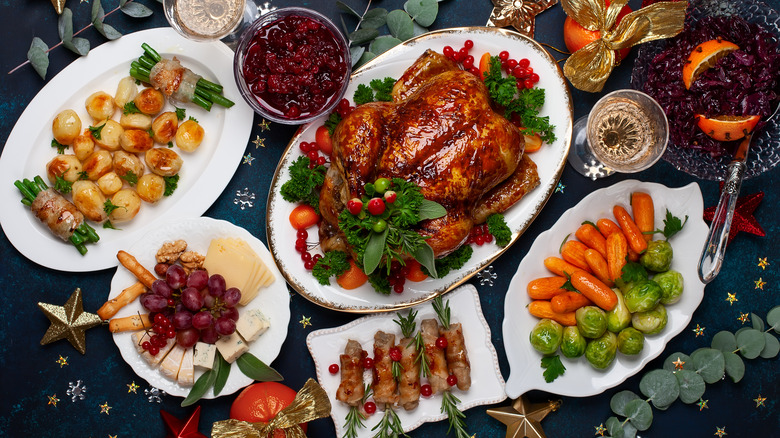 Kolpakova Svetlana/Shutterstock
With December 25 only a few weeks away, it's officially beginning to look a lot like Christmas. Even if you've yet to experience your first snowfall for the season (or expect to ever), it's hard not to feel full of the Christmas spirit as the joyful sounds of holiday music fill the air, with wreaths, mistletoe, and garlands galore are everywhere you turn. And let's not forget all the festive holiday activities, from baking sugar cookies and watching feel-good movies to caroling and ugly sweater parties. While there's so much to love about the holiday season, arguably the best part is getting together with the people you love.
As the countdown to Christmas begins, families across the globe are rushing to finish their holiday shopping and prepping their Christmas Day dinners. Unlike Thanksgiving, when it comes to the festive feast on December 25, there's less of a set menu. Every family has their own traditional Christmas foods that they enjoy year after year: from roast potatoes and goose, to Christmas ham with garlic green beans, to prime rib with Yorkshire pudding. But out of these classic Christmas foods, which dish stands above the rest? To get to the bottom of this mystery, Mashed surveyed 613 individuals across the United States. Between dishes such as garlic mashed potatoes, Christmas goose, roast chicken, honey-glazed ham, Brussels sprouts, cocktail meatballs, and prime rib, there was one clear winner.
Honey-glazed ham is a Christmas classic for a reason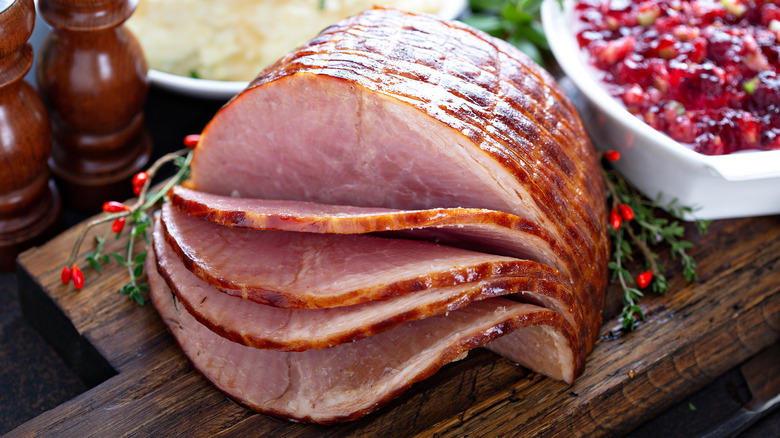 Elena Veselova/Shutterstock
According to a Mashed survey, the holiday dish that reigns supreme is honey-glazed ham, with 36.05% of respondents selecting this sweet and salty food as their favorite. While honey baked ham has a reputation for being an Easter food, anyone who traditionally eats this dish knows it hits the spot on a frosty winter night. Classic and comforting, ham is so popular it's even starting to move in on turkey's Thanksgiving territory (via Wide Open Eats). 
The runner-up was prime rib, receiving slightly over ¼ of the love with 25.29% of the votes. One reason folks may be opting for ham over the more luxurious prime rib could be the drastic price difference. According to The Coupon Project, ham prices tend to linger around $1 to $1.25 per pound, while Choice-grade prime rib prices jump to $13 per pound, with the premium cuts costing about $17 per pound, as noted by Cooks Illustrated. Not only is ham more affordable, but if you purchase it spiral-cut, it's also incredibly easy to serve. This lends the dish beautifully towards buffet-style meals or large family dinners (via New York Times).
Garlic mashed potatoes came in third place, with 16.31% of the votes, and roast chicken rolled into fourth place at 10.6%. The bottom three? Christmas goose (with 5.06%), cocktail meatballs (with 3.92%), and Brussel sprout casserole (with only 2.77% of votes). If you are hosting a holiday feast, if might be wise to skip those dishes this year unless you really love leftovers.