Your Favorite Food Brands Are Selling Ugly Sweaters For The Holidays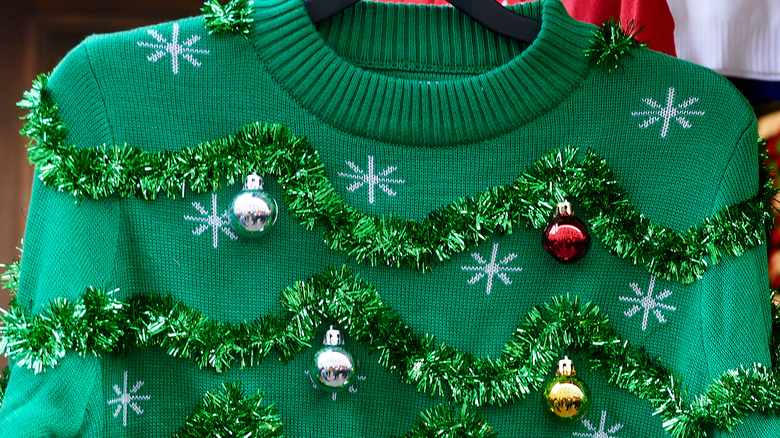 Zoltan Tarlacz/Shutterstock
In recent years, branded merchandise has become a massive industry, with just about every major food brand under the sun jumping at the opportunity to outfit devoted fans in specialty jackets, shirts, hats, and more. Big name brands like Pizza Hut, Pepsi, Dunkin', Arby's, Popeyes, and A&W have all gotten into the merch game recently with a mix of high-end and low-end merchandise lines aiming to cash in on the current nostalgia trend.
Now, with the Christmas season rapidly approaching — and consumers gearing up to stock up on holiday gifts this Black Friday and Cyber Monday — a number of classic brands have created limited-time seasonal merchandise aimed to kick your ugly sweater parties and white elephant gift exchanges up a notch. From massive restaurant chains to your favorite nostalgic chip brands, these are just a handful of the food companies that have released custom ugly sweaters this holiday season thus far, per PR Newswire.
Restaurants are getting in on the ugly sweater fun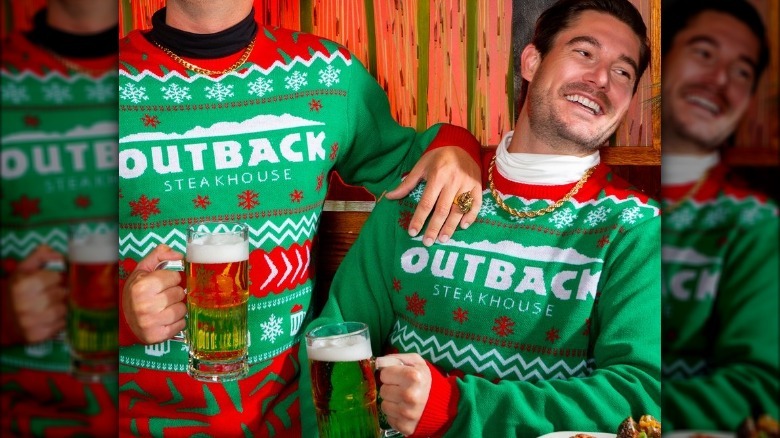 Shinesty
Per PR Newswire, White Castle recently announced a wide array of branded merchandise perfect for gifting to the White Castle fan in your life. The fast-food company unveiled a new holiday gift guide, featuring 10 of the brand's most sought-after gifts, including the White Castle ugly sweater. The sweater, which retails for $45.99 on the company's House of Crave website, features a royal blue design adorned with a White Castle snow globe and the words "Slider Season," in reference to the company's famous sliders.
Other gifts on White Castle's gift guide include a holiday mug, etched pint glass, temperature-locking tumbler, keychain, quarter-zip sweatshirt, branded gravy boat, boxers, skateboard decks in collaboration with DGK, and a line of streetwear in collaboration with Dumbgood. The company will be offering free shipping on all online merch orders placed on Cyber Monday, November 29.
Fans of a more sit-down dining experience may be more inclined toward an Outback Steakhouse holiday sweater. The garment, which is available for pre-order through clothing retailer Shinesty, is a red and green knit sweater embellished with snowflakes, boomerangs, and a prominent Outback Steakhouse logo.
While it doesn't appear the sweater, which retails for $64.99, is being produced by the restaurant company itself, Shinesty does note that the logo is officially licensed. The kitschy clothing company also offers Budweiser, Busch, and Jagermeister Christmas sweaters for those who prefer to drink their holiday calories, rather than eat them.
Fans of these classic companies can rep the brands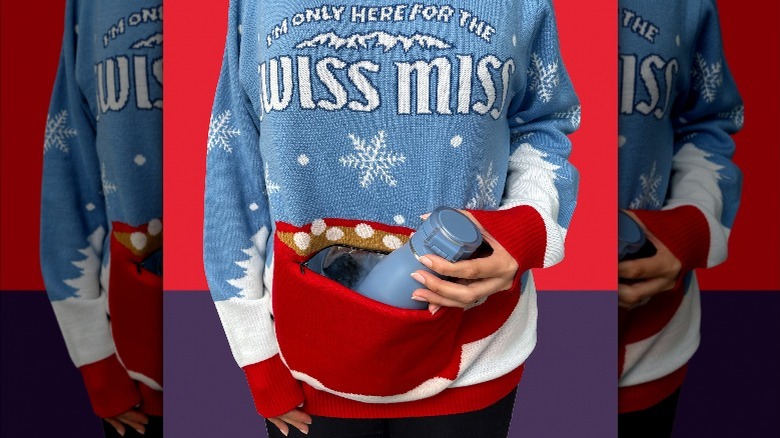 Swiss Miss
Hot cocoa specialist Swiss Miss is also getting in on the holiday merch game with a Swiss Miss Ugly Sweater. In a PR Newswire press release, the company revealed the release of the limited-edition clothing item. "The festive sweater is designed with an insulated pocket and zipper to keep your thermos of Swiss Miss Hot Cocoa warm and toasty all night long," the brand shared.
"The Swiss Miss 'Ugly' Sweater is the must-have look this holiday season," said Audrey Ingersoll, Brand Director of Swiss Miss. "It is guaranteed to be a hit for the hot cocoa-obsessed at any holiday party. You won't have to think twice about finding the perfect gift to treat yourself or the hot cocoa lovers in your life." Unfortunately for cocoa enthusiasts, the sweater, which retails for $44.95 and features an oversized mug of cocoa on a light blue background, is currently sold out in all sizes.
For those who prefer snacking over sipping, Frito-Lay, the maker of classic chip brands like Tostitos, Ruffles, and Fritos, has released a trio of holiday sweatshirts featuring three of the company's biggest brands. Cheetos, Doritos, and Lay's ugly Christmas sweatshirts are currently available in sizes L-XL through the company's online shop, priced at $30 a piece. In addition to the sweatshirts, the snack maker is also selling cozy branded knit caps, socks, and scarves to complete a chip-themed winter ensemble.
Look — and smell — extra fresh this season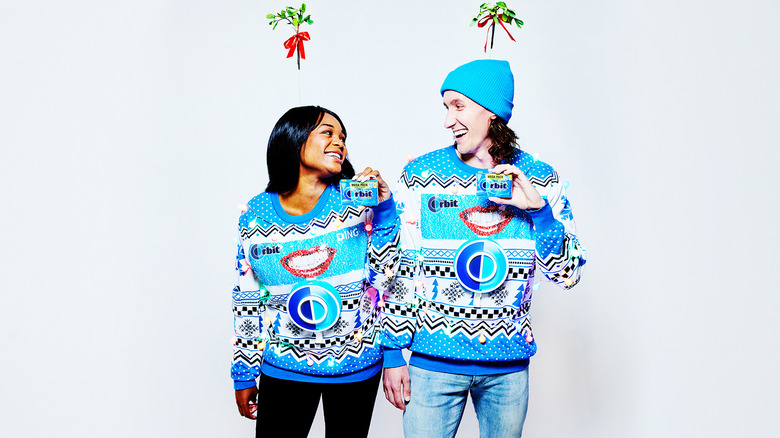 Orbit
One minty fresh gum brand is giving cash-strapped ugly Christmas sweater fans have the opportunity to win a tricked-out holiday garment as part of a winter contest. Gum juggernaut Orbit will be doling out a small number of limited-edition Christmas sweaters to a select group of fans via their Smooching Sweater Season sweepstakes.
"Don't let fear of making out cramp your holiday season ... style up your good breath with a flashy blue bedazzled sweater," the brand wrote of the specialty garment. "While we can't help you resist the delicious, yet malicious, garlic minced up in holiday dishes, we can be your back-pocket, good-breath guru for those mistletoe moments, so you can dodge those awkward smooches with ease. You'll be the life of your ugly sweater party while remaining fresh and confident."
Giveaway winners will receive a peppermint-scented sweater with built-in "on-the-go mistletoe," featuring working multicolored lights, a sequined depiction of a smiling mouth, and a rotating Orbit dispenser for easy gum access.
Blue Moon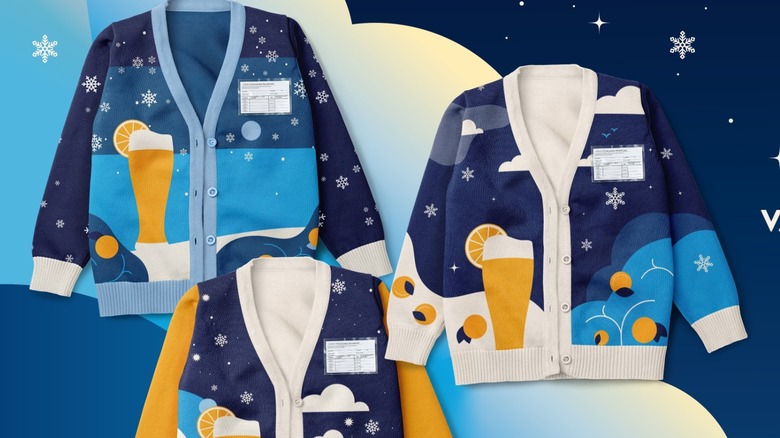 Blue Moon
For those who want to rep their COVID-19 vaccine status in style this holiday season, Belgian-style beer brewer Blue Moon has the perfect garment for you. The booze brand has unveiled a limited-time holiday sweater featuring a transparent pocket designed to display your vaccine card during all of your seasonal outings. 
The company's cozy button-up holiday sweater comes in three styles, which feature an orange-topped Blue Moon beer in a pint glass, seasonal snowflakes, and other festive designs in the brands trademark blue and white color scheme. Blue Moon fans ready to wear their vaccine status with pride can snag one of the limited-edition sweaters on the Blue Moon website while supplies last, for a fitting price of $20.21. 
In honor of those who work hard throughout the holiday season to serve us our boozy beverages of choice, all of the proceeds from the sales of the Vax Card-igans will be donated to the United States Bartenders Guild National Charity Foundation.