Reddit Is Horrified After Seeing The Way This Dinner Was Served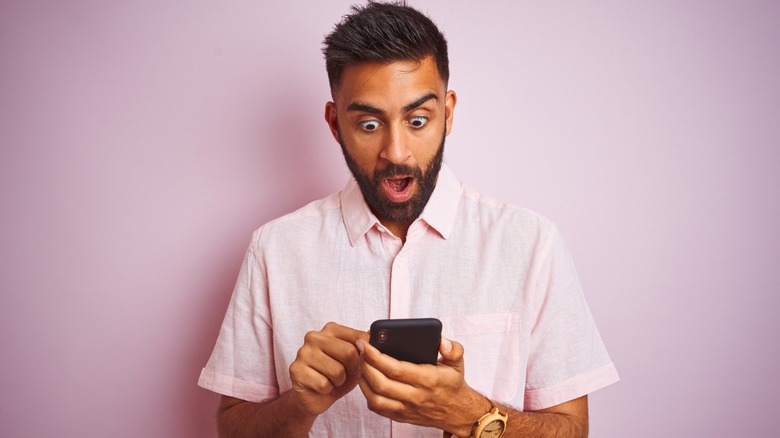 Shift Drive/Shutterstock
Even a Michelin-starred meal can go catastrophically wrong. Think the nightmarish feast in "Pan's Labyrinth" or pretty much anything on Sweeney Todd's daily menu. Reddit's latest collective flip-out comes thanks to a recent Everywhereist exposé about one woman's dining experience in a Lecce, Italy Michelin-starred restaurant. Geraldine DeRuiter described her 27-course meal at Bros' as cold, fish-flavored, and overwhelmed by (no, seriously) rancid ricotta and foam. 
To be fair, Quora is full of Michelin-starred horror stories. Hop on the social media platform, and read about disappointingly bland soy sauce-flavored chicken, overcooked veal, and cockroaches at Michelin-starred establishments. Verdict has also done a commendable job in collecting spectacularly critical reviews of Michelin-establishments, reviews that lament dull foie gras and rude waiters. A Michelin-starred bummer is not, perhaps, a particularly shocking experience. Geraldine DeRuiter's meal, however, seems unparalleled in its ghastliness. As DeRuiter later tweeted, "it was one of the most singularly awful meals of my life." Reddit can't get enough of one course in particular. 
Reddit can't stop staring at this Michelin-starred dish
Waiters served Deruiter and party one of their 27 courses in a plaster cast of a mouth — the chef's mouth. As she wrote on Everywhereist, she was denied a spoon and instead instructed to lick the foam. Yes, lick it. Perhaps (maybe?) Bros' intended the experience to be sensual. Deruiter compared the course to a horror movie. Reddit agreed. "Dear god why the f*** is it allowed to exist," wrote one bemused Reddit user. "This is the highlight of my day, I am dying!" wrote another. "I can't help but think there's some underground contest between chefs to see who can get foodies to accept the most ridiculous bull****," mused a third. For her part, Elle-Rose Moogan, who identified herself as one of Deruiter's party, has conflicted feelings about the experience. As per her tweet, it was both one of the "worst" and "weirdest" meals she's ever eaten, and simultaneously one of the most "strangely wonderful memories" from her trip.
The Michelin's Guide's rating of Bros', meanwhile, touts the restaurant as "innovative," "surprising" and "creative."