Trader Joe's Fan-Favorite Winter Wake Up Tea Is Back
We may receive a commission on purchases made from links.
As we approach the middle of December, in most states across the country, it's getting cold outside. If you are not a cold weather person, here's our tip for combatting the seasonal blues: winter drinks! While they don't necessarily make up for the summer rays that we are missing this time of year, they will certainly help warm us up and put us in the holiday spirit. From boozy bourbon cocktails and hot toddies, to steaming mugs of hot chocolate and mulled cider, the sky's the limit when it comes to toasty beverages you can cozy up to on a cold day (via BBC Good Food). And paired with a fuzzy blanket, roaring fire, and a delightful Christmas movie, you'll be feeling festive in no time.
The best part about warm winter beverages? There's the perfect drink for any time of day, from a Starbucks Peppermint Mocha in the morning, to a mug of mulled wine to wind down at night. Another great pick-me-up on a cold winter morning or afternoon is Trader Joe's fan-favorite Winter Wake Up Tea. And we're not the only ones who are excited about this beverage being back on shelves.
Many fans wish they could get this tea year-round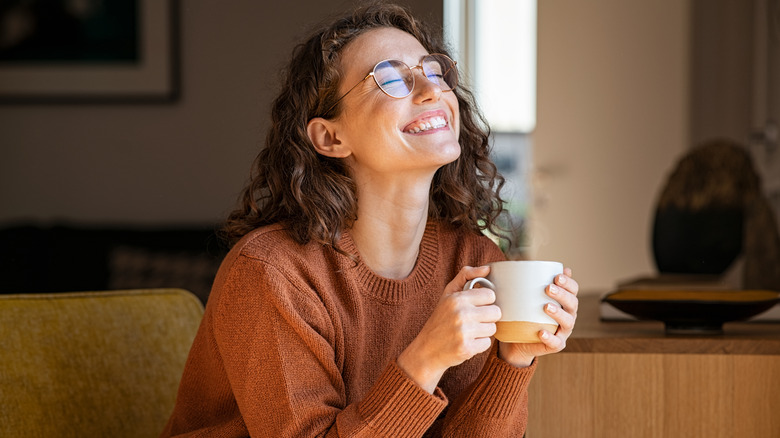 Rido/Shutterstock
Trader Joe's fan page My Trader Joe's List posted about the return of TJ's Winter Wake Up Tea: "A seasonal #traderjoes favorite that keeps you warm and tasting the cinnamon-y flavors of the holidays. Sip it as is or add your favorite steamed beverage and a little bit of honey if dressing up tea is your thing!" 
According to Trader Joe's, this special caffeinated blend features black tea mixed with sweet cinnamon, flavor-packed orange peel, and spicy ginger and cloves. Each box comes with 20 tea bags for only $2.79.
Mutual fans of Trader Joe's Winter Wake Up Tea shared their excitement at the post. "Just had it this morning. A seasonal favorite when I want caffeine," one user wrote
"BEST TEA EVER!!!" another enthused.
Many tea fanatics expressed their desire for this cozy blend to be served not just in the wintertime, but 365 days a year. One user wrote, "My favorite. I always stock up for the rest of the year!!" 
Another shared, "I will be buying 50 boxes so they last me all year long!"
Thankfully, there's a solution for those who just can't get enough of Winter Wake Up Tea. Come springtime, tea drinkers simply need to pay a visit to Amazon to order a pack of three of this pick-me-up. Problem solved!