This Massive Pot Brownie Just Broke A World Record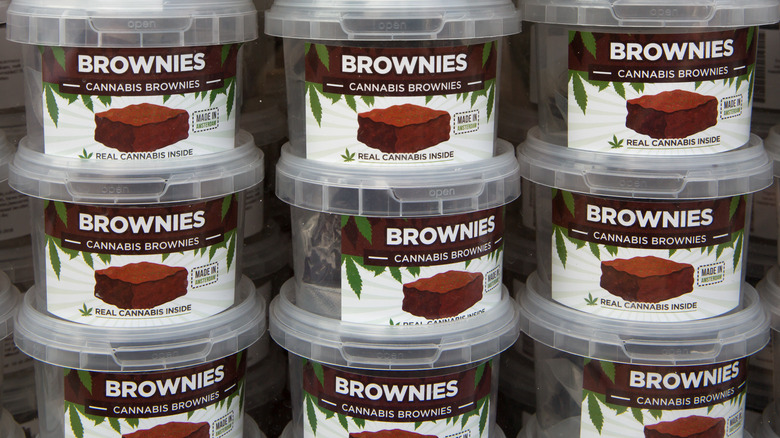 Mary Doggett/Shutterstock
How delicious are brownies? Whether you like 'em cakey or fudgy, whether you prefer the crispy edge pieces or the gooey center pieces, this classic American dessert (via U.S. History Scene) is an enduring favorite, with Americans indulging in more than a billion of the chocolate treats each year (via South Florida Reporter).
Typically a straightforward mix of sugar, butter, melted chocolate, eggs, vanilla extract, and flour, there are seemingly endless variations on the basic brownie, ranging from a swirl of cheesecake batter to rocky road add-ins of mini marshmallows and nuts. And all across the country — and the world — there's another, herbal add-in that college students and Grateful Dead fans alike utilize with some frequency: yes, we're talking about pot. Almost universally acknowledged to often pack quite a punch (via Delish), pot brownies can still be a tasty way to indulge in dessert and get high — all at once.
Now that recreational marijuana is legal in a number of states across the nation (via Esquire), more and more edibles companies are sprouting up, offering everything from gummies, to soda, to chocolate-covered espresso beans (via Discover). And, of course, many of these brands bake up classic weed brownies, among them Bubby's Baked, a Massachusetts-based edibles company that just shattered a world record (via Mass Live).
This record-shattering pot brownie weighed 850 pounds
In case you missed it, yesterday (December 8) was National Brownie Day (via Mass Live), as good a day as any to enjoy a rich, fudgy, freshly-baked treat. And if, like Martha Stewart, you occasionally whip up a batch of the pot version of brownies (via YouTube), then you might appreciate the lengths one Massachusetts-based marijuana edibles brand went to celebrate the holiday in high style (wink wink).
According to Mass Live, MariMed, which yesterday launched its new line of cannabis brownies, Bubby's Baked, chose to commemorate the food holiday with a massive, 850-pound weed brownie containing 20,000 milligrams of THC, the active ingredient in pot. The hulking dessert measured 3 feet wide by 15 inches tall, beating out the former Guinness World Record holder, which weighed a mere 243 pounds (via USA Today).
The giant brownie was just for show, but Bubby's will be selling its 5 milligram brownies all year round at MariMed's Middleborough dispensary Panacea, if you're nearby and want to hazard a taste. "For many of us, homemade brownies were our first taste of cannabis-infused edibles," MariMed's chief product officer Ryan Crandall said in a press release (via USA Today). "Bubby's re-creates and elevates that nostalgic experience, infusing full-spectrum, craft-quality cannabis into timeless recipes, for a reliable high reminiscent of simpler times."