Brownie Recipe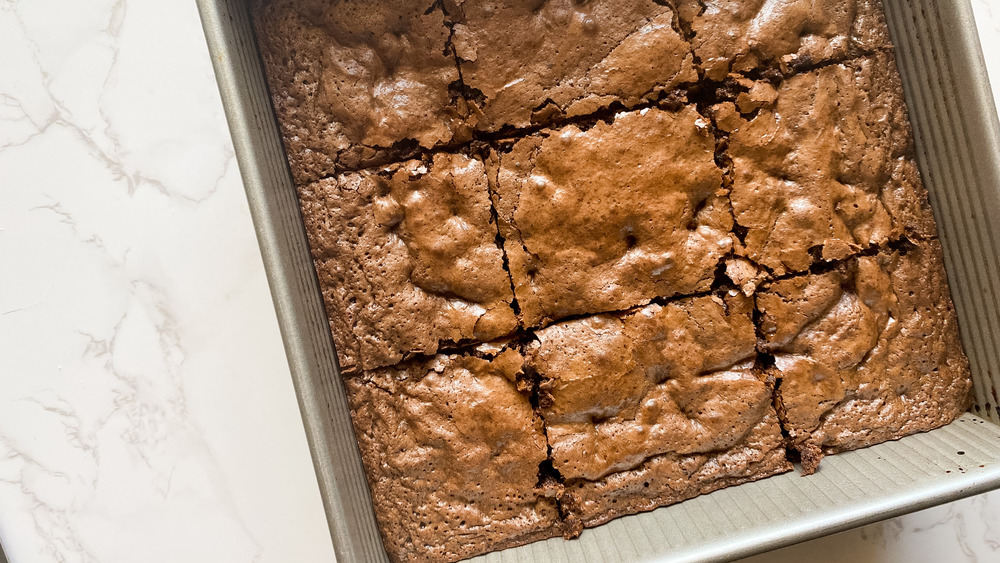 Kristen Carli/Mashed
"Be warned," says chef, food writer, and registered dietician Kristen Carli of Camelback Nutrition & Wellness, "these will go fast!" In fact, she spent more time working on this recipe than the brownies themselves had before being consumed. "My neighbors gobbled these up in minutes," Carli reported, but considering they only require about 20 minutes of hands-on work and less than a half hour baking, that's Okay.
If you have those few minutes to spare, you're probably all set to make these "classic brownies with chocolate chunks," as Carli calls them, with ingredients you already have on hand. And once you have tried this classic brownie recipe, feel free to add in things like peanut butter or butterscotch chips, crumbled nuts, coconut flakes, or whatever you want to make them perfect for your personal sweet tooth. Just stick with at least a good dose of real chocolate in there, Carli advises, saying: "I love using melted chocolate chips instead of cocoa powder in brownies. This makes them super rich."
And super rich is what you want in your brownies, FYI. Let's get baking!
Gather your brownie ingredients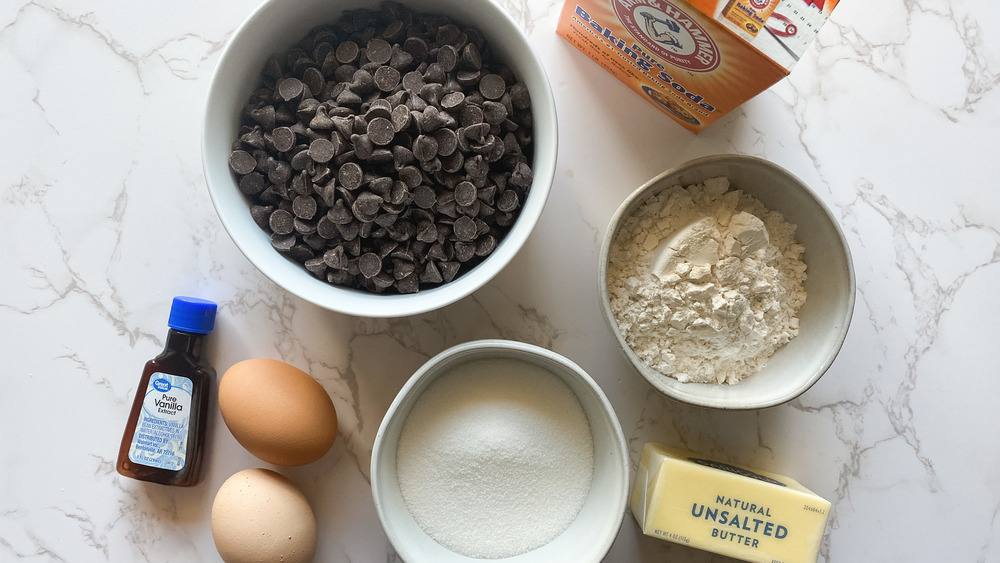 Kristen Carli/Mashed
As noted, this is a classic brownie recipe that uses ingredients you almost sure have in the kitchen already, with the possible exception of the chocolate chips. You'll need a 1/2 cup of white sugar, 2 tablespoons of unsalted butter, 2 tablespoons of water, 12 ounces of semisweet chocolate chips, divided, 2 eggs, 1 teaspoon of vanilla extract, 2/3 of a cup of all purpose flour, 1/4 teaspoon of baking soda, and a1/2 teaspoon of salt.
Carli says: "You could easily sub in non-dairy butter," adding that "in my experience, Miyokos brand works well for most butter substitutes."
Melt the butter and mix the sugar (and prep your pan and oven) for the brownies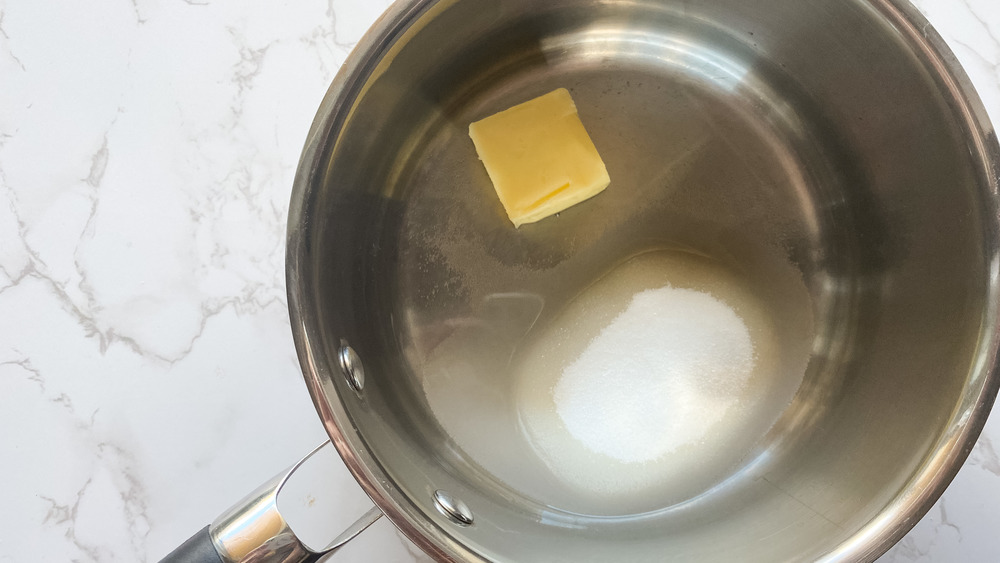 Kristen Carli/Mashed
To start things off, pre-heat the oven to 325º F, then spray an 8" by 8" baking dish with the nonstick cooking spray of your choice. You can also brush the pan with an oil or even butter if you prefer.
In a medium-sized pan, heat the sugar, butter, and water over medium heat. Stir slowly and keep things moving until the sugar has dissolved, the butter has melted, and the mixture begins to boil. Now cut the heat.
Melt the brownie chocolate and mix in the eggs and vanilla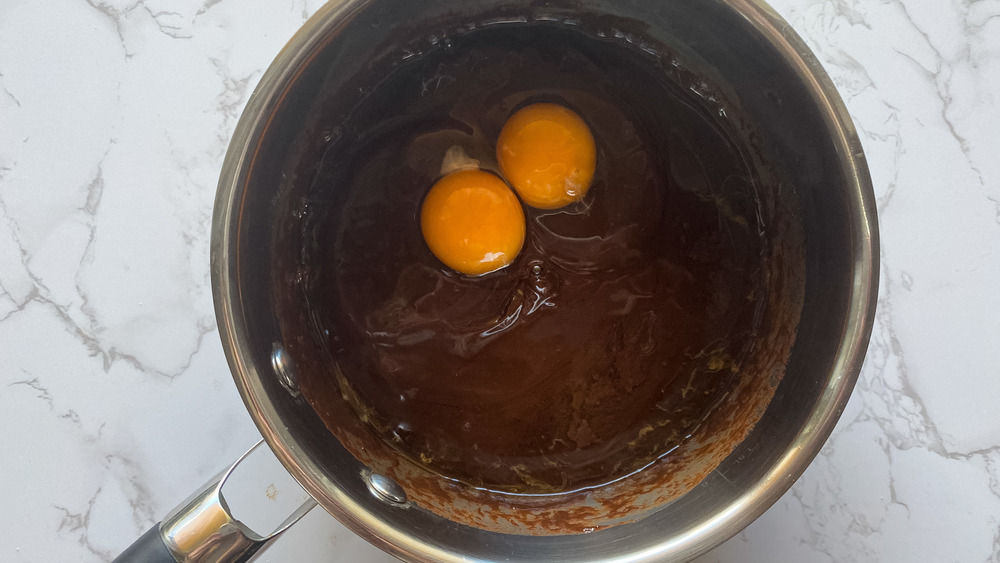 Kristen Carli/Mashed
Once you have removed the heat from the melted butter, sugar, and water mixture, stir in 1 and a 1/2 cups of chocolate chips (note that you will have a handful left over still). Stir in the chocolate chips until they have melted.
Now add the eggs and the vanilla extract into chocolate mix. Stir everything well to combine, making sure the eggs are fully integrated.
Combine the dry brownie ingredients, then stir them in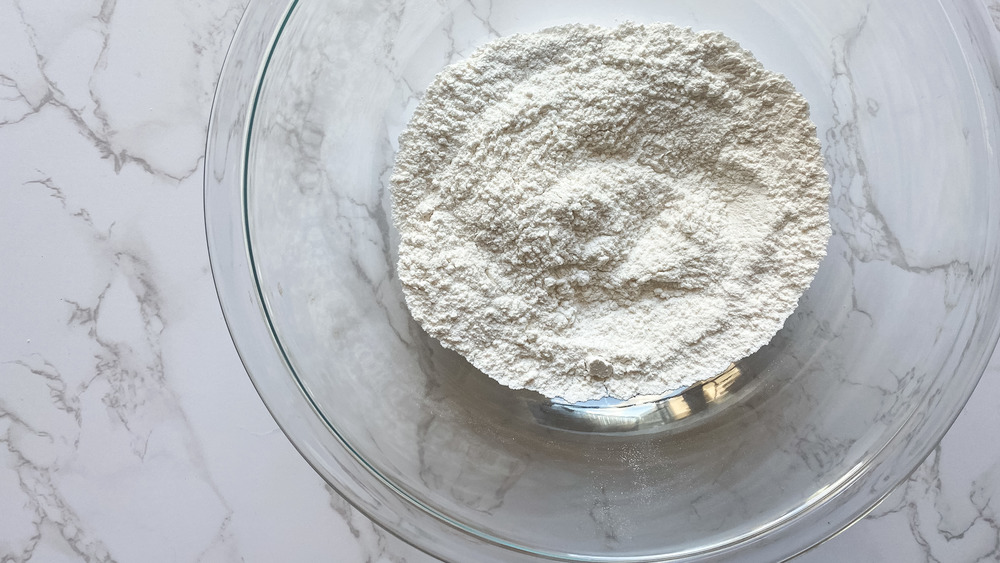 Kristen Carli/Mashed
In a separate medium-sized bowl, add the flour, baking soda, and salt and stir them together with a fork until all the remaining dry ingredients mix together.
Now add the dry ingredients to the wet ingredients and stir it all well to combine into a thicker chocolatey paste. When everything is mixed evenly, toss in the remaining chocolate chips and stir again to combine those bits (soon to melt to perfection) into that delightful gooey goodness.
Pour the batter then bake the brownies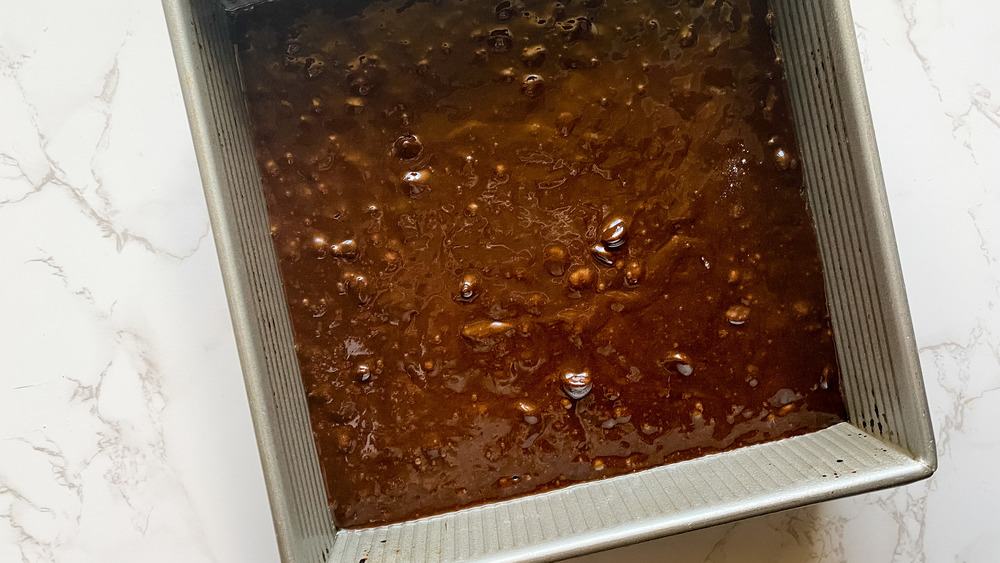 Kristen Carli/Mashed
Pour batter the finished batter into the prepared pan, being sure to use a silicone spatula to scrape out every drip. Level the batter as  needed so it fills the pan evenly, then bake the brownie batter for 25 minutes at 325ºF. (Go ahead and do the classic checking the doneness with a toothpick coming out clean, but that should be perfect timing.) Under baking is a classic brownie making mistake, so don't pull them out of the oven too early. 
Once they're cooked all the way through, allow the brownies to cool in the pan for a few minutes, then cut them into squares and enjoy!
Brownie Recipe
Fact: Everyone loves a pan of brownies. These brownies don't take long to make and take even less time to eat. Chocolatey, chewy goodness is on the way!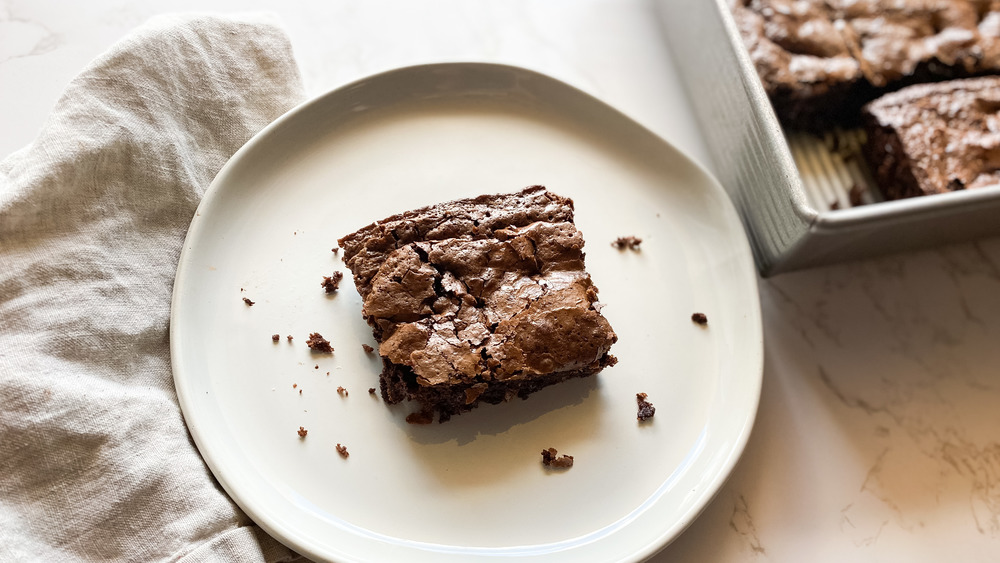 Ingredients
½ cup white sugar
2 tablespoons unsalted butter
2 tablespoons water
12 ounces semisweet chocolate chips, divided
2 eggs
1 teaspoon vanilla extract
⅔ cup all purpose flour
¼ teaspoon baking soda
½ teaspoon salt
Directions
Preheat the oven to 325ºF. Spray an 8x8 baking dish with nonstick cooking spray.
In a medium pan, heat the sugar, butter, and water over medium heat. Once boiling, remove from heat and stir in 1 ½ cups of chocolate chips. Stir until melted.
Add the eggs and vanilla. Mix to combine.
In a separate bowl, add the flour, baking soda and salt.
Add the dry ingredients to the wet ingredients. Stir to combine. Add the remaining chocolate chips. Stir to combine.
Pour batter into prepared pan. Bake for 25 minutes. Allow to cool in the pan. Cut into brownies into squares and enjoy.
Nutrition
| | |
| --- | --- |
| Calories per Serving | 296 |
| Total Fat | 14.9 g |
| Saturated Fat | 8.6 g |
| Trans Fat | 0.1 g |
| Cholesterol | 42.3 mg |
| | |
| --- | --- |
| Total Carbohydrates | 42.5 g |
| Dietary Fiber | 2.5 g |
| Total Sugars | 31.8 g |
| Sodium | 173.9 mg |
| Protein | 3.8 g |