We Tried The Newest Restaurant From Celebrity Chef Richard Blais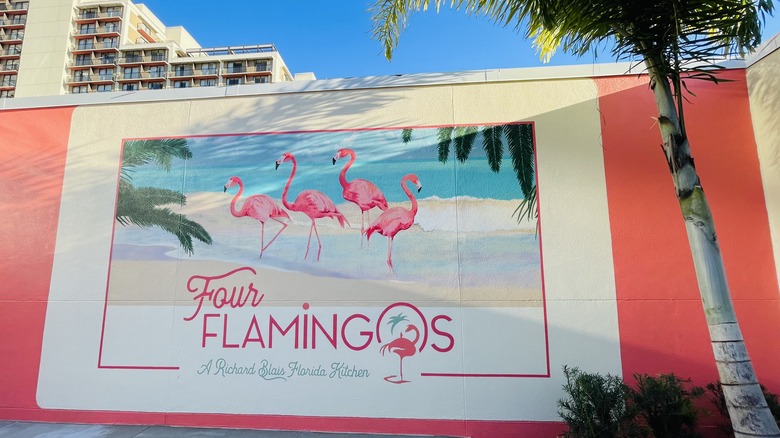 Carly Caramanna/Mashed
Let us just get this one out of the way. We here at Mashed love Richard Blais. He first came on the national scene as a contestant on season 4 of "Top Chef" where he drew us in with his charming personality and wizard-like skills at using liquid nitrogen (more on that to come). The Culinary Institute of America alum went on to train at The French Laundry and he now heads up Ember & Rye in Carlsbad, California as well as serving as the culinary director at the newly opened San Diego Symphony performance space, The Rady Shell at Jacobs Park. The television personality and James Beard-nominated cookbook author has now set his sights on shaking up the bustling restaurant scene in Orlando.
Blais has made the venture to the sunshine state to open Four Flamingos: A Richard Blais Florida Kitchen. Like a love letter to the state of Florida, the inspired restaurant embraces vintage vibes while showcasing the freshest of ingredients prepared with modern techniques. The name is a nod to the four species of flamingo native to the United States and the bird's tendency to gather and feast in groups — much like us humans. We gathered with a flock of fellow flamingos to try it out. Here are our thoughts!
Four Flamingos recently opened up in Orlando, Florida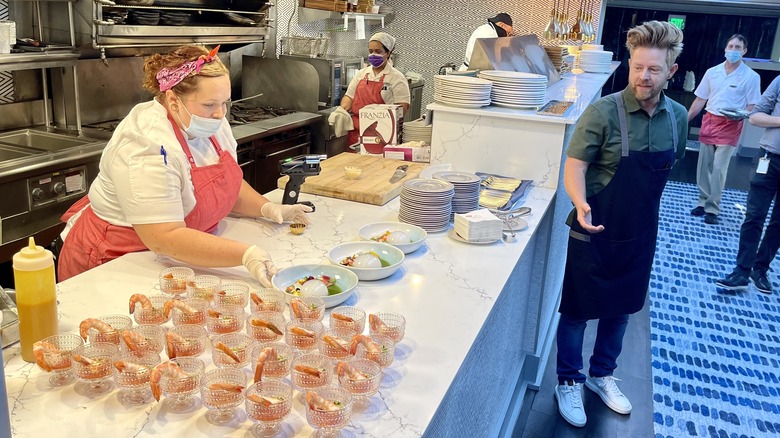 Carly Caramanna/Mashed
Four Flamingos: A Richard Blais Florida Kitchen recently opened at the Hyatt Regency Grand Cypress. Blais was attracted to Orlando for a simple reason. He shared with Mashed, "so many of my celebrity chef friends and colleagues are opening restaurants here and it's just an incredible market. I've had some amazing experiences here as a visitor and a tourist as well. There's a little bit of an underdog quality to Orlando."
The little touches make this spot extra special — like a mural from a local artist and the flamingo pink lights that welcome you to the property. He retained the open-air kitchen from the restaurant that previously sat there — the local favorite Hemingway's — because it creates more of an experience for the guests as they get a front-row seat to the kitchen process. If you had any doubt that your meal was freshly prepared, you won't after getting a peek at the crew working feverishly behind the counter.
It was also critical that Blais not just throw his name on another restaurant but be an active part. He explained to us: "One of the few things that I feel so strongly about in my career is that I've never, ever not been a part of opening restaurants or not been a part of being an actual chef in restaurants. I'm in love with it ... It's just a thrill. It's never easy. It's always a lot of chaos followed by fun."
The inspiration came from the chef's family memories in Florida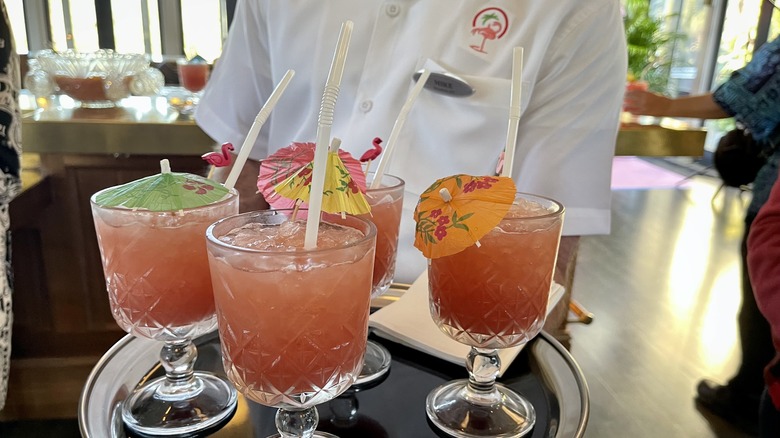 Carly Caramanna/Mashed
The inspiration for the restaurant came from the chef's many family memories throughout the state of Florida. He may not have grown up there, but thanks to his wife, he now has family throughout. He told Mashed. "I spend a lot of time here. I am an adopted Florida gator. I'm so excited to be here and be able to cook in a state where I have so much family."
The focus is on simple quality ingredients with some flair added in presentations, like the use of liquid nitrogen to further infuse unique flavors ­— what he became known for on the small screen. The cuisine is inspired by tropical flavors and ingredients local to Florida, including vegetables, native fruits —especially citrus— and seafood. With this concept, he is hoping to capture that special magic you felt on your first visit to the state.
The restaurant's theme is vintage Florida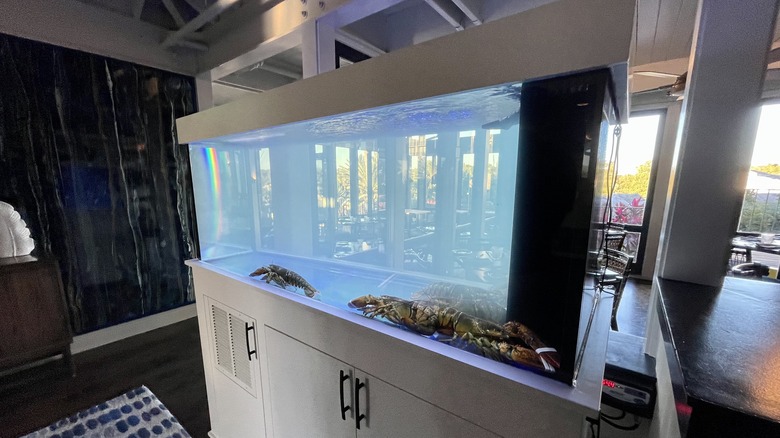 Carly Caramanna/Mashed
The décor and overall aesthetic ooze vintage Florida, down to muted pinks and floral wallpaper. It's simultaneously fresh and modern while showcasing a bit of a nostalgic tropical look. Floor-to-ceiling windows give way to the lush landscape outside that is reminiscent of a tropical jungle. The entire vibe is fun with a playlist that was personally curated by the chef himself.
Even the glassware and flatware are part of the story. On our visit, Chef Blais pointed out the beautiful crystal vintage glasses that were used in presenting a shrimp cocktail. The flatware also give off a homey appeal that brought an overall welcoming sense to our visit.
The tribute to Florida is not only in the décor, but in the flavors — from fresh citrus to stone crab and Mahi Mahi — there is even a real-life lobster tank for a total throwback. The menu isn't trying to be anything other than it is and the dishes are classic for a reason. There's nothing wrong with surf 'n' turf and there's no need to shake up the familiar, but rather execute them extremely well. It's like that family vacation you took to Florida as a kid, but instead, the shrimp is impeccably fresh and the sauce coating your fish isn't a simple butter, but a luscious citrus beurre blanc. 
Seafood is the star of the show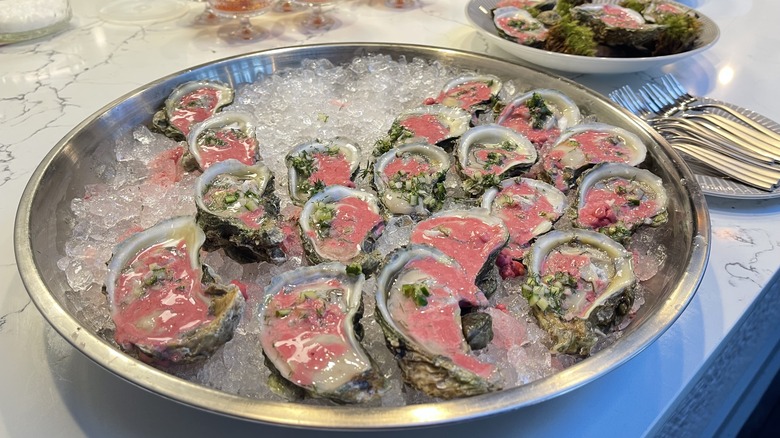 Carly Caramanna/Mashed
The culinary program is centered around the flavors of Florida, the American South, Caribbean, Central and South America — and because of that, the menu is largely based around seafood. Chef Blais explained how important it was that they never bring in frozen seafood and proclaimed that "we're only as good as our vendors, farmers, and fisher people."
Seafood is featured across the menu as part of raw items, snacks and salads, and as main entrees. From stone crab claws and Florida shrimp to conch hushpuppies, the star of the show is the locally sourced ingredients that draw millions of visitors to Florida each and every year. There's even lobster — available blackened, grilled, or poached— on the menu which chef shared with us is an ode to the many holidays he spent preparing meals for the family using the crustacean sent down to him from New England.
Meat lovers need not be worried. They also have selections of steaks –- including a 22-ounce dry-aged beef ribeye aptly named "Thor's Hammer" – that you can pair with the chef's signature steak sauce or a zesty jalapeno chimichurri.
Prices for dinner range from around $15-$20 for appetizers and entrees in the $30-$50 range, with the most expensive dish being the 22-ounce ribeye at $120. It's not going to be a cheap meal, but you are paying for the utmost quality of ingredients, masterfully prepared.
The cocktail selections at Four Flamingos are also impressive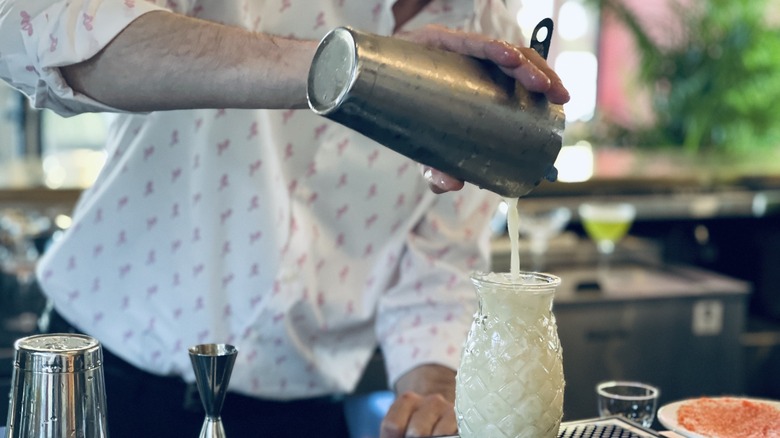 Carly Caramanna/Mashed
The flavors of Florida are in full effect on the curated cocktail menu as well, like the use of local strawberry and other citrus fruits. The "Key Lime in the Coconut" uses Stoli Vanilla with Midori, Key lime shrub, pineapple, and a delicious coconut foam to round it out. They also have a sunshine state twist on the old-fashioned — the "Florida Ole-Fashioned" uses orange blossom bitters, spiced orange blossom honey syrup, and is finished off with a bit of a smoke show ... literally. To engage all of our senses, a smoke gun is used to complete the drink by infusing even more flavors.
We loved the namesake "Fifth Flamingo" cocktail that was a riff on a classic rum runner using Tempus Fugit Crème de Noyaux and a raspberry-orgeat syrup. The menu is tropical forward but embraces all types of liquor, suitable for any taste bud. Impressively, all syrups are made in-house and they source their liquor locally — like Siesta Key Rum based out of nearby Sarasota, Florida.
The verdict on Four Flamingos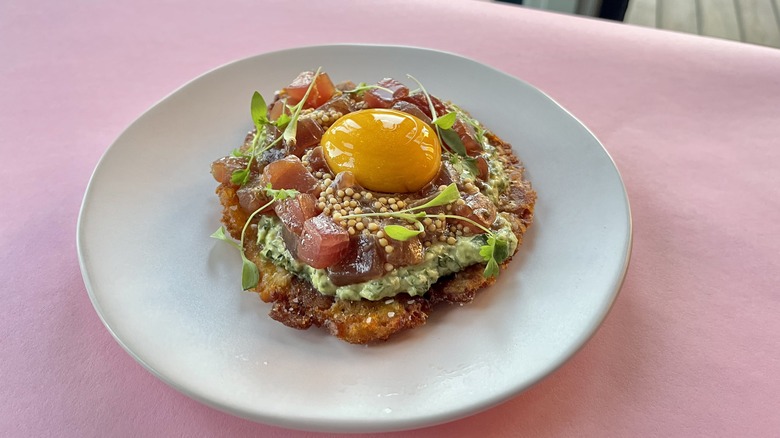 Carly Caramanna/Mashed
Blais laid it out simply for us here at Mashed: "It's about getting great ingredients and not trying to mess them up." ... and we were happy to say he did not mess it up one bit.
Highlights for us included one of the chef's personal favorites, an oxtail and foie gras empanada, as well as one of his signature dishes, a tuna tostones with a passion fruit yolk. Incredibly fresh oysters with hibiscus hot sauce and fresh dill were not only delicious but infused a bit of science in the presentation. The chef used liquid nitrogen to hit the spicy hibiscus sauce turning it into a small orb that slowly and evenly melted across the oyster. It was simply divine and an explosion of flavor with a welcome punch from the fresh dill.
As we mentioned, Blais is known for his culinary creations that infuse a little science in the mix and that's found across the menu. Scented smoke bubbles were the final touch on their snapper ceviche that was presented table-side. Coconut shrimp toast was one of the stars of our meal and what Blais is betting on will become one of their most well-known dishes in the area.
Overall, everything was fresh and prepared to a level of expertise we would only expect from one of the hottest chefs in current times.