Why Sunny Anderson Wants To Have Dinner With Whoopi Goldberg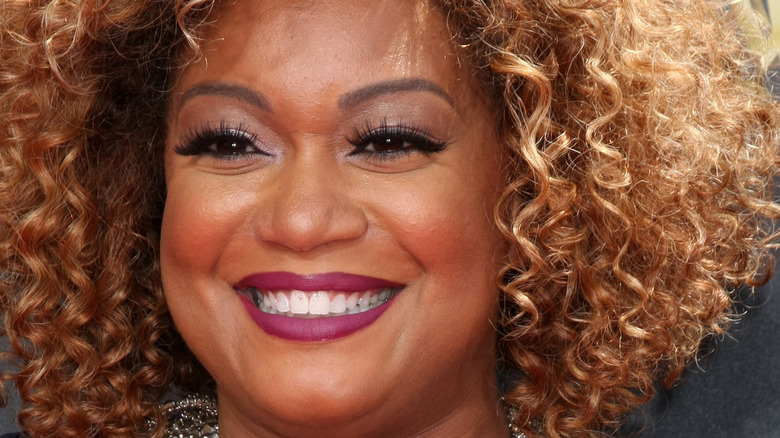 Kathy Hutchins/Shutterstock
Sunny Anderson is known for her bubbly personality and delicious comfort food, but you may not know that per Food Network, the co-host of "The Kitchen" is an Army brat who joined the United States Air Force in 1993 and worked as a radio broadcaster and magazine editor in South Korea and San Antonio, Texas. Anderson told ABC News, "I knew that there were radio stations, television stations, newspapers, and magazines, for the military, by the military, and I wanted to be a part of that." When she transitioned to civilian life, the celebrity chef went to work for a radio station where her love for food led to the Food Network. It's really an incredible career path marked by giving back and finding your passion. 
Our friends at Delish caught up with Anderson, quizzed her about her life and success, and asked her everyone's favorite question, "If you could invite one famous person to dinner, who would it be?" Anderson revealed she would want to cook for and eat with comedian and talk show host Whoopi Goldberg, who has had a successful and long career in front of the camera. But Anderson's reason for wanting to dine with Goldberg is really interesting.
Sunny Anderson wants to interview Whoopi Goldberg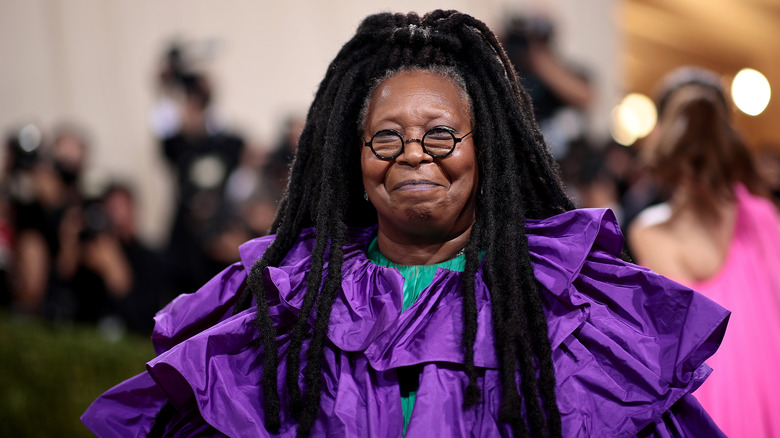 Dimitrios Kambouris/Getty Images
Anderson told Delish that she is actually fascinated by Goldberg's detached emotions when it comes to food. She said, "I'd invite Whoopi Goldberg because every time she discusses food she talks about it like it doesn't play any part in her life." Anderson also explained that she would like to take up the challenge of finding that one food that Goldberg couldn't live without. The author of "Sunny's Kitchen: Easy Food for Real Life" said, "She says she can go forever without eating. I'd be interested in interviewing her about her likes and preparing something she just couldn't live without." But aside from that, Anderson also loves Goldberg's sense of humor. Anderson gushed, "And she's so pleasant and funny, I'm sure she'd be a great conversationalist at the table."
But according to Rachael Ray Magazine, if Anderson is going to have Whoopi Goldberg over for dinner, she may want to have some "prosciutto balls and rice balls from Faicco's Pork Shop and great cheese from Murray's Cheese Shop" on hand to break the ice. Ray pointed out to "The Jumpin' Jack Flash" star she didn't see a lot of food in the refrigerator during their interview. However, Goldberg admitted she's a fan of sliced salami and cheese and went on further to share, "When it comes to snacks, I'm all about salt and fat." Time for Anderson to work her food magic.