Why Drew Barrymore Was So Hesitant About Writing A Cookbook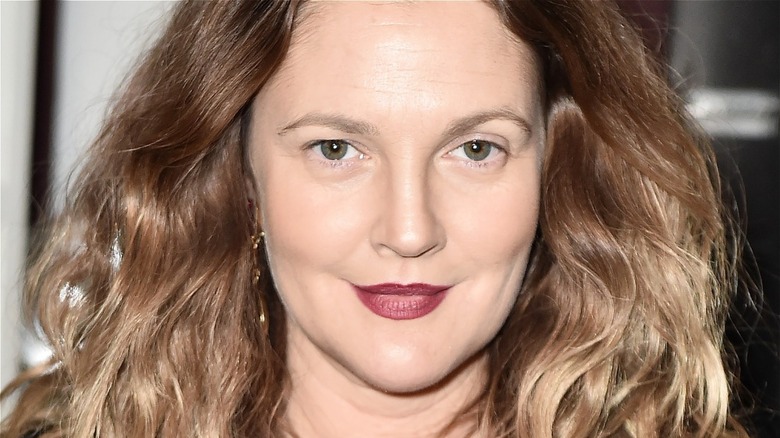 Steven Ferdman/Getty
Drew Barrymore has not always been a foodie. Born into show biz royalty and having embarked on a career in front of the camera when she was 11 months old, the actor and talk show host has traveled a long, winding, and often treacherous path to get to where she now stands. After the release of "E.T. the Extra-Terrestrial" when she was 7, she experienced superstardom, addiction, and self-harm. She became emancipated from her family and took on the responsibility of self-parenting when she was 14, The Guardian reports. The road to becoming comfortable in her own kitchen began after that, according to People. When she lived independently in her teens, however, she relied on processed foods and was not yet into cooking.
Barrymore told People that her food journey really began in her twenties, when she started traveling the world and experiencing different cuisines. As an Ambassador Against Hunger for the UN World Food Programme, according to Condé Nast Traveler, she visited villages in Kenya, and she also backpacked alone in India and Bhutan and visited post-revolution Egypt. Though these experiences broadened her palate, Barrymore didn't really start cooking herself until she was in her thirties and forties. She now pores over cookbooks with enthusiasm, but previously, when offered the opportunity to write one of her own, she declined. She just didn't feel like the role of cookbook author was the right fit for her, she told Bon Appétit.
She thought she would have imposter syndrome
Barrymore recently released a cookbook with her friend and personal chef, Pilar Valdes, called "Rebel Homemaker: Food, Family, Life," but she didn't always want to write a cookbook, she told Bon Appétit. When offered the chance to write one in the past, she felt "ill-equipped" and like the experience would give her imposter syndrome. "To me, chefs are very authentic people. I just did not feel I belonged in that world," she said. After becoming friends with Valdes and spending more time in the kitchen in recent years, however, she felt more like she had "a point of view" to offer readers.
What all changed in these recent years? Barrymore was in the middle of a divorce and going through a career transition to host her talk show, "The Drew Barrymore Show," when she met Valdes while searching for a personal chef. They were considering more ways to work food into her show when they got the opportunity to write a cookbook. Barrymore had grown quite the cookbook collection and experienced a range of dishes with Valdes by then, which she thought would be "amazing to document." If you grab a copy for yourself, expect to find recipes that the duo actually makes at home.