Here's How Heineken Wants To Save Christmas From Supply Chain Issues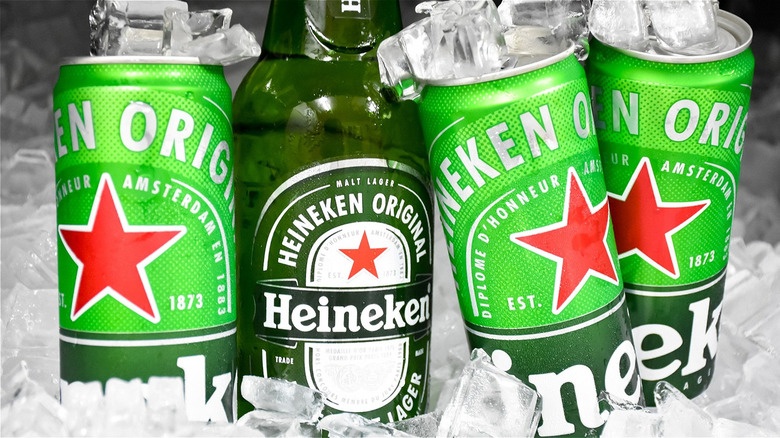 Patcharaporn Puttipon 636/Shutterstock
Many people might be facing additional stress this holiday season, as they struggle to complete their holiday shopping amid ongoing supply chain disruptions. According to Business Insider, supply chain problems, combined with persistent labor shortages and increased demand around the holiday season, have led to higher prices or lower availability of a wide variety of seasonal essentials, including classic holiday foods like turkeys, go-to gifts such as toys, and even Christmas trees. All of this can make an already hectic time of year feel even more stressful than usual, as many people face the possibility that the gifts they have carefully selected for their loved ones might not make it under the tree (assuming they have a tree) before Christmas morning.
Luckily, Heineken, which previously tried to prevent 4th of July FOMO for folks who had to work, knows that supply chain issues this season may cause folks to miss out on holiday joys such as presents. In a statement shared with Mashed, the company offered a solution for revelers who may have just realized shipping delays and shortages could mean their gifts won't arrive in time for the big day – and no, it's not a bottle of the brand's famous brew.
The Heineken IOU will let you give a placeholder gift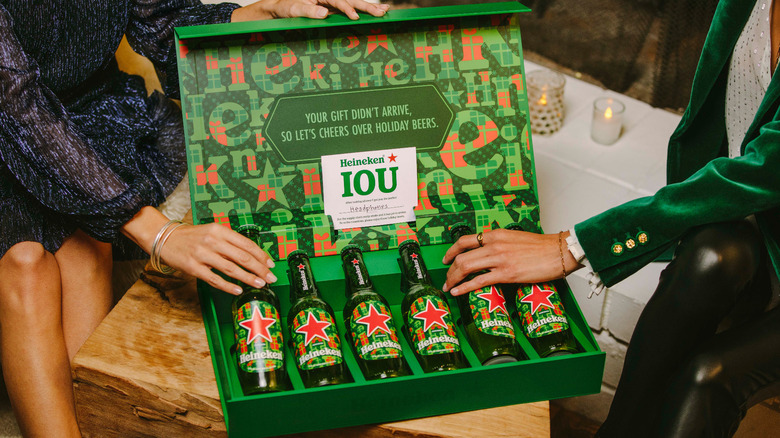 Heineken
For a limited time this holiday season and only in participating markets, Heineken is offering customers the chance to give their loved ones an IOU box in place of delayed gifts. According to the press release sent to Mashed, "This luxurious holiday gift box holds six bottles of Heineken and a personalized message that lets the recipient know their real gift is on its way." 
The Heineken IOU even includes something special for the gifter as well. Each box also comes with a gift card enclosed, which can be redeemed for bottles of Heineken. These placeholder presents became available on December 10 and will remain on offer "for the two 3-day weekends before Christmas." Customers seeking a Heineken IOU have to go to www.HeinekenIOU.com and upload a picture of their delayed shipping notification to receive their unique placeholder gift. As you might expect, all customers must be at least 21 years to order. But if shipping or supply problems delay the arrival of the box, will Heinek send you an "IOU an IOU" box?