Bobby Flay's Girlfriend Melts Hearts With Sweet Birthday Tribute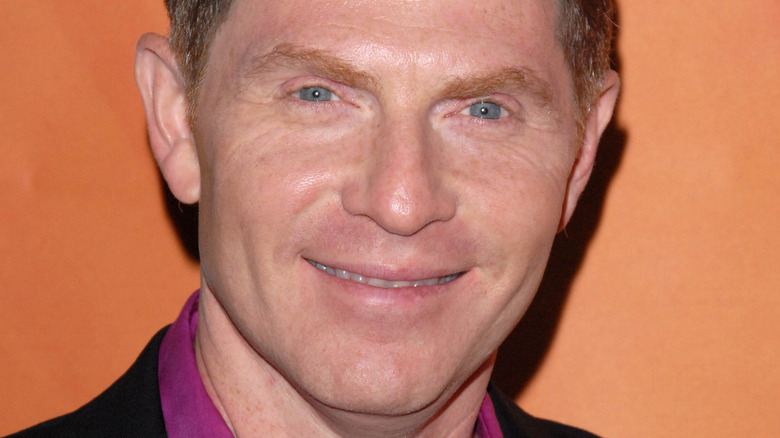 s_bukley/Shutterstock
The internet can't stop gushing over this heart-melting post shared by chef Bobby Flay's girlfriend Christina Pérez. In honor of Flay's birthday, Pérez wrote, "happy birthday to the man who keeps me laughing and makes my life more delicious and sparkly than I could ever have imagined — love you x million @bobbyflay" (via Instagram). Of course, this sweet declaration ended with a heart emoji. The includes a sweet video clip of the couple together and Pérez planting a quick peck on the birthday chef's cheek.
Pérez is the senior content and creative director at Miss Grass which is a company specializing in premium CBD and THC products (via Page Six). She and Flay first appeared together as a couple on November 5 at the 2021 Breeders' Cup World Championships, quieting the questions about the identity of Flay's "mystery girlfriend." They look like they're over the moon about each other, and it seems they aren't the only ones who support this pairing.
Pérez's birthday tribute clearly gave Flay fans all the feels, as comment after comment bursts with heart emojis in reply. Perhaps summing up this sentiment best is kellyaustin480, who wrote, "So adorable!!! Happy Birthday Bobby!!! Best to you both." Another fan, j.u.s.t_.i.n, added, "Aw, it makes me happy to see you happy and bobby happy."
Bobby Flay thinks Christina Pérez is 'spectacular'
While it doesn't appear that Bobby Flay replied to Christina Pérez's birthday tribute directly, he gave a shoutout to his leading lady in front of his 1.7 million followers with his own birthday post, sharing, "I want to thank every single person that sent me the loveliest bday wishes today. 364 days a year I use my know how around a stove to show my love and adoration to the people that are special to me (you all know exactly who you are) Today, I'll let someone else do the cooking in the company of my spectacular lady @christinalperez" (via Instagram).
Flay's birthday post is filled with well-wishes from fellow food celebrities including Alex Guarnischelli and even Caesar's Palace, but Pérez was one of only two people mentioned by name in his thank you – the other being production partner Kim Martin (via Instagram). Maybe this top-billing says something about how important she is to Flay.