I Love Lucy Fans Might Also Love This Chocolatey Treat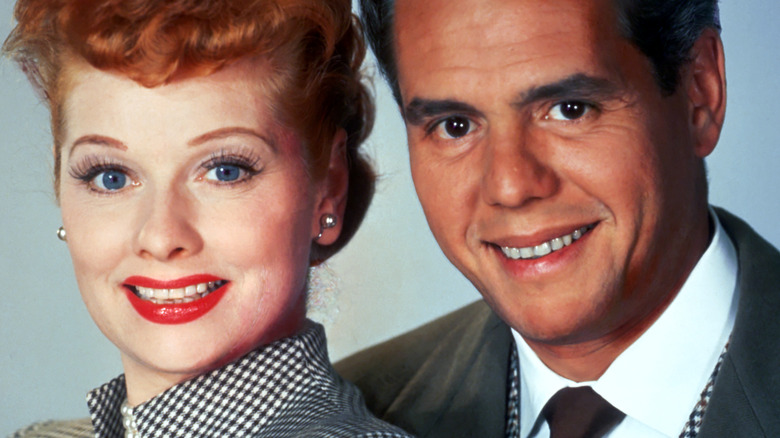 Michael Ochs Archives/Getty Images
Fans of "I Love Lucy" are undoubtedly looking forward to Amazon Prime's upcoming film, "Being the Ricardos," starring Nicole Kidman and Javier Bardem. For those not familiar with the biopic about the stars of the iconic 1950's sitcom, writer and director Aaron Sorkin explained to ET, "The film takes place during a production week of 'I Love Lucy' – a Monday table read to Friday audience taping, with a whole bunch of long flashbacks which are telling the story that got us here."
The movie takes a deep dive into the intense relationship between the fiery comedic powerhouse, Lucille Ball, and her Cuban-American showman husband, Desi Arnaz. Or as Sorkin puts it, "Lucy and Desi were madly in love with each other. Madly, madly in love with each other. They also often wanted to kill each other. There was very interesting friction in this relationship." 
To promote the new flick, the streaming giant has teamed up with Compartés Chocolates to create a treat that is definitely an homage to the legendary couple — and we think fans are going to love it. 
Amazon partnered with the perfect candy maker
Per Compartés Chocolate's Instagram, the chocolate company has created a one-of-a-kind chocolate bar in anticipation of "Being the Ricardos" December 21st release on Amazon Prime. "Lucy and Desi are home...with Compartés!" The chocolatier wrote, adding, "We're so excited to announce that we've teamed up with Amazon Prime Video. With every purchase on Compartés.com, we're giving away a FREE #BeingTheRicardos bar while supplies last." According to People, it's a red velvet flavored chocolate bar and described as "luscious, delicious and divine." The post has received close to 2.6k likes and even Amazon Prime is kvelling over it, writing, "omg the packaging."
Jonathan Grahm CEO & Founder of Compartés expressed his excitement for being a part of this project in a statement (via People), saying, "Growing up the 'I Love Lucy' series was one of my favorite TV shows because we watched it all together as a family. I am so excited to create this special chocolate bar in homage to these iconic stars and in celebration of the Being the Ricardos with Prime Video." The confectioner has been around since 1950, and counts Marilyn Monroe, Frank Sinatra, Elvis Presley, Winston Churchill and The Kennedys among celebs who have satiated their sweet tooth with Compartés chocolate.