Reddit Is Loving How This Trader Joe's Pizza Dough Was Used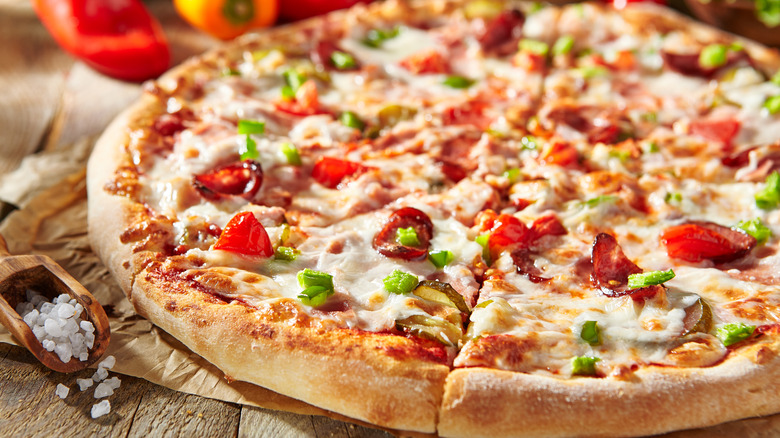 Ryzhkov Photography/Shutterstock
According to a recent survey shared by Reader's Digest, pizza is America's favorite food, with the majority of respondents dubbing it the one thing they would want to eat for the rest of their lives. It makes sense — after all, who can turn down a slice of pillowy, cheesy goodness? Pizza is one of those things you can eat any time, anywhere. Many people would argue it's just as good hot out of the box for a Friday night dinner as it is leftover and cold for a quick, no-cook breakfast.
While you can order a bubbling pie from many popular takeout pizza chains across the country, you can also make your own pizza at home. And no, you don't have to spend hours whipping up the dough from scratch: You can find plenty of pre-made dough options at the grocery store. Trader Joe's, for example, has a solid pizza dough that has rave reviews from shoppers. You can obviously use it to create the perfect homemade pizza, but, based on a recent Reddit post, you can also use it for something a little more unexpected.
A Redditor used Trader Joe's pizza dough to make garlic knots
If you thought pizza dough could only be used for pizza, your mind is about to be blown. One clever user on Reddit recently proved just how versatile Trader Joe's ready-to-bake pizza dough — which costs just $1.99 per pack — really is. The home cook shared a photo of their drool-worthy, semi-homemade garlic knots, topped with butter, herbs, and grated Parmigiano-Reggiano. Rather than make the dough by hand, though, the original poster simply used hunks of Trader Joe's pizza dough. 
The Redditor shared the entire recipe, which they said takes only 15 minutes in the oven. Commenters are big fans of the idea, with many saying how delicious the appetizer looks and adding that Trader Joe's marinara sauce would make the perfect dipping sauce. Others said they've tried something similar, having used the dough for things like flatbread and calzones. Next time you have a small piece of leftover pizza dough — if there is such a thing — you can use those scraps to try homemade garlic knots.