Instagram Is Raining Hearts On Paula Deen's Birthday Tribute To Her Husband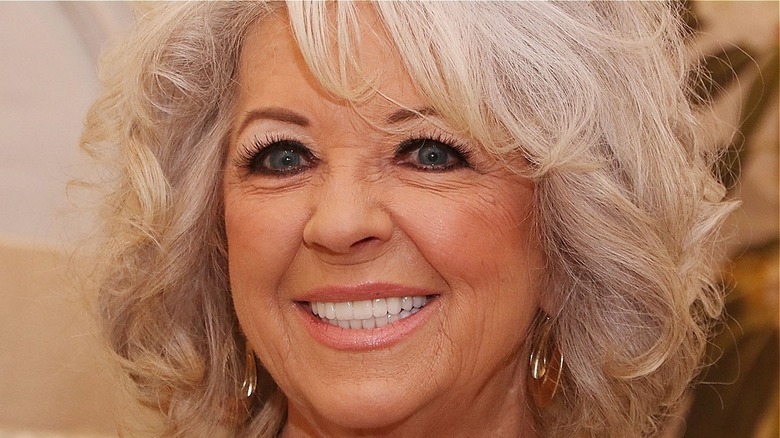 Aaron Davidson/Getty
While celebrities frequently use their social media accounts to promote their latest projects, from new cookbooks to new television shows, they also occasionally share content that's a bit more personal with their fans. That's precisely what the queen of Southern fare, Paula Deen, did in a recent Instagram post, much to the delight of her 433,000 Instagram followers.
A stream of posts centered on holiday recipes, the type of food content typical for Deen's account, was followed by a heartwarming image that featured Deen staring not at the camera, but rather her husband, Michael Groover. Deen has been married to Groover, a tugboat captain nine years her junior, since 2004, as Delish reports. And, it appears those 17 years have been spent in marital bliss, if her adorable post is anything to go by.
In the image, Deen and Groover stared deep into one another eyes, smiles gracing their features, as they both had one hand on a cupcake topped with fluffy white icing and a single candle. The couple appeared to have eyes only for one another, and Deen paired the shot with a caption that stated, "Love has kept us together," and that she was "happy to be able to celebrate [him] a little extra today!"
Within just four hours of posting, the birthday share had over 5,800 likes and over 250 comments.
What fans were saying about the birthday tribute
Deen wished her husband a happy birthday in the caption of the Instagram post, referring to him by the nickname "Mikey," and many of her fans likewise took the opportunity to wish Groover a happy birthday in the comments section. However, there were also quite a few individuals who were inspired by the sweet love story captured in the single shot.
"Beautiful picture of y'all Paula!" one fan wrote, while another chimed in, saying, "You both look wonderful." Yet another wished Groover a happy birthday, and followed the well wishes up by saying, "What a lovely couple you are." Another fan seemed to have the holiday season in mind, and, perhaps in response to Groover's snowy-white facial hair, commented, "You should dress as Santa and Mrs Claus."
The birthday post certainly wasn't the first time that Groover has guest-starred on Deen's Instagram page. Just last month, he appeared by her side for her "Love & Best Dishes" video series, where he showed off his own prowess in the kitchen as the duo whipped up his bacon-wrapped, sausage-stuffed pork tenderloin recipe (via Instagram). Now, the only question is whether Deen whipped up the cupcake she and Groover were holding in the picture, and if so, which of her mouthwatering dessert recipes it was.