Here's What It's Like At Kentucky's Colonel Sanders Museum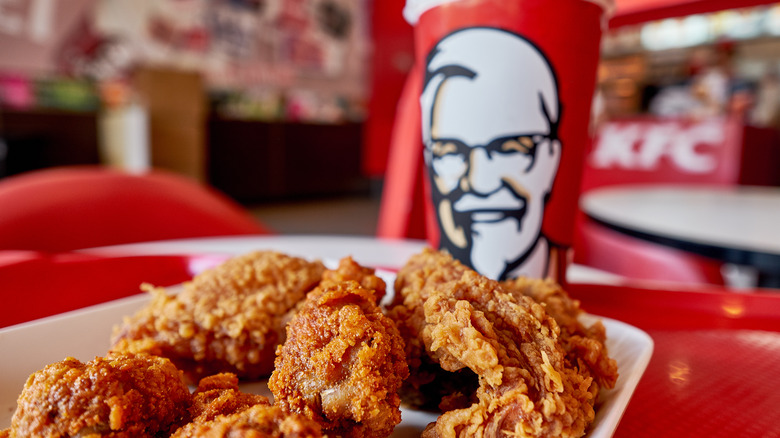 KULLAPONG PARCHERAT/Shutterstock
With a gilded walking cane in one hand and a bucket of drumsticks and thighs in the other, Colonel Harland Sanders sauntered his way into America's heart with nothing but Southern swagger and a recipe for fried chicken. These days, with more than 25,000 KFC restaurants in 145 countries (via KFC's global website) and with almost 4,000 of them being in the United States, it's safe to say Colonel Sanders' legacy certainly will not be forgotten by fried chicken fanatics all across the world.
However, despite having his face plastered on buckets of chicken, just how much do you know about the real-life Colonel? For one, did you know that he's not actually a Colonel in the military sense, but was instead made into a Kentucky Colonel by then-governor Ruby Laffoon (via Biography)? Did you know that the FBI kept a public file on him that — despite stating right off the bat that "Colonel Harland. F. Sanders has not been the subject of an FBI investigation" — which contains two paragraphs of blacked-out information, a letter to J. Edgar Hoover from Colonel Sanders inviting him to his 80th birthday, and a report about the good Colonel getting a death threat? 
It sure does seem like Sanders lived a pretty colorful life, with a 1970s New Yorker article describing him as "a perfectionist in an imperfect world." In Corbin, Kentucky, there exists a place dedicated to the achievements of Colonel Sanders, a place that combines the grand historical mythos of a museum and the delicious finger-licking experience of a KFC. 
Where fried chicken and museum tours meet
If you were perhaps expecting the old Sanders Court and Motel to have been remodeled into a elaborate palace like Prince's Paisley Park home or Elvis Presley's Graceland mansion, you'd surprisingly be mistaken. The Sanders Café in Corbin, Kentucky resembles an old wood-sided home more than your conventional KFC. A vintage neon sign that reads "Sanders Café" and a historical marker detailing the life of Colonel Sanders stand outside, a stark contrast to the flashing modern-day KFC sign in the small parking lot.
Within the Sanders Cafe is a modern-day KFC, surrounded by museum displays of newspaper articles, miniature scale-models of the original 1940s Sanders Court, and even a handsome bust of the dashing Southern entrepreneur himself. One can feel free to dine on their KFC combo meal in a rustic, spacious dining room, where wood paneled walls and tables stand as a monument to the humble origins of Colonel Sanders and the KFC empire as but a mere man and his gas station/diner during the Great Depression (via The Balance). After lunch, one can journey through the museum itself, admiring Harland Sander's own personal office, to even the very kitchen and dining room where the good old Colonel came up with his world-famous recipe. Although you may been expecting more flair from a place as remarkable as a museum dedicated to KFC, there's a simple, nostalgic reminder of street-side cafes and old tourist attraction motels that remains perfectly preserved even today.