TikTok Isn't Impressed With This Over-The-Top Starbucks Order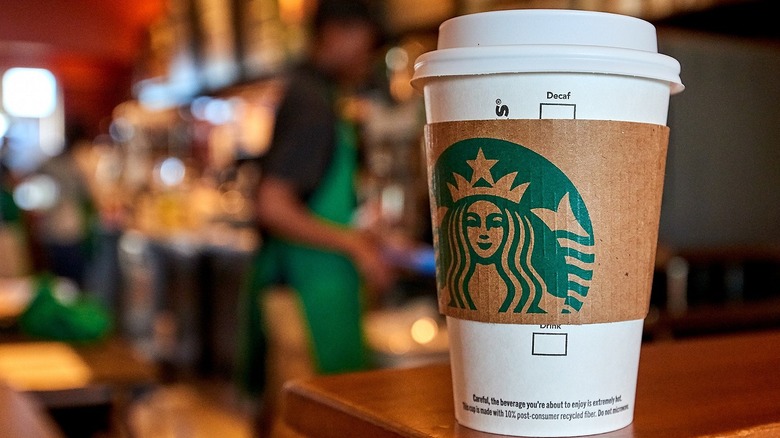 Harun Ozmen/Shutterstock
Starbucks is known for its long list of optional ingredients and add-ons that allow customers to create a specialty beverage. Still, baristas probably aren't expecting a single order that uses them all at once. Now, one TikToker threatened to order up a $50 iced coffee, and followers weren't cool with it.
In a barista's nightmare TikTok post, user instrumentality.project shows a screenshot of their Starbucks mobile app with a 19-ingredient order totaling $53.95. The voiceover asks followers, "Should I use my stars to order this monstrosity?" The cruel coffee customer goes on to detail the order for a Vanilla Bean Créme Frappuccino Blended Beverage that includes bananas, 12 extra shots, whipped cream, pumps of everything, all the sprinkles, holiday toppings, and chocolate curls on top. It's throwing in everything Starbucks offers but the kitchen sink, basically.
Followers are amazed by the price of the beverage, but with all those extra shots, it's no wonder that this customer is prepared to use all their star rewards. One commenter says, "Starbucks gonna remove their free drink promotion because of you." Other users simply can't get over the $15 up charge for the bananas alone. According to Today, some customers feel like Starbucks' high prices warrant ridiculous orders. Baristas brewing the twelfth espresso shot for one drink during the rush might feel otherwise.
Most Starbucks baristas don't want to make this order
Baristas everywhere took to the comment section to let customers know what they would do when threatened by the monster drink order in this TikTok post. One TikToker said that, "This is why baristas sit in the bathroom and cry for 10 minutes." While most followers cringed at this customer's post, others dared him to place that order.
One follower commented, "We realize when the drinks are a joke when they very obviously won't fit in a cup and wait to see if anyone comes in to claim before making." If a customer can say this order in person with a straight face, they might deserve it. A few Starbucks baristas are down for the challenge, though like Maddy Reedy — who commented, "As a barista, I actually think it's fun to do orders like this. [It] is a nice break from the normal stuff." Compare that to other commenters who discuss how this order would have them crying and quitting instantaneously. 
According to Daily Dot, the original poster promises a solid gratuity to the barista who dares to make this ridiculous drink. Even with the right tip, this order is just wrong.