Instagram Is Awed By How Many Chefs Showed Up To Guy Fieri's Potluck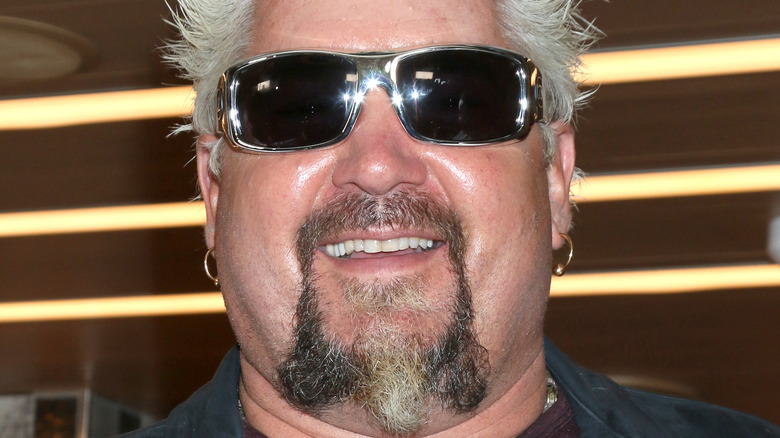 Kathy Hutchins/Shutterstock
Potlucks can be devilishly fun – and not just because of the deviled eggs that someone's bound to bring. In addition to being endorsed by Snoop and Martha Stewart as an appropriate theme for a cooking show, potlucks are a great way to both show off your food-making skills with the benefit of only having to create a single dish (or show off your shopping skills if you are not a kitchen aficionado) and to enjoy absolutely incredible eats from others.
Perhaps the only thing that can add to the excitement of a potluck is inviting chefs who already show off their cooking chops every single day and have the money to spend on some primo ingredients. And Guy Fieri in particular has experienced the excitement of celeb potlucks. Having already joined a virtual potluck that was held by John Krasinski and attended by other famous foodies (via US Weekly), he is likely pretty qualified to host one of his own, which apparently is exactly what he did recently. And you know if Guy Fieri is throwing it, it will be an epic potluck!
Guy Fieri is the life of this chef-filled party
Recently, Guy Fieri posted a video on Instagram of himself and what he described as "an army of super chefs cookin' at the casa tonight!" Fieri added an exclamation of "Ohhhhh yea!!" and he's not wrong. The video features the likes of Tobias Dorzon, Amanda Freitag, Crista Luedtke, Karen Akunowicz, Joe Sasto, and many, many more – all prepping and describing dishes as Fieri's camera circled the kitchen. They were whipping up steamed clams and pasta, prawn biryani, chicken salsa verde, chicken tagine, Persian rice, and the list goes on. And fans were wowed! 
One user joked, "Is this a new TV show?"  The incredible-sounding spread sounded seemed to whet the appetite of a commenter who said, "I just want the left overs lol." Others simply marveled at the magnitude of the company, with variations of "Oh my gosh!!!! So much greatness in one room!!!!" Based on the level of excitement in the comments, one thing seems indisputable: this was a potluck that many fans would have loved to be a part of. Maybe next time, Fieri will open the party to crashers. Here's hoping!