Here's How To Get A Free Hard Seltzer This Holiday Season
Traveling during the holidays can feel extra stressful. According to Travel Daily News, about 63% of adult Americans plan to do some traveling during the holiday season, which amounts to a 37% uptick from last year. This comes as the result of 43% of travellers feeling more comfortable to fly, drive, and interact with others than they did this time last year. With all of these bodies circulating around the country, you can guarantee that airport congestion comes with the territory — and if you plan to fly anytime in the next few weeks, expect your trip to and from any airport to feel that much more intense.
For anyone who wants to enjoy a longer-than-planned layover, a few airport bars have a special deal for travellers with some extra time on their hands. A press release sent to Mashed states that the hard seltzer brand Vizzy has teamed up with Denver International Airport at Concourse C near Gate C29 to hand out drinks, while offering samples at Midway Airport at Concourse A near Gate A7. The promotion, which runs from December 21 to 23, hopes to spread a bit of cheer to anyone dealing with the headache of flying through these major hubs.
A gift card to spread the cheer of Vizzy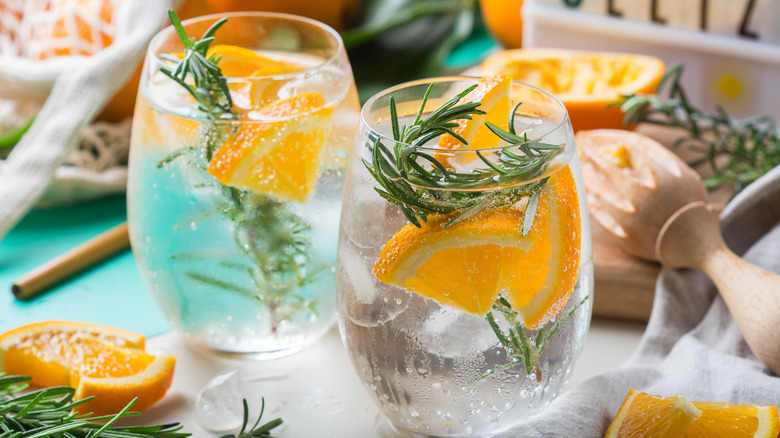 Antonina Vlasova/Shutterstock
Even if you don't plan to travel this year, Vizzy still wants to help you bring home some hard seltzer to try. According to the company's contest website, denizens from across the internet can enter for a chance to win an $8 gift card to buy a pack of this hard seltzer in their area. You don't even need to travel to join — just make sure you live in the U.S. and are at least 21 years old when you enter the contest starting on December 21. 
Vizzy's vitamin C-infused hard seltzers come in flavors like Black Cherry Lime and Strawberry Kiwi (per J. J. Taylor). That said, if you live in a cold climate, these hard seltzers might not seem like apt holiday drinks. Unless your winter plans take you to The Bahamas or Florida, these drinks might not evoke classic visions of the seasons. Still, when you get stuck at an airport, they can perhaps make the experience considerably more refreshing.
If you find yourself traveling through Denver or Chicago just before Christmas, keep an eye out for these samples. Otherwise, try to score a gift card to bring home a pack of Vizzys (and keep your fingers crossed that your own travel plans won't get hit by delays).