Sparkling Cranberry Brie Bites Recipe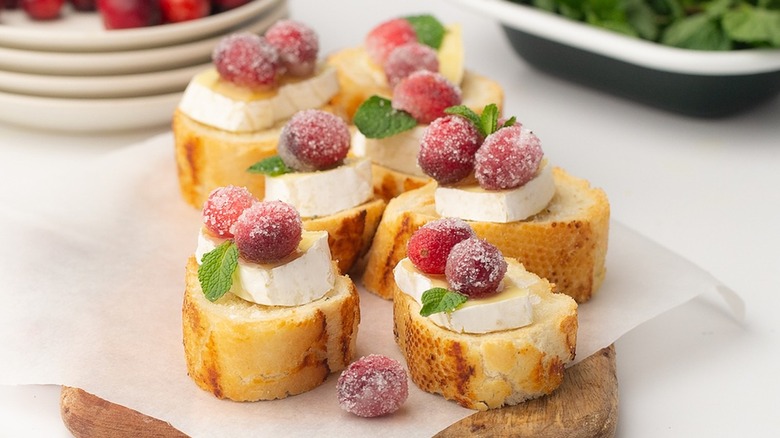 Susan Olayinka/Mashed
While cranberries in the U.S. are primarily eaten for Thanksgiving, on the other side of the Atlantic, they are associated with a different holiday. According to The Kitchen Project, cranberries in both the U.K. and Canada are seen as a Christmas fruit. Recipe developer Susan Olayinka of The Flexible Fridge is British, and she's fond of using cranberries in her holiday recipes.
If you are wondering what puts the "sparkle" in these sparkling cranberry Brie bites, Olayinka tells us that the cranberries themselves do. In addition to their bright red color, they get an added bit of holiday glitter from a crunchy sugar coating. As Olayinka explains, "I always see [cranberries] like this on desserts and didn't know it was so easy to make." In this appetizer she pairs the sugared fruit with Brie and honey, then piles them on toasted bread slices to make a bruschetta-type creation with a flavor she describes as being "both sweet and savoury." The subtle tartness of the cranberries pairs wonderfully with the sugar coating, and then throw in some Brie and honey, and you've got one tasty little appetizer.
Gather the ingredients to make cranberry Brie bites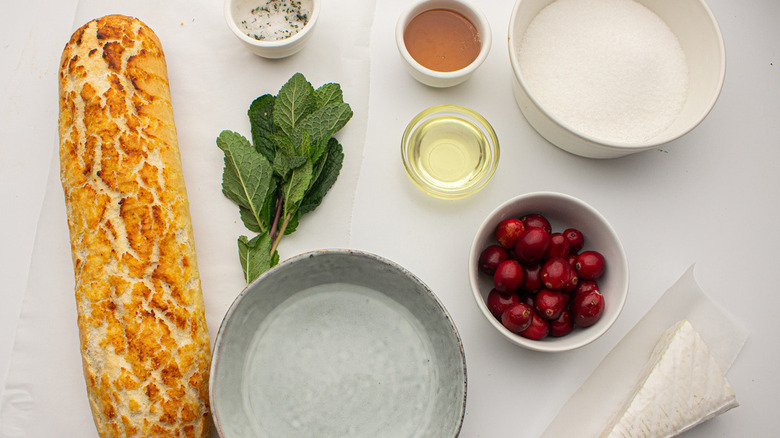 Susan Olayinka/Mashed
To make the sugared cranberries, you'll need just cranberries, sugar, and water. As the vehicle for these bites, you'll also need a baguette, and for the rest of the toppings, you'll want some olive oil, Brie cheese, honey, fresh mint, and rosemary salt.
As for the rosemary salt, Olayinka says "you could buy it or make it," though you may not be able to easily find it in your grocery store. To make a homemade version, Olayinka advises that you chop up a leaf of rosemary and mix it with a teaspoon of salt, and voila!
Make the sugared cranberries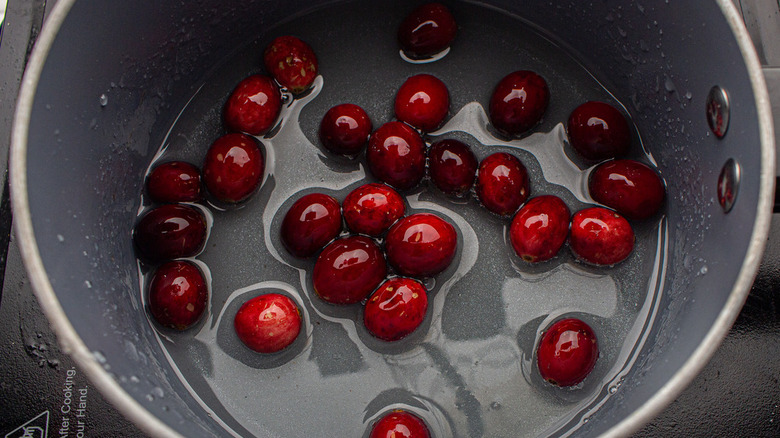 Susan Olayinka/Mashed
Mix ½ cup of the sugar with ¼ cup of water in a saucepan, and heat over medium-high until the sugar is dissolved, something Olayinka says should take about four minutes. Once the water and sugar form a syrup, add in the cranberries, and make sure that they all become evenly coated in the syrup.
Take the cranberries out of the saucepan to let them dry off. Olayinka puts hers on a chopping block lined with parchment paper, although you could also use a baking sheet lined with wax paper or just put the paper down on a counter top. Anyway, let the cranberries sit for about five minutes until their syrupy outer layer begins to harden a bit, then roll them in the remaining sugar to coat them.
Slice and toast the bread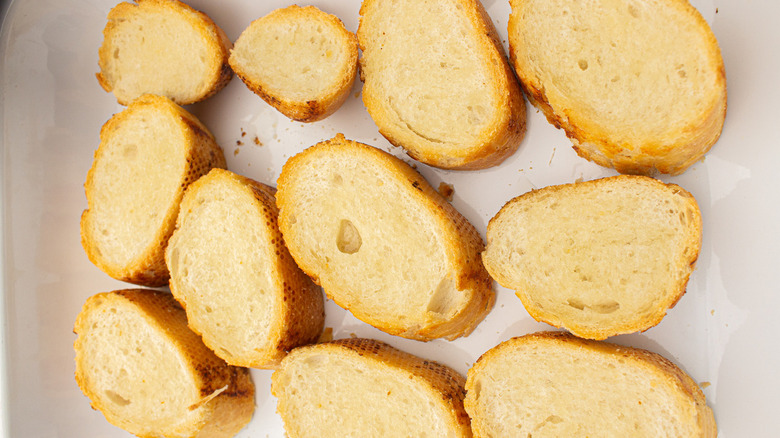 Susan Olayinka/Mashed
Now, it's time to slice the bread. Grab your French baguette and slice it into roughly 1-inch slices, resulting in 11 or 12 total slices. Once you've sliced the bread, spread the slices across a baking sheet and brush them with a light coating of olive oil. Broil the bread slices for two minutes until they're lightly toasted. This way, when you begin stacking the goodies onto each slice, they'll hold up and have a wonderful crunch, which will perfectly complement the soft cheese.
Assemble the brie bites and serve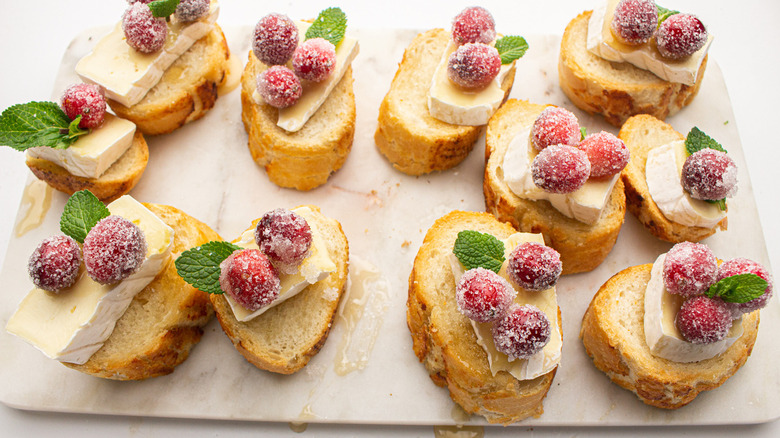 Susan Olayinka/Mashed
Once the bread is toasted, drizzle each slice with approximately ¼ teaspoon of honey. Cut the Brie into as many slices as you have pieces of bread, then top each bread slice with a corresponding piece of brie. If the bread is still warm, the Brie might get slightly melty — all the better! Add the "sparkle" to the brie bites with a topping of sugary cranberries, then finish things off with a sprinkling of chopped mint and rosemary salt.
Olayinka suggests serving these brie bites as an appetizer for a festive occasion such as "before a Christmas meal or Thanksgiving meal." She also notes that they would go well as part of a party spread alongside other dishes such as "guacamole, [a] puff pastry Christmas tree, sausages wrapped in bacon, [or] cheese balls." However you serve these sparkling cranberry Brie bites, they're sure to delight and leave you in a festive mood!
Sparkling Cranberry Brie Bites Recipe
These sparkling cranberry Brie bites will bring plenty of festivity to your holiday spread, as well as plenty of flavor.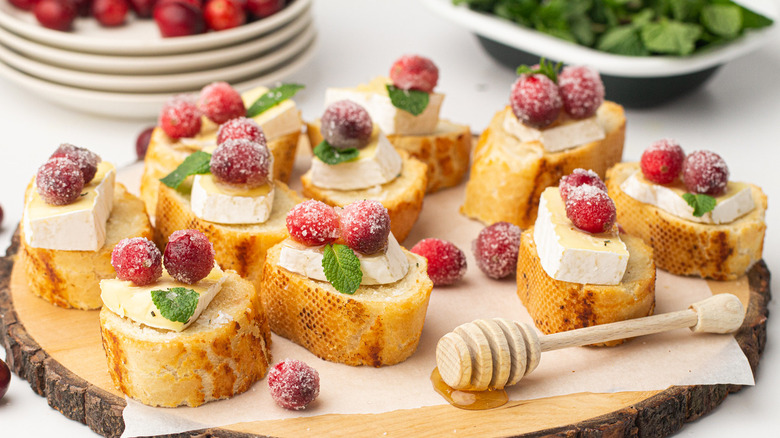 Ingredients
¾ cup granulated sugar, divided
¼ cup water
½ cup cranberries
1 French baguette
1 tablespoon extra virgin olive oil
7 ounces Brie cheese
2 tablespoons honey
⅛ cup chopped fresh mint
1 teaspoon rosemary salt
Directions
Combine ½ cup of granulated sugar with ¼ cup of water in a saucepan and heat over medium-high for 4 minutes, stirring until the sugar dissolves and a syrup forms.
Add the cranberries to the sugar syrup and mix until they're evenly coated.
Remove the cranberries from the saucepan and place them on a chopping block lined with parchment paper. Let the cranberries rest for five minutes until the syrup coating is slightly hardened.
Roll the cranberries in the remaining sugar to coat.
Slice the baguette into slices roughly 1 inch thick, and place them on a baking sheet.
Brush the baguette slices with extra virgin olive oil, then broil them for 2 minutes.
Slice the Brie and use it to cover the baguette slices.
Drizzle approximately ¼ teaspoon of honey onto each bread slice.
Top the bites with sugared cranberries and mint, and sprinkle each one with rosemary salt.
Nutrition
| | |
| --- | --- |
| Calories per Serving | 584 |
| Total Fat | 19.0 g |
| Saturated Fat | 9.5 g |
| Trans Fat | 0.0 g |
| Cholesterol | 49.6 mg |
| | |
| --- | --- |
| Total Carbohydrates | 87.2 g |
| Dietary Fiber | 2.5 g |
| Total Sugars | 50.3 g |
| Sodium | 766.1 mg |
| Protein | 18.5 g |