Best Chicken Adobo Recipe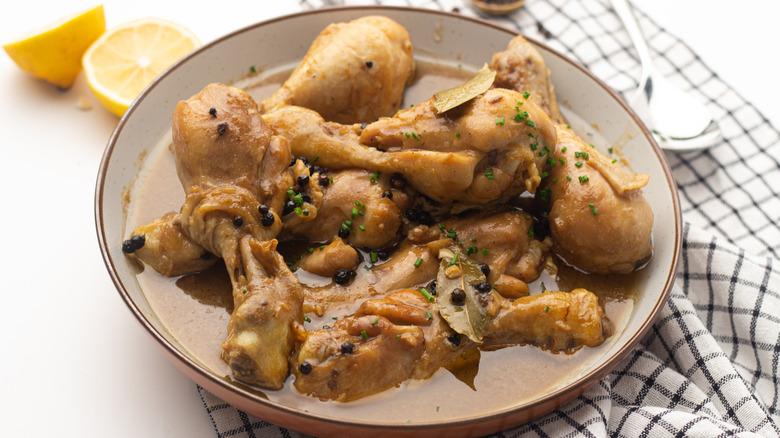 Susan Olayinka/Mashed
Adobo — is it a sauce, a spice, or a dish? Recipe developer Susan Olayinka from The Flexible Fridge gives us the historical scoop and a delicious way to DIY. Simply put, the term is all-encompassing but it also depends on where you are in the world. Adobo comes from the Spanish term adobar which means to marinate, according to The Culture Trip. However, it is not exclusive to Latin culture and in fact, adobo is quite universal. 
Foodicles explains that in the Caribbean adobo is a popular spice rub, meanwhile, it is a famous dish in the Philippines. We asked Olayinka for context and she informed us, "It's originally a Filipino dish. But Mexicans do eat it also!" She adds, "the Spanish did colonize the Philippines for a number of years so there [is] bound to be [a] crossover in food!" Regardless of the country, adobo was traditionally used as a protein-preserving mix, combining vinegar, soy sauce, salt, and notable spices (via Foodicles). Follow us to the kitchen and we'll show you more.
Gather the ingredients for this chicken adobo recipe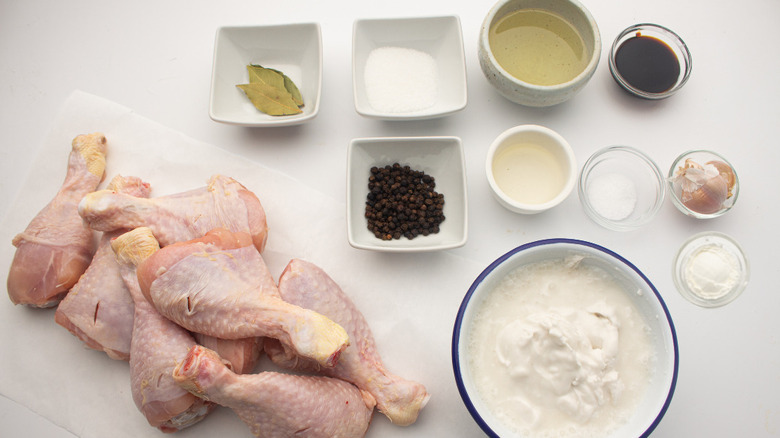 Susan Olayinka/Mashed
Considering the fact that adobo is meant to marinate protein, chicken is our meat of choice for this recipe. Head to the store and snag up these ingredients: 4 cloves of garlic, 2 tablespoons of canola oil (or any neutral substitute), and 8 chicken drumsticks. From the pantry, you'll need 2 teaspoons of salt, 1 tablespoon of sugar, 2 tablespoons of soy sauce, and 1 can of full-fat coconut milk. Finally, the traditional adobo ingredients include 2 tablespoons of rice wine vinegar, 1 tablespoon of peppercorns, 2 bay leaves, and 1 teaspoon of cornstarch.
Mince the herbs and brown the meat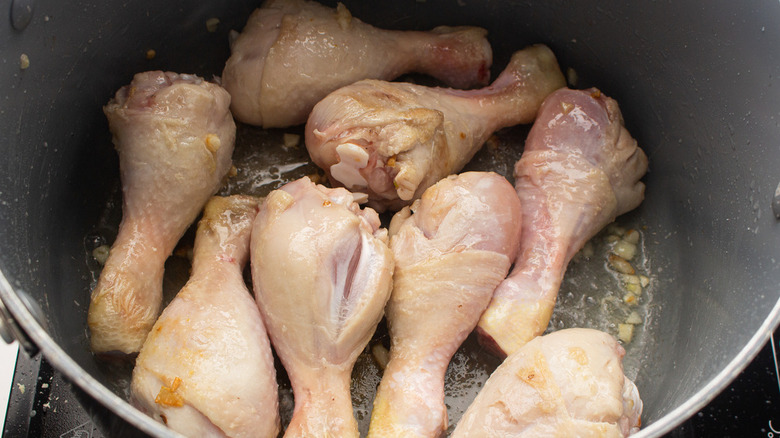 Susan Olayinka/Mashed
To begin, mince the garlic and set it aside. A quick tip for new chefs: To mince garlic, you can chop it finely or set the blade of the knife flat on top of the garlic clove and carefully apply pressure to crush it into pieces. Now, set a large pan or skillet on the stovetop on medium-high heat. Pour in your choice of oil to coat the bottom of the pot, then drop in the chicken drumsticks and allow them to brown. Olayinka describes the result: "Ah, it's so delicious! [...] Chicken broth is the closest way to describe it ... it's really flavorful."
Don't wait, marinate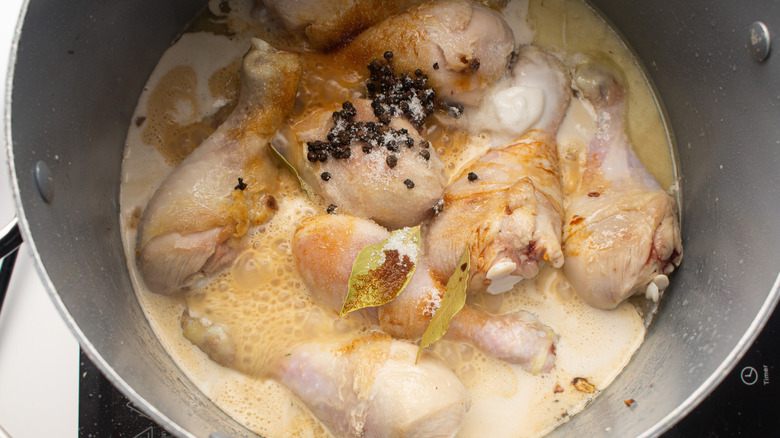 Susan Olayinka/Mashed
While the drumsticks brown in the pot, add in the salt, sugar, soy sauce, and minced garlic and mix everything to combine. Allow the ingredients to simmer together for 7 minutes. Immediately afterward, pour in the coconut milk, rice wine vinegar, peppercorns, and bay leaves. Set a lid over the pan and give this time to marinate on low to medium heat for about 25 minutes. According to Olayinka, this is the most challenging part of the dish. Our food expert warns Mashed, "to not overcook it or the chicken will fall apart." To avoid this, simply set a timer and remember to check the chicken periodically.
Whisk the cornstarch into a slurry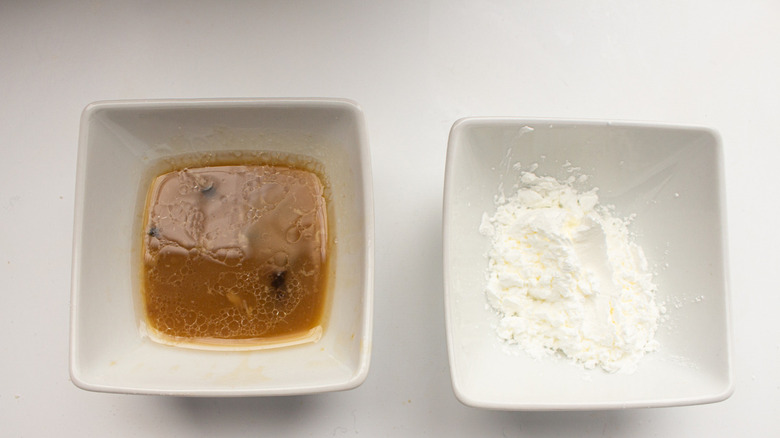 Susan Olayinka/Mashed
After the chicken has cooked for 25 minutes, ladle 2 tablespoons of adobo sauce into a separate bowl. Take your measured cornstarch and slowly whisk it into the broth. Once the ingredients are combined, incorporate the slurry back into the pot with the chicken adobo. Bring the heat up to medium-high and cook the contents for another 5 minutes.
Olayinka tells us this dish is a great way to spice up the usual chicken dinner. She says, "I can't quite remember where my inspiration for this dish is from but I have made it for a couple of years now, and it's a family favourite because chicken can get boring so this is a very exciting way to have [it]."
Garnish and enjoy!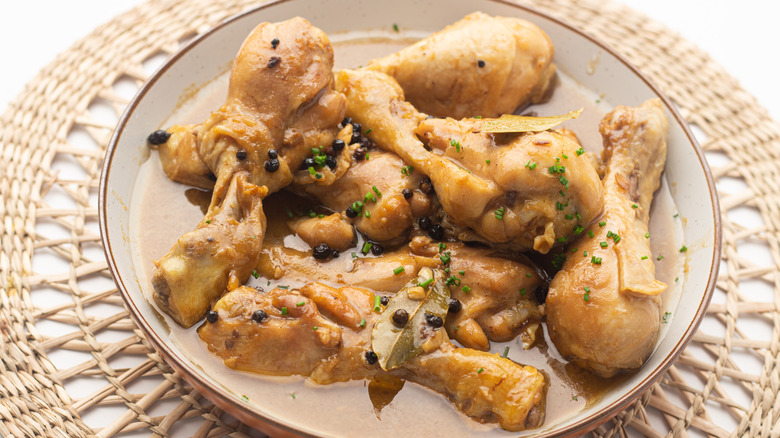 Susan Olayinka/Mashed
Now, the chicken adobo is ready to be served! Olayinka suggests coordinating this entree with side dishes like, "Rice, bulgur wheat, [or] potatoes." Not only is this entree good to you, but it's good for you. Chicken is a healthy source of protein with various nutritional benefits (via WebMD). If you start doing a happy dance as you enjoy this meal, it might be because chicken contains an amino acid that creates the feel-good hormone serotonin in our brains, WebMD explains. 
This delectable chicken adobo dish makes for a hearty and nourishing meal. To preserve leftovers, Olayinka suggests keeping them in an air-tight container for 3 to 4 days. She tells the Mashed team, "The collagen in the chicken will make the sauce solidify so just pop it in the microwave and it's fine." Bring your family together for a rich meal that combines a taste of Spain, the Philippines, and the Caribbean in one dish!
Best Chicken Adobo Recipe
This delicious chicken adobo recipe will fill your house with rich aromas from around the world. Enjoy it with a simple side dish and dinner is served.
Ingredients
4 cloves garlic
2 tablespoons canola oil (or any neutral tasting oil)
8 chicken drumsticks
2 teaspoons salt
1 tablespoon sugar
2 tablespoons soy sauce
1 (14-ounce) can full-fat coconut milk
2 tablespoons rice wine vinegar
1 tablespoon peppercorns
2 bay leaves
1 teaspoon cornstarch
Directions
Mince the garlic and set it aside.
Pour the oil into a pot on medium-high heat, then add in the chicken drumsticks to brown for 7 minutes.
While they are browning, add salt, sugar, soy sauce, and minced garlic.
After 7 minutes, add the coconut milk, rice wine vinegar, peppercorns, and bay leaves and cook on low-medium heat for 25 minutes.
After 25 minutes, remove 2 tablespoons of broth from the chicken and mix it with the cornstarch.
Pour the cornstarch slurry back into the pot with the chicken.
Raise the heat to medium-high and cook for another 5 minutes.
After 5 minutes, it is ready to serve.
Nutrition
| | |
| --- | --- |
| Calories per Serving | 716 |
| Total Fat | 52.8 g |
| Saturated Fat | 25.9 g |
| Trans Fat | 0.2 g |
| Cholesterol | 244.7 mg |
| | |
| --- | --- |
| Total Carbohydrates | 9.5 g |
| Dietary Fiber | 0.6 g |
| Total Sugars | 3.2 g |
| Sodium | 922.0 mg |
| Protein | 51.1 g |