This Jamba Secret Menu Smoothie Tastes Just Like Skittles
For the last 30 years, Jamba has been helping satisfy all of our smoothie cravings. Previously known as Jamba Juice, this juice-centric joint has an interesting origin story, to say the least. Jamba was initially conceived in 1990 as the brainchild of Cal Poly's Kirk Perron as part of a senior project, according to Inside Cal Poly. After the idea was put forth, the first Jamba opened with the name "Juice Club" in San Luis Obispo. What started as a school assignment is now a worldwide phenomenon. Jamba's website lists 777 locations across 36 states and even some international shops. We sure hope that Perron received an A+ because he certainly understood the assignment.
Whether you are hankering for something sweet, something healthy, or something refreshing, Jamba has a smoothie on the menu for everyone. If you are in the mood for something protein-packed you can opt for the Peanut Butter Moo'd Smoothie (via Eat This, Not That), while Pomegranate Paradise makes a great plant-based option. And while they might not have the world's most nutritious options, no one can deny that Jamba's icy beverages are delicious to the last drop (via Good House Keeping). If you are craving something extra sweet, Jamba has the perfect item on their secret menu for you — and it tastes like blended Skittles in a cup.
Drink the rainbow with the Jamba Skittles blend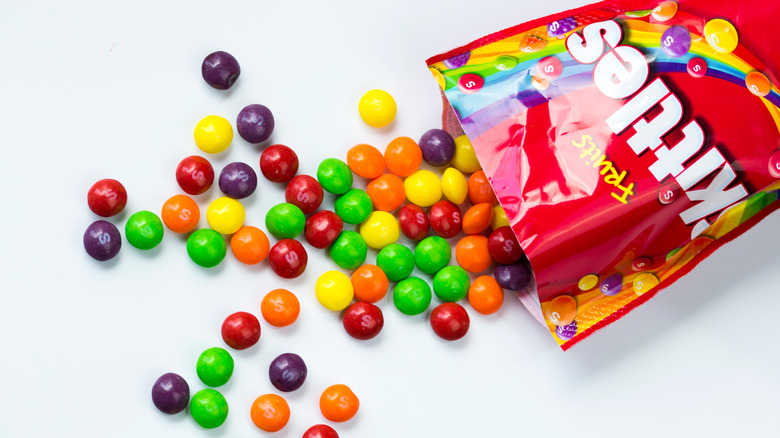 Justyna Troc/Shutterstock
If you've never heard of Jamba's secret menu, your life is about to get a whole lot sweeter. According to Fast Food Prices, these recipes were not crafted by Jamba employees but by savvy customers around the world. Of all of the innovative concoctions created, only a select few made the list, and the ingenious Skittles blend was one of them. Not only did Skittles make the cut for the competitive secret menu, but it also happens to be one of the most popular beverages of the bunch.
According to Hack the Menu, this sweet and sour smoothie features one scoop of lime sherbet, one scoop of frozen yogurt, one scoop of strawberries, and 12 oz. of lemonade. This menu item is available at all locations, so if your server doesn't know how to make the frozen goodie already, just show them this online recipe. Easy peasy! If you are a big fan of sweet treats, make sure to check out other items on the Jamba secret menu. The smoothie-based chain has a whole slew of hidden blends available, from Butterfinger and Sour Patch Kids to Gummy Bear and Pink Starburst.