How A Waiter At The Melting Pot Worked His Way Up To Part Owner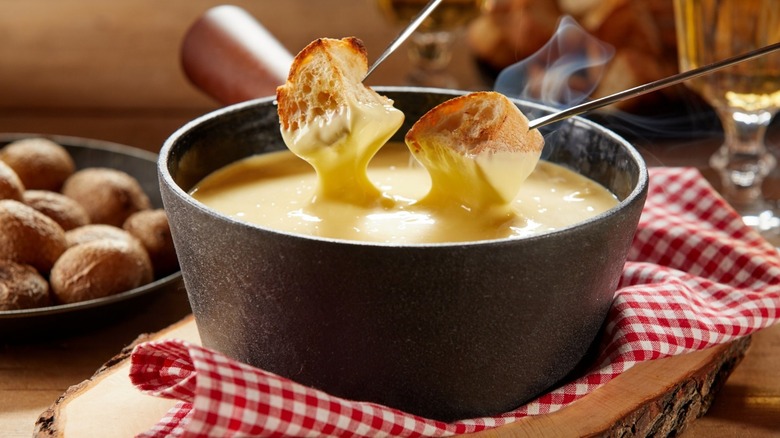 stockcreations/Shutterstock
Mark Johnston is the ultimate restaurant success story. In 1975, Johnston, a college student in Florida, started working as a waiter at a new eatery, The Melting Pot. At the time, the restaurant had just three fondues on the menu: Swiss cheese, beef, and chocolate. As The Melting Pot grew in popularity in the Orlando vicinity, Johnston recruited his brothers Mike and Bob. According to the Melting Pot's website, the three brothers opened another location in Tallahassee in 1979 and another in Tampa in 1981. Eventually, in 1985, the trio purchased the rights to The Melting Pot and turned it into the franchise company that it is today. Currently, The Melting Pot has nearly 100 locations and even has restaurants in Canada.
In an interview with Stonehill, Mark's brother Bob gave him the credit for believing in an idea as big as turning a small, local restaurant into an international franchise. Additionally, Mark convinced the original owners, Roy and Bruce, who Bob says are still frequent guests at the franchise's conventions, that the Johnston brothers were the right people for the job.
The Melting Pot is a family affair
Mark wasn't the only Johnston brother to work his way up in The Melting Pot empire. According to Inc., Bob, the youngest of the group, was recruited as the dishwasher at the Tallahassee location when he was just 14 years old. In 1985, when the Johnston's bought out Roy and Bruce for the rights to the restaurant, Bob was 21 and a junior in college. He dropped out and joined his brothers in the business. "I took a leap of faith ... That was not a hard decision for me," Bob said. That leap of faith paid off. Bob worked his way up through the ranks at various Melting Pot restaurants before becoming the Chief Operating Officer and president, a position he has since left to become Chief Executive Officer of Front Burner, which Bob said is a "franchise management company" (via Stonehill).
Bob attributes much of The Melting Pot's success to the way employees are treated and trained along with the good relationships they establish with their franchisees. "My years of working as a dishwasher, server, and manager caused me to have tremendous respect for the heart and house of a restaurant. Without a great team, you have nothing to deliver and I have that same mindset with my employees," Bob said.