This $36,999 Item At Costco Is Turning Heads On Reddit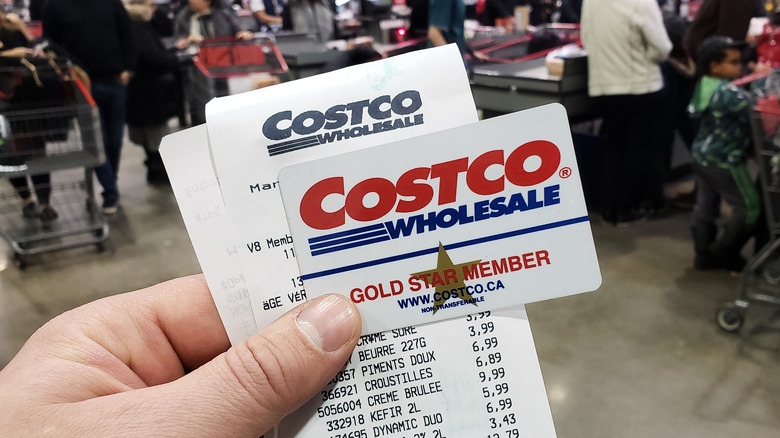 dennizn/Shutterstock
Many people swear by their Costco membership. Costco helps them save money on their grocery bill each month, by providing great savings and discounts on food, beverages, and household essentials. Recently, though, one Costco shopper in Florida was taken aback when they spotted an item that seemed out of place at a warehouse that is much more well known for its reasonable prices on household goods than it is for its flashy items. 
While shopping at a new Costco that had recently opened in the state of Florida, the surprised shopper spotted a bottle of liquor that was selling for over $30,000, and they couldn't help but share the unique find with their fellow Costco fans on Reddit. The user, whose screen name is u/savvywifesavvylife, posted a photo of the pricey product online, calling it "by far my favorite find." The photo revealed one single bottle of The Singleton 54-Year-Old Single Malt Scotch Whisky, sitting alone on the shelf beneath a price tag ... listing its cost at a head-turning $36,999.
Why would a single bottle of alcohol cost so much, though?
The pricey scotch typically costs $44,000.00
Many other Costco shoppers were surprised to see a beverage that costs more than some people's annual salary on Costco's shelves. "Every sip (15ml per sip) of that scotch costs almost as much as an average family of 4's monthly expenditure on grocery (~$800). Crazy," marveled u/infinit9. 
"I like the idea of someone this rich who does their own shopping and buys everything else in bulk to save money. Priorities," joked another user. Others found it funny that the price tag was marked with an asterisk, which is a Costco symbol that means that the item won't be restocked, according to the Krazy Coupon Lady. "Oh no it's got the * Where am I supposed to get my refill when I'm done with the first bottle?" teased u/clvfan.
However, while the price sticker might be a shock to some Costco shoppers, one Reddit user pointed out "that's not a bad price" for the expensive alcohol. One bottle of The Singleton 54 Year Old Single Malt Scotch Whisky typically goes for a whopping $44,000.00, meaning Costco still offers a significant savings on the item, according to Caskers. However, while it might be a deal for those in the market for very expensive liquor, the average Costco shopper will probably be looking for more reasonably priced beverage options.