Is Costco Open On Christmas 2021?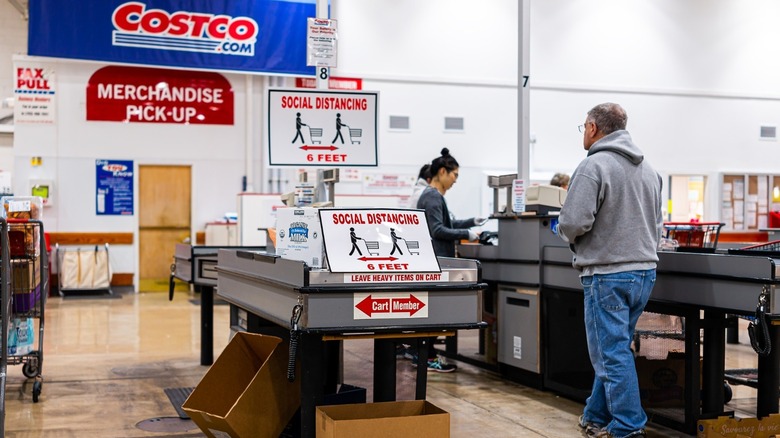 Andriy Blokhin/Shutterstock
While it's a popular spot to shop all year round, Costco is an especially great place to stock up on food, decor, and kitchenware for the holiday season. You can find almost anything you need (or want) in bulk and at wholesale prices, which can help keep your Christmas budget down. Not only that, but you can also find plenty of seasonal treats right now at any of the nearly 800 Costco locations around the world (via Statista). There's the crowd favorite peppermint bark that's returned to shelves once again, massive holiday cookie platters just begging to be devoured, and plenty of Advent calendar options to get you excited for the big day.
Ideally, you'll snag everything you need for the winter holidays before Christmas Eve (or worse, Christmas Day). But imagine this scenario: You wake up on Christmas morning and realize you're out of eggs for breakfast for the entire family or you need a few more bottles of wine for later. Your first thought is to make a last-minute trip to Costco — but is the retailer open on Christmas in 2021? Here's what you need to know about Costco's holiday hours this year.
Costco will be closed on Christmas Day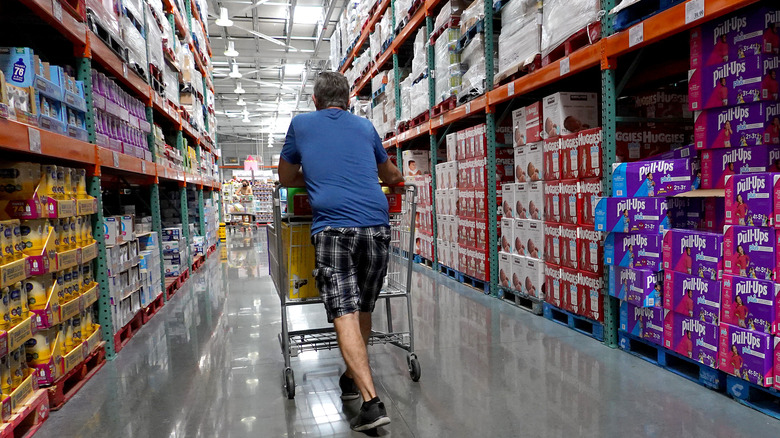 Joe Raedle/Getty Images
If there's something on your shopping list that you forgot to get before Christmas morning, unfortunately, you won't be able to run to your local Costco. According to Good Housekeeping, Costco is one of the many retailers that are closed on Christmas Day at all locations across the country, along with Kroger, Target, and Whole Foods. Costco's customer service FAQ on the official website confirms this, noting that all Costcos are closed in observance of Christmas Day, along with New Year's Day.
Fortunately, if you remember something you need the day before — a.k.a. on December 24 — you can likely still head to Costco to grab it. The Pioneer Woman reports that Costco stores should be open on Christmas Eve, albeit with limited hours. In 2020, most locations were open from 9 a.m. to 5 p.m. the day before Christmas. If you don't get there during those hours, you'll have to do without whatever you're missing, as you won't be able to return to Costco to shop again until December 26.