Simple Strawberry Santas Recipe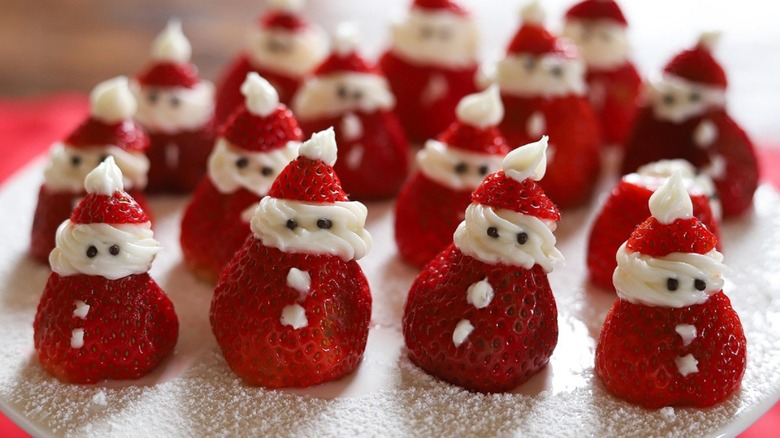 Kit Hondrum/Mashed
It's that time of year again, where you can never have too many desserts and sweet things. And, if you can bring in a holiday theme, all the better! This simple strawberry santas recipe the perfect addition to any confection table or after-dinner lineup, as it incorporates sweetness and festivity perfectly. Thanks to the bright red body of a strawberry along with some cleverly-placed frosting, these cute little creations look just like mini santas, which is perfect for Christmas time. Even more, since the most substantial ingredient in these santas are strawberries, this recipe is healthier than most other desserts. Don't kid yourself, though, this recipe packs in the creamy decadence you come to expect around this time of year.
Recipe developer Kit Hondrum, who features her marvelous culinary creations at Kit's Kitchen, points out that "these are perfect for a holiday party!" "This recipe is super easy, so it's perfect to make with kids," she continues. Festive family activities that are guaranteed to leave everybody in a happy place? That makes for one perfect Christmas recipe. So, grab your strawberries, and let's hop right into this fun and easy holiday recipe.
Gather the ingredients to make strawberry santas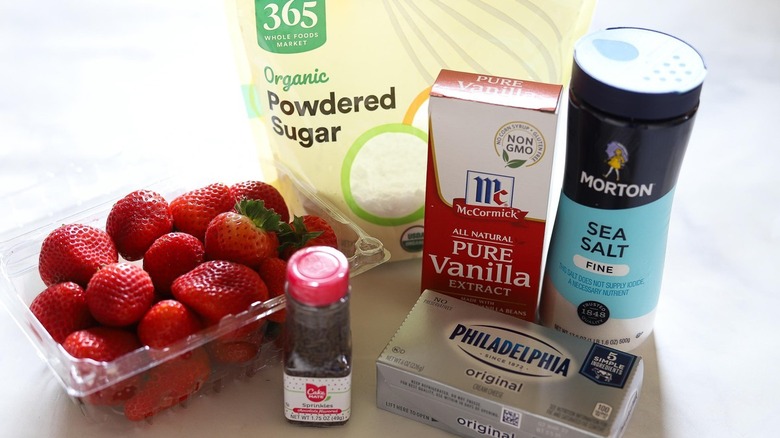 Kit Hondrum/Mashed
The beauty of this recipe isn't all aesthetic, though that is a pretty big factor. With all the big, elaborate recipes to be cooked over the holiday, it's refreshing that this one is easy and requires only six ingredients and no cook time. The "body" of each santa is a strawberry, so you can start off your shopping trip with a carton of fresh strawberries. The thing that really ties these santas together is the cream, so be sure to grab a block of cream cheese and allow it to soften. To round out the recipe, you'll need powdered sugar, vanilla extract, fine sea salt, and some chocolate sprinkles, which will serve as the santas' eyes.
Slice the strawberries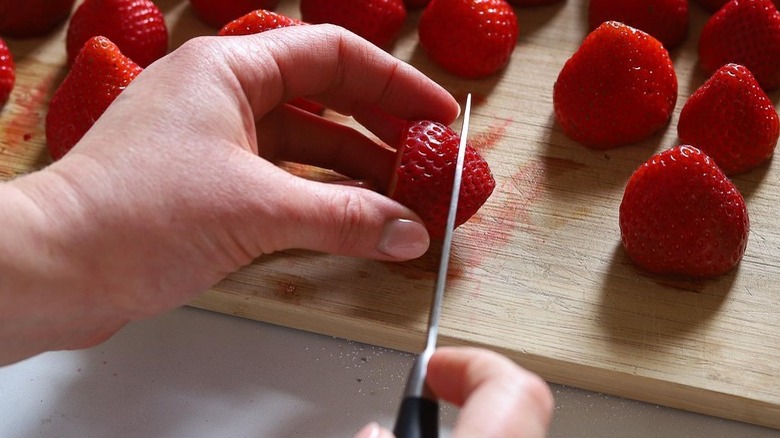 Kit Hondrum/Mashed
If you're going to be serving soon, sprinkle a thin layer of powdered sugar over the serving tray or plate you plan to serve the santas on. This makes "snow," which santa cannot be without. Set the snowy dish aside and line your strawberries up on a cutting board. "This recipe works best with room temperature strawberries that are completely dry," Hondrum says. "Cold strawberries will be harder to decorate, especially making the buttons!" Slice the green stem off the top of the strawberries to make a flat and stable surface, since you'll be resting these bottoms-up. Then slice across about ¾ of the way up, which will make the hats. "I like to keep the same 'hat' with the right strawberry, but it's not necessary," Hondrum adds. Once you've sliced all of the strawberries, set them aside for the time being.
Mix the cream cheese frosting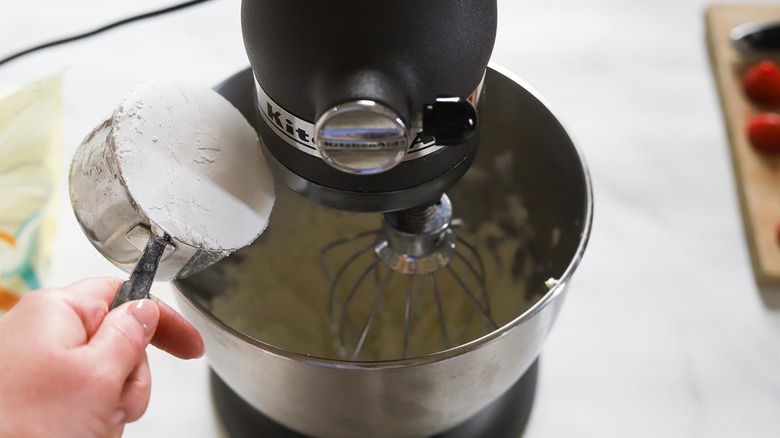 Kit Hondrum/Mashed
Start off your frosting by whipping the cream cheese in a stand mixer on medium-high speed for 30 seconds. Remember that you want your cream cheese to be softened at room temperature before starting this process. Drop the mixer down to low and gradually add in the four cups of powdered sugar. "This frosting is nice and fluffy, but not particularly stable," Hondrum adds. "For a more stable frosting, cream ½ cup softened butter with the powdered sugar first, then add to the cream cheese and beat until combined and smooth. You don't want to whip it too much. Too much air will make it really fluffy, which is not the best for this recipe." If it's too fluffy, your santas might fall apart. Once the mixture is smooth, add the vanilla and salt, and increase the mixer back to medium-high for about 30 seconds.
Decorate and serve your strawberry santas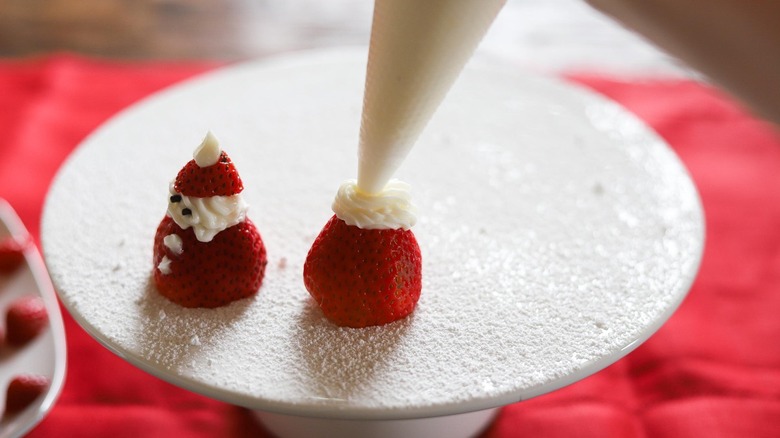 Kit Hondrum/Mashed
Scoop the frosting into a piping bag with a small star tip and refrigerate for 10 minutes. "If you don't have a piping bag, you can use a plastic zip-top bag with the tip cut off to decorate," Hondrum says. "I do recommend a piping bag and tip to make it easier though."
Now you can finally put your strawberries on the sugar-coated plate. Put a strawberry bottom onto the plate and pipe onto it to make the face and beard. "It's probably a tablespoon of frosting per santa, but the larger strawberries will have a little more and the smaller strawberries will have a little less." Then, top this frosting with the "hat," AKA the top part of the strawberry. Decorate the strawberry with more frosting to make buttons for the "coat" and a poof ball for the hat. Finish off with two chocolate sprinkles for eyes and repeat for all the strawberries, then serve.
"If left out too long, the frosting could begin to slide off the bottoms. Just make sure to serve right away or store in the fridge," Hondrum says, adding that she does suggest serving these the day you make them. Since they're so easy to make and come out so adorably, it won't seem like a chore to whip these simple strawberry santas up in a jiffy!
Simple Strawberry Santas Recipe
These simple strawberry santas come together in a breeze, and they make for the perfect dessert at any holiday party.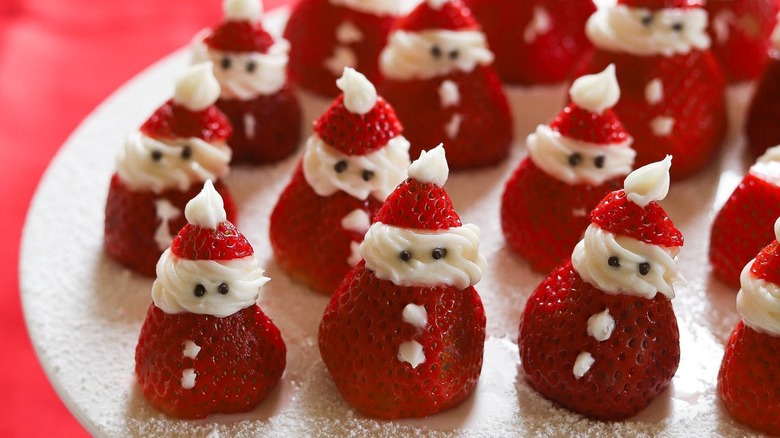 Ingredients
2 pounds fresh strawberries
8 ounces cream cheese, softened
4 cups + 1 tablespoon powdered sugar
¼ teaspoon vanilla extract
¼ teaspoon fine sea salt
1 tablespoon chocolate sprinkles
Directions
Sprinkle a thin layer of powdered sugar (about 1 tablespoon) over the serving tray or plate to make "snow."
Cut the green part off of the strawberries to make a flat and stable surface.
Cut across each strawberry ¾ of the way up, which makes the hat. Place the bottoms on a plate and place the hats to the side.
In a stand mixer or using a hand mixer and large bowl, whip the softened cream cheese on medium-high for about 30 seconds.
While mixing on low, gradually add in powdered sugar.
Add in vanilla and salt, increase to medium-high speed, and whip for about 30 seconds.
Place the frosting in a piping bag with a small star tip. Refrigerate for 10 minutes.
Pipe the frosting onto strawberry bottoms to make the face and beard. Place the hats on top and decorate with more frosting to make buttons and a fluffy ball for the top of the hat. Use chocolate sprinkles to make the eyes.
Serve within 15 minutes or store in the fridge until you're ready to serve.
Nutrition
| | |
| --- | --- |
| Calories per Serving | 201 |
| Total Fat | 5.4 g |
| Saturated Fat | 2.9 g |
| Trans Fat | 0.0 |
| Cholesterol | 16.6 mg |
| | |
| --- | --- |
| Total Carbohydrates | 38.6 g |
| Dietary Fiber | 1.2 g |
| Total Sugars | 36.1 g |
| Sodium | 95.2 mg |
| Protein | 1.3 g |