How Sbarro Changed Mall Food Courts Forever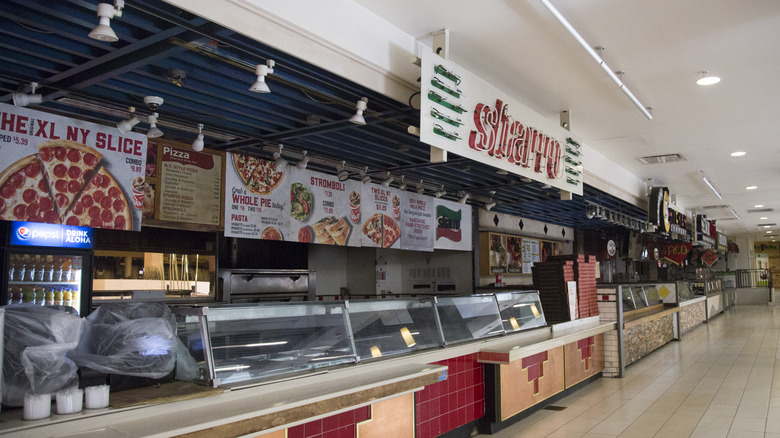 Bloomberg/Getty Images
The mall food court is something truly fantastic. It's a place where the rich scents of perfumes and soaps from Bath & Body Works mingle with the fresh-baked cookies from the Mrs. Fields down the corner, creating a nostalgic aroma of melting chocolate and jasmine shampoo that brings to mind memories of childhood trips to the mall. It's where you can dig into a warm, buttery Auntie Anne's pretzel in one hand, an ice-cold Orange Julius smoothie in the other, and watch the mass of hectic shoppers scramble around with their overstuffed bags, caught up in the craze of the consumer rush. Sure, it may not be the same as sitting in an actual restaurant, mind you, but there's really nothing that tops off a long day of shopping better than Chinese food and a smoothie, right?
We're focusing today on one of those classic food court staples: the pizza — or more specifically, Sbarro Pizza. From humble beginnings as an Italian deli in 1950s Brooklyn (via Sbarro), to being one of the top 10 food court chains in the U.S. (via Business Insider), Sbarro has been the haven of hungry shoppers looking for a bite of cheap, hot, oily New York-style pizza for as long as anyone can remember. In fact, if the story is to be believed, Sbarro may have been the first chain to champion the pizza slice in a world of pretzels and ice cream that long overstuffed the gullets of the food court market. 
Sbarros brought pizza into the food court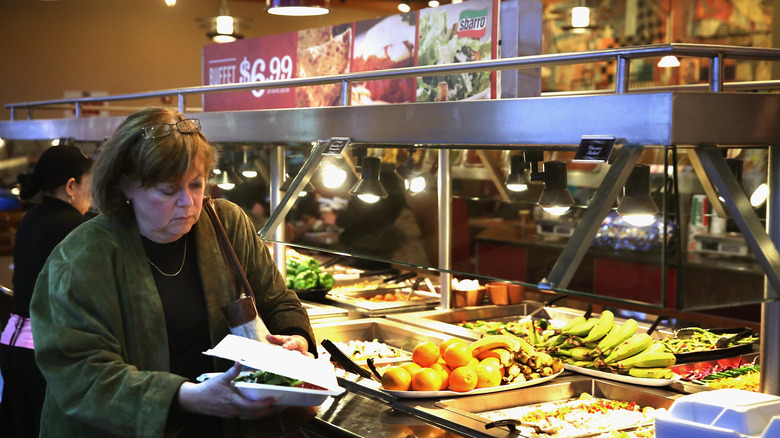 Alex Wong/Getty Images
In the olden days of American shopping back in the 1970s, where malls flourished with overhanging gardens and elaborate fountain centerpieces, the food court was actually fairly similar to what we would expect today. You could purchase pretzels, cold drinks, and other fast, easy snacks. What you couldn't purchase, however, was a slice of pizza. Food courts were meant for a quick snack for the hectic shopper, while pizza was seen as more of a "sit-down" food. But to Anthony Sbarro — one of the sons of the original founders — the mall food court was perfect for expansion.
According to PMQ Magazine, Sbarro focused on the concept of providing quality food to pedestrian shoppers through careful expansion and merchandising. Anthony stressed the importance of each location, avoiding the usual practice of opening multiple locations at once. In order to better display merchandise to passing customers, food was shown "cafeteria style" in plexiglass cases, allowing those walking by to actually see what was on the menu. Keeping with the idea of providing quality merchandise, Sbarro offered not just their usual pizza, but pasta dishes and salads. 
While this marketing tactic has been successful in the past, it would seem the Sbarro chain has fallen on hard times (via Eat This, Not That!). Americans are no longer as interested in strolling the mall as they used to do (via Bloomberg), and as COVID-19, delivery apps, and the rise of easy online shopping continue to haunt the retail industry, it's unknown if Sbarro will ever reclaim their former glory.