Christmas Deviled Eggs Recipe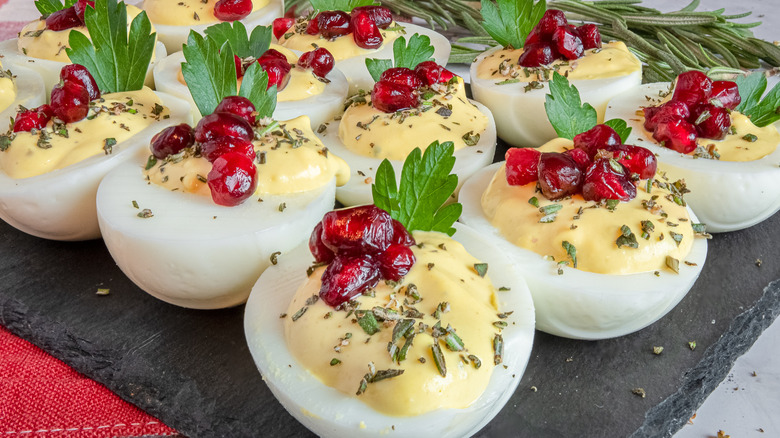 Petar Marshall/Mashed
The holiday season is a time for entertaining and serving wonderful food. Whether you're hosting a big get-together or a small crowd of only family, you know there's going to be plenty of decadent dishes to go around. One of the simplest go-to appetizers you can pull off at home is a batch of deviled eggs. They're a total crowd-favorite, and this version is sure to fit the bill as well.
"These deviled eggs are dressed up in their festive holiday best with fresh rosemary, parsley, and pomegranate seeds for plenty of color and added flavor," says recipe developer and food photographer Petar Marshall. And luckily, Marshall is here to share all of his tips for making them with ease. Whip up a batch in a matter of minutes to pull out for your upcoming holiday festivities. Better yet? Prep them ahead of time so you'll be ready to greet your guests at the door with time left to spare.
Gather the ingredients for Christmas deviled eggs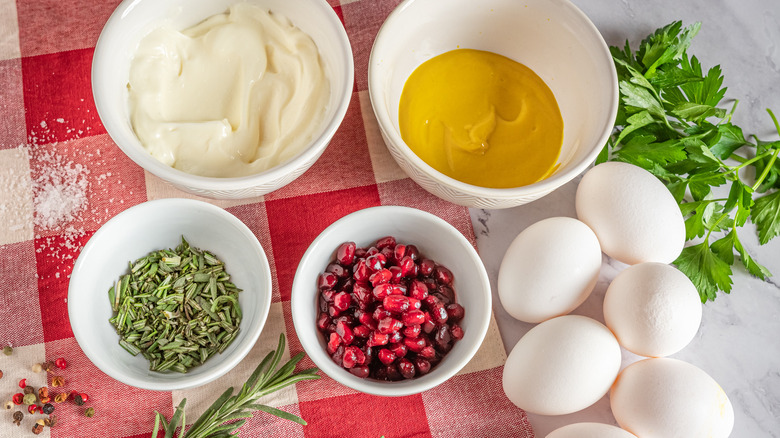 Petar Marshall/Mashed
Ready to dive in on making this festive appetizer? For this Christmas deviled eggs recipe, you'll need, six eggs, mayonnaise, yellow mustard, salt, and pepper. That's it! Just five ingredients for the base of your eggs and you're all set.
Now, to dress them up, you'll need a few sprigs of fresh rosemary, fresh Italian parsley, and pomegranate seeds. "This ingredients list gives you enough for a total of 12 eggs, but it can easily be doubled if you need more for a party," says Marshall.
Boil and crack the eggs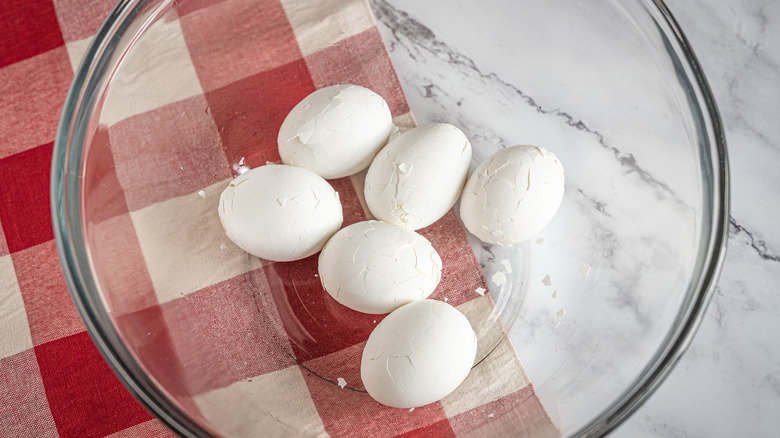 Petar Marshall/Mashed
To get started on making these deviled eggs, first fill a large pot with water. Bring it to a boil on the stovetop and add in the eggs. You'll want to hard boil the eggs for 10 minutes, and once that time has passed, transfer the eggs to a bowl filled with cold water to help them cool. Once the eggs have cooled, swirl them around in the bowl to begin cracking the shells. "This trick begins cracking the shell and makes it so much easier to peel the eggs," says Marshall.
Slice and scoop the hardboiled eggs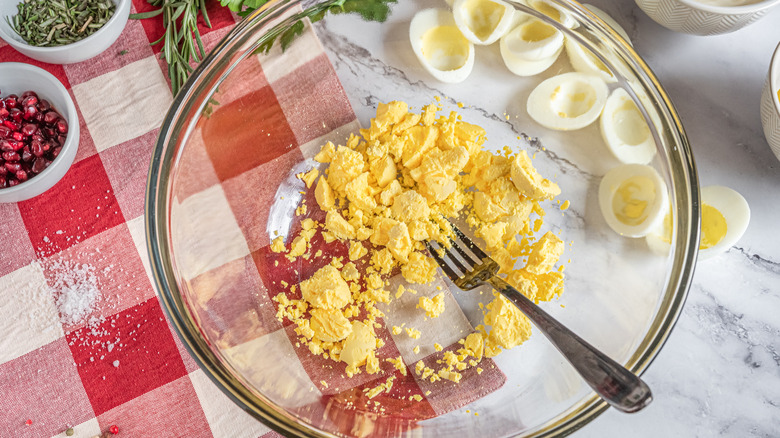 Petar Marshall/Mashed
With the eggs cooled and cracked, run them under water while you peel them. "This is another great trick to make the peeling process simpler and mess-free," says Marshall. Once the shells have been fully removed, cut each hardboiled egg in half. Remove the yellow yolk in the middle of each egg and transfer it to a separate bowl. Then, place the empty egg whites on a plate or on the counter so they're ready for filling once the mixture has been prepped.
Make the deviled egg filling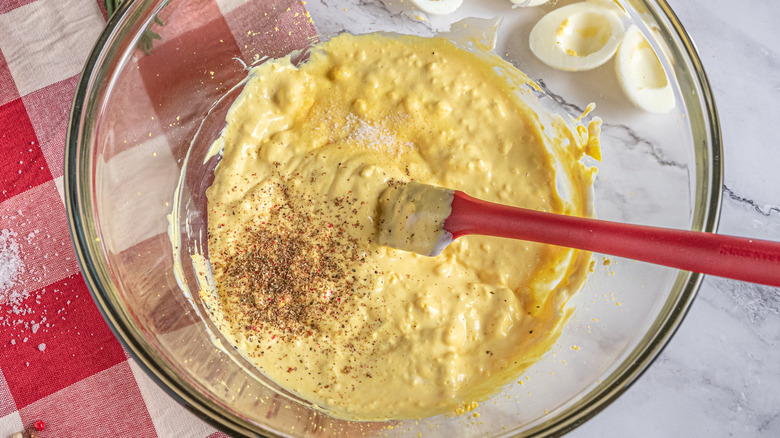 Petar Marshall/Mashed
To make the filling for your deviled eggs, start by mashing the yolks up in a bowl using a fork. Next up, add in the mayonnaise and mustard, and stir with a spatula. Finally, toss in your salt and pepper, and keep in mind that you can add any seasoning that you like during this step. "This recipe is easily adaptable, so you could add chopped dill pickle, celery, or onion to the filling mixture if you'd like as well," says Marshall.
Fill and garnish the deviled eggs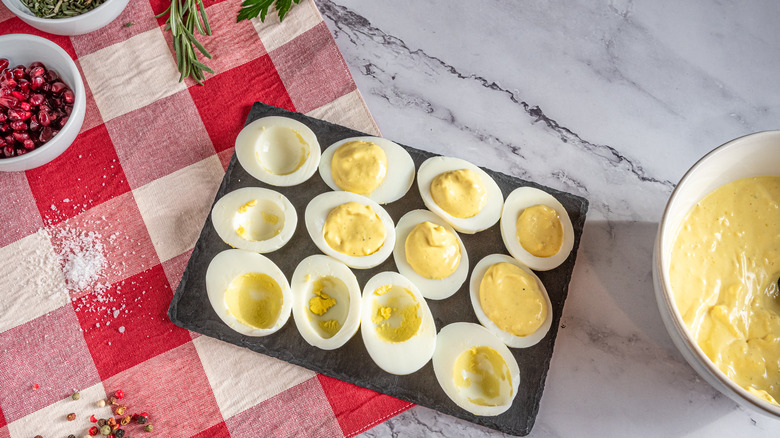 Petar Marshall / Mashed
Once the filling mixture is prepped, you're ready to assemble the deviled eggs. First, be sure that all of the egg whites are placed on a plate or platter with the hole facing up. Then, use a spoon to scoop the filling into the well of each egg. You could also use a piping bag for this step if preferred. Once each egg has been filled, sprinkle the top with chopped rosemary, pomegranate seeds, and then add a leaf of parsley on top. And voila! In just a few simple steps, you've made classic deviled eggs with a fun, festive touch.
Christmas Deviled Eggs Recipe
Deviled eggs are a holiday appetizer staple, and Christmas deviled eggs recipe gives them a colorful and festive twist.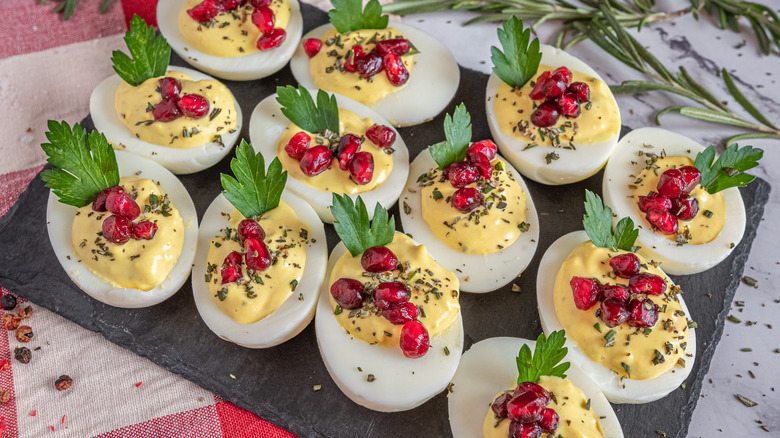 Ingredients
6 eggs
¾ cup mayonnaise
2 tablespoons yellow mustard
¼ teaspoon salt
¼ teaspoon pepper
3 sprigs rosemary, chopped, for garnish
½ cup pomegranate seeds, for garnish
3 sprigs Italian parsley, for garnish
Directions
Fill a large pot with water. Put it on the stovetop on medium-high heat.
Bring the water to a boil and then add the eggs. Cook the eggs for 10 minutes, then transfer them to a bowl with cold water. Allow the eggs to cool to the touch.
Once cooled, swirl the eggs around in a bowl to begin cracking the shells.
Peel the eggs under running water until the shells are removed. Once shells are removed, cut each hard-boiled egg in half.
To make the filling, scoop the cooked yolks into a bowl and mash them up with a fork. Mix in the mayonnaise, mustard, salt, and pepper.
Scoop or pipe the filling mixture into the well of each egg.
Garnish with chopped rosemary, pomegranate seeds, and a leaf of parsley.
Nutrition
| | |
| --- | --- |
| Calories per Serving | 140 |
| Total Fat | 13.4 g |
| Saturated Fat | 2.4 g |
| Trans Fat | 0.0 g |
| Cholesterol | 85.6 mg |
| | |
| --- | --- |
| Total Carbohydrates | 2.0 g |
| Dietary Fiber | 0.6 g |
| Total Sugars | 1.1 g |
| Sodium | 143.2 mg |
| Protein | 3.0 g |