Pull-Apart Christmas Tree Bread Recipe
Erin Johnson/Mashed
Around the holidays, there's nothing quite like having friends and family over for a nice gathering while you enjoy fun and festive dishes. There are many items that you can serve during the merriest time of the year, but if you are searching for a crowd-pleaser, then look no further than this incredible bread. This recipe boasts warm dough, melted cheese, and a pesto and sun-dried tomato topping that tastes every bit as amazing as it sounds. 
Recipe developer Erin Johnson is the brains behind this tasty Christmas tree bread, and there is so much to love about it. "This is a fun and festive way to serve rolls, and it's super easy!" she raves. We think she hit the nail on the head with this recipe! A fun dish that's also easy? Where do we sign up? Keep reading to find out how to make this yummy Christmas tree bread.
Gather the ingredients for this pull-apart Christmas tree bread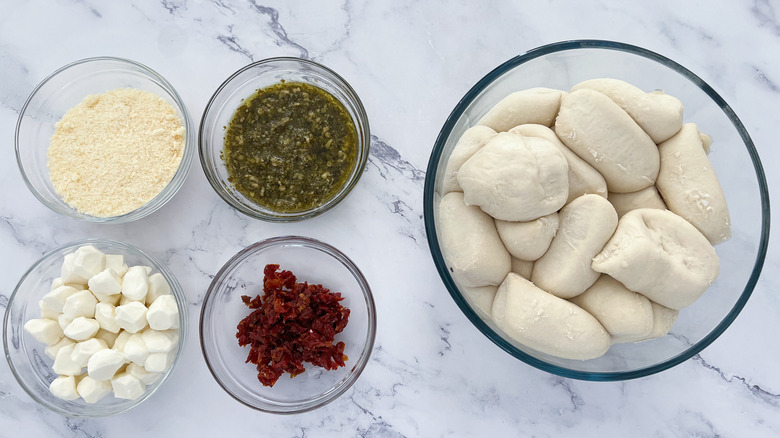 Erin Johnson/Mashed
Ready to get this cooking party started? So are we — let's get down to business! Luckily, this recipe does not require many ingredients, so start off by making a list and heading to the grocery store. First, you will need one package of frozen yeast roll dough. To add a little bit of cheesiness to the dish, throw about 8 ounces of mozzarella balls or pearls into your cart. You will also need to get pesto and grated Parmesan cheese. Last but not least, pick up some sun-dried tomatoes. That's all you need to throw this bread together! 
Preheat the oven and flatten the dough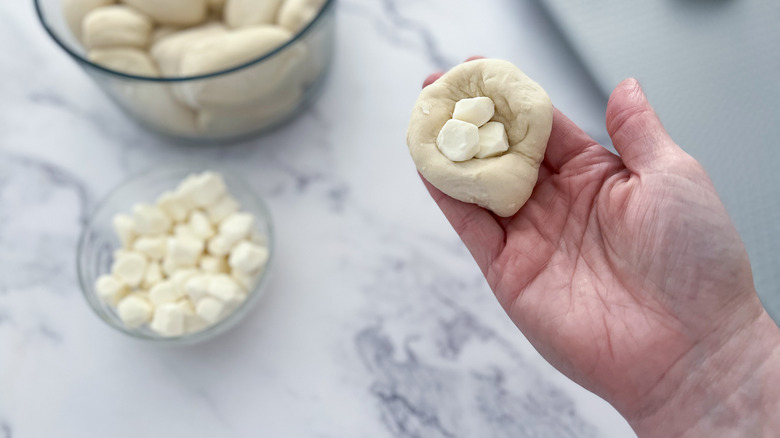 Erin Johnson/Mashed
Now that you have all the ingredients ready, it's time to get cooking! Since you will need to use your oven for this recipe, it's best to preheat it in advance. Turn the dial to 375 F and let it get nice and hot while you tend to the preparation.
In the meantime, grab the yeast dough balls. "I have never used anything else so I couldn't guarantee results with another bread product," Johnson says when asked about a substitute for a yeast dough ball. Flatten the dough and add a mozzarella ball or four pearls to the center. Then, reshape the dough back into a ball around the cheese. 
Arrange the Christmas tree and bake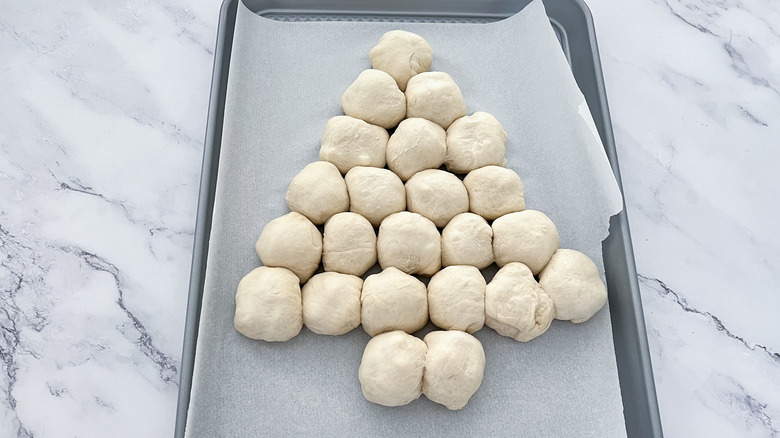 Erin Johnson/Mashed
Once you have buried a cheesy center within each piece of dough, it's time to assemble the tree. Set out a baking sheet lined with parchment paper to make the clean-up easy. You can create whatever scheme you like, just remember that there are 24 rolls. Johnson places two on the bottom for the stem, then she has a row of six, followed by a row of five, four, three, two, finishing with a single roll at the top. Once you're done, pop the rolls into the oven to cook. Set your timer for 20 minutes and let the bread bake until it turns golden brown. The cheese should also melt during this time.
Add the pesto and chopped tomatoes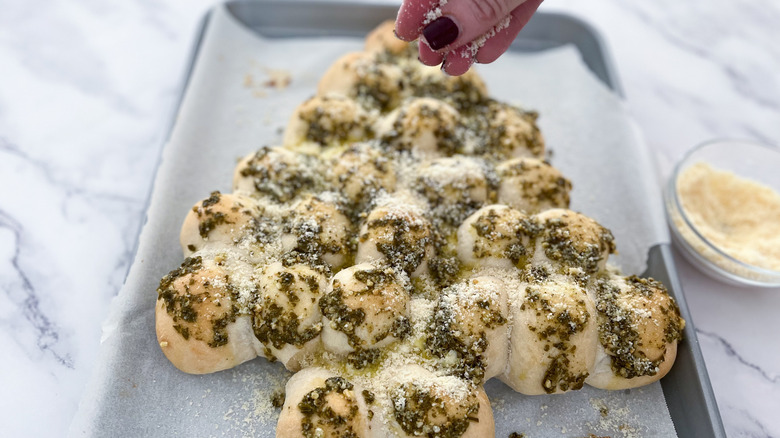 Erin Johnson/Mashed
Carefully remove the bread from the oven and place it in a safe spot on your counter. Be cautious as the baking sheet will be extremely hot. Now, spread the pesto evenly across all of the rolls. "If you didn't want to use pesto, you could just spread melted butter onto the rolls and top with chopped parsley and Parmesan," Johnson shares. Then, sprinkle the Parmesan cheese and the chopped sun-dried tomatoes on top. Return the tray to the oven and bake the rolls for another 5 minutes so the flavors soak into the bread. 
Serve this tasty bread and enjoy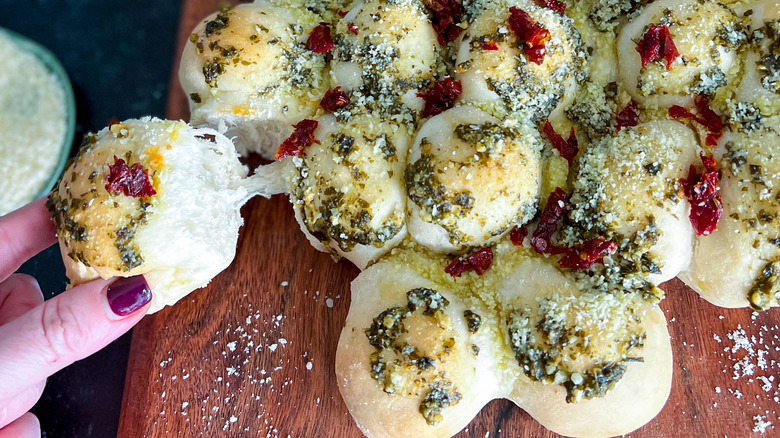 Erin Johnson/Mashed
When you remove the bread from the oven for the second time, it's ready to serve. Don't wait around because this bread is best enjoyed immediately. "I like to serve this as an appetizer and with finger foods. It makes a great centerpiece for a grazing board but is also delicious with any meal," Johnson shares. It also pairs well with a bit of dipping sauce. "I like to serve this with additional pesto and/or marinara sauce," Johnson suggests.
Any leftovers? No worries! "You can store the leftovers (if you have any) in a storage bag in the fridge for up to 3 days," Johnson says. "Reheat in the oven/toaster oven/air fryer until warm."
Pull-Apart Christmas Tree Bread Recipe
This festive Christmas tree bread is a delicious and tempting addition to any holiday spread. Serve it warm and this cheesy bread will become a yearly favorite.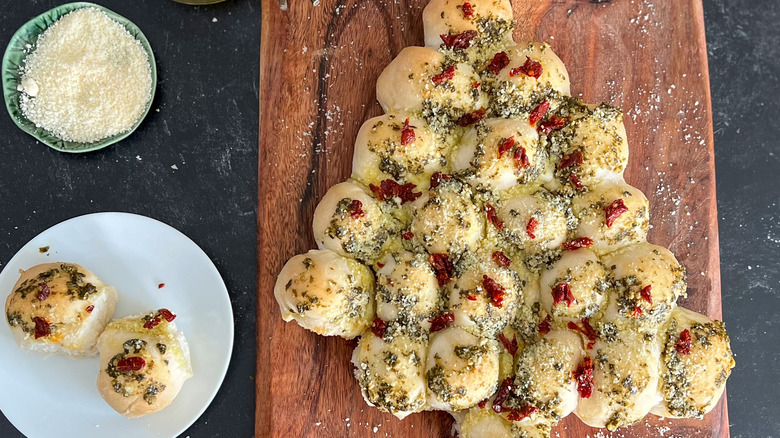 Ingredients
1 (25-ounce) package frozen yeast roll dough, thawed and risen according to package directions (about 24 rolls)
8 ounces mozzarella, balls or pearls
¼ cup pesto
¼ cup Parmesan, grated
2 tablespoons sun-dried tomatoes, chopped
Directions
Preheat the oven to 375 F.
Flatten each yeast roll dough ball and add 1 mozzarella ball (or 4 pearls) to the center, then reshape it into a ball around the cheese.
Once all the rolls are filled with cheese, arrange the dough balls on a baking sheet in a Christmas tree shape.
Bake for 20 minutes or until the rolls are golden brown.
Remove the baking sheet from the oven and spread pesto evenly across the rolls.
Sprinkle the rolls with Parmesan and add the chopped tomatoes over top.
Return the bread to the oven to bake for 5 more minutes.
Serve immediately.
Nutrition
| | |
| --- | --- |
| Calories per Serving | 125 |
| Total Fat | 4.4 g |
| Saturated Fat | 1.9 g |
| Trans Fat | 0.0 |
| Cholesterol | 8.7 mg |
| | |
| --- | --- |
| Total Carbohydrates | 15.4 g |
| Dietary Fiber | 0.9 g |
| Total Sugars | 0.5 g |
| Sodium | 290.6 mg |
| Protein | 5.4 g |