Holiday Chicken Salad Recipe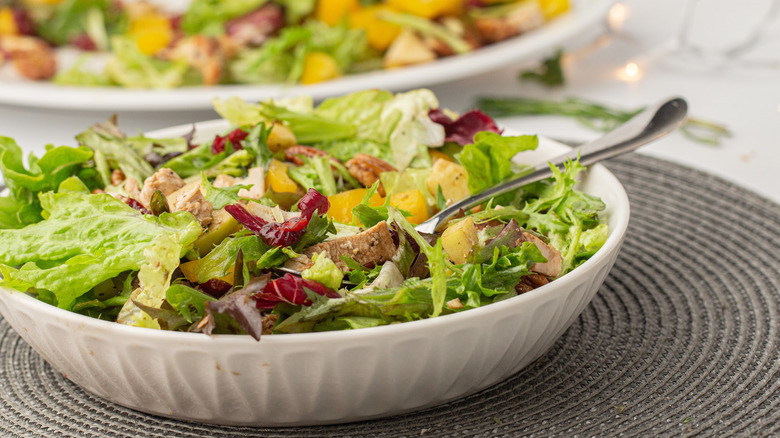 Susan Olayinka/Mashed
Christmas is a time for presents, family, and of course a whole lot of good food. Whether you're a family who loves to hold your big celebration on Christmas Eve or the day of, chances are high that an appetizing spread is involved. Many people love to serve ham and oodles of meat during the holidays, and the carnivore in us loves it! But if you are searching for something on the lighter side, look no further than this holiday chicken salad. It's tasty, filling, festive, and it totally hits the spot. Serve it on the side or as a main course — no matter what you choose, you can't go wrong!
Recipe developer Susan Olayinka of The Flexible Fridge came up with this delicious salad recipe. "People think that Christmas and salad are an oxymoron ... but they can go together on the Christmas table!!" she raves and adds, "I love that readers can have a light option." Keep scrolling for instructions on how to make this delicious salad.
Gather the ingredients for this holiday chicken salad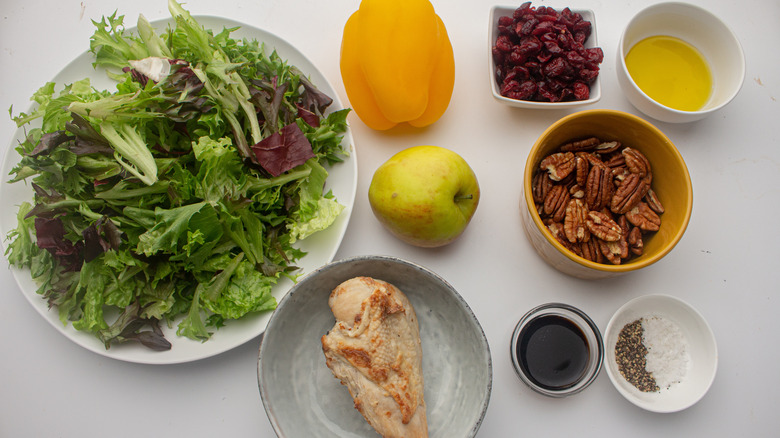 Susan Olayinka/Mashed
Now that you have committed to making this salad, you will need to head to the store to pick up the ingredients. Start with some mixed salad leaves and while you're in the produce aisle, grab a yellow bell pepper and a red apple. Next, pick up one cooked chicken breast, or if you buy a raw one, make it at home ahead of time. If you don't have enough at home, be sure to purchase extra virgin olive oil, balsamic vinegar, sea salt, and pepper. Last but not least, get some pecans and dried cranberries. That's all you will need!
Mix the salad leaves in a bowl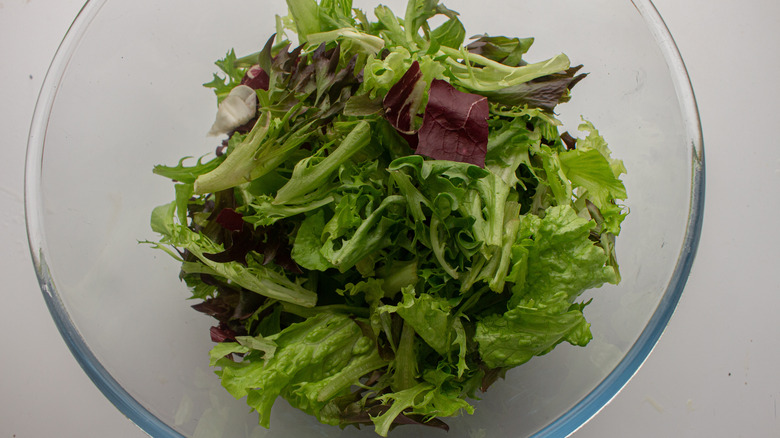 Susan Olayinka/Mashed
Now that you have all of the ingredients, it's time to get started. This recipe requires no cooking (as long as your chicken is ready), and it's really easy to put together. In fact, it only takes about 10 minutes to prepare. This salad makes a great last-minute addition to your Christmas spread and we love how easy it is.
First, grab a serving bowl and add the salad leaves. "Mixed lettuce leaves would be great," Olayinka shares. It's nice to use the same bowl that you will use to serve the salad so you don't get any other dishes dirty. Then, set the bowl to the side because you will need it shortly.
Dice the bell pepper, chicken, and apple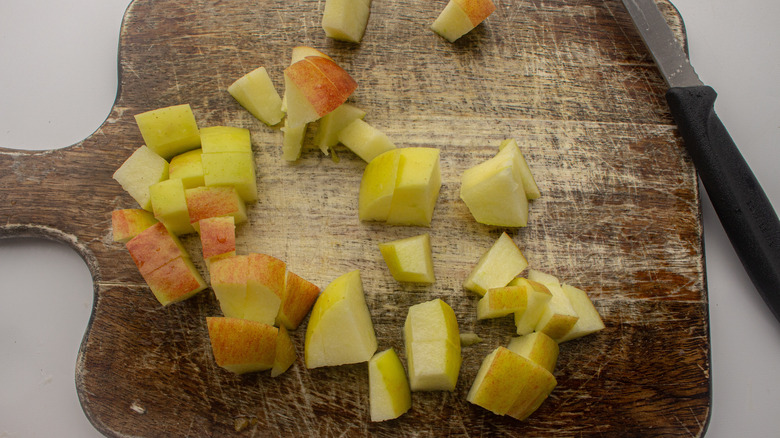 Susan Olayinka/Mashed
Now, get out a cutting board and a knife because it's time to start chopping! Olayinka gives a good tip to help cut with ease: "Use a sharp knife, it will help you dice more finely," she shares. First, grab your bell pepper and dice it completely. Set it to the side and move on to the chicken. As a reminder, it should already be cooked and ready to go. Simply cut the chicken into half-inch cubes and set it to the side. Lastly, you will need to core and dice the apple. 
Make the dressing and combine everything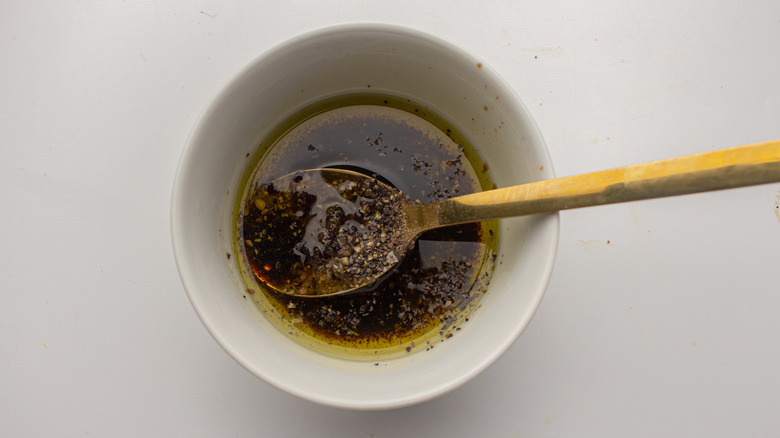 Susan Olayinka/Mashed
Once you finish chopping your ingredients, take out a small mixing bowl. Go ahead and pour in the olive oil first, followed by the balsamic vinegar. Now, sprinkle in the salt and black pepper. Using a spoon, mix everything together to make the dressing. "It's sweet and savory, perfect for salads like this," Olayinka shares.
Grab the bowl with the lettuce leaves and add in the bell pepper, chicken, apples, pecans, and dried cranberries. Now, it's really coming together! The last thing you need to do is drizzle the dressing on top and mix to properly coat the leaves.
Serve this tasty salad and enjoy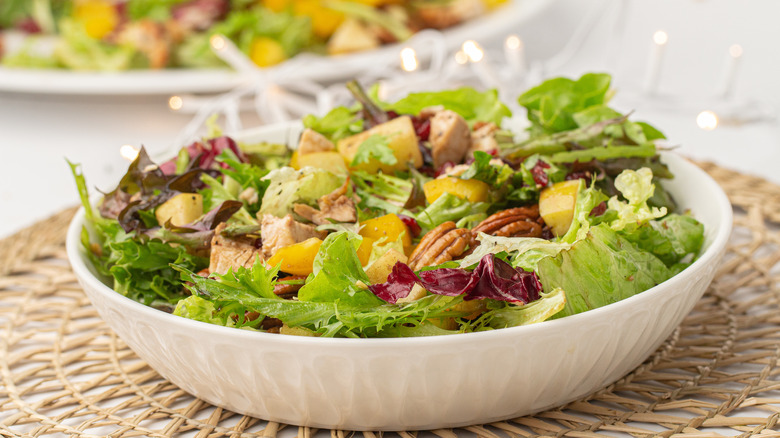 Susan Olayinka/Mashed
Once you have combined everything, you can partake in the best part — digging in! This salad is perfect as a main course, or it would be a great side to accompany a protein, pasta, or pretty much anything else. Since the salad is dressed, it's best to enjoy it right away. "If you want to save it for leftovers, don't dress the salad," Olayinka notes. "Keep it dry and dress [it] after when you're ready to have it."
Holiday Chicken Salad Recipe
Try something new this holiday season with a light and nourishing chicken salad. Enjoy it as a main course or serve it on the side with the rest of your spread.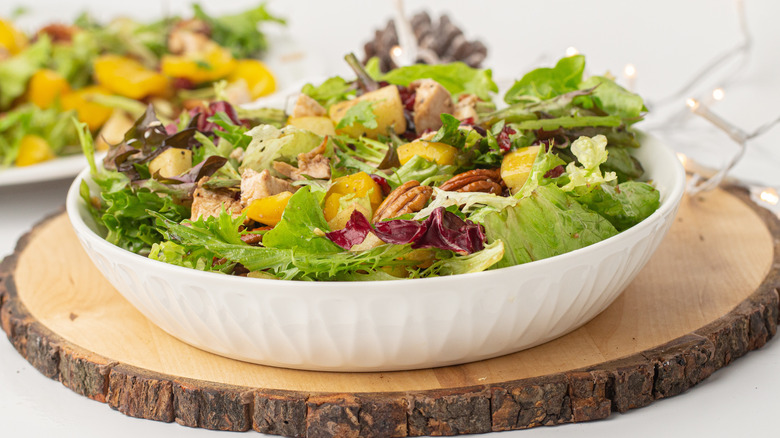 Ingredients
3 ½ ounces mixed salad leaves
1 yellow bell pepper
1 cooked chicken breast
1 red apple
2 tablespoons extra virgin olive oil
1 tablespoon balsamic vinegar
¼ teaspoon sea salt
¼ teaspoon black pepper
½ cup pecans
½ cup dried cranberries
Directions
Add the mixed salad leaves to a serving bowl and set it aside.
Dice the bell pepper and the cooked chicken into ½-inch cubes.
Core and dice the apple into ½-inch cubes.
Add oil, balsamic vinegar, salt, and black pepper to a small bowl and mix to combine.
Add the chopped bell pepper, cooked chicken, apples, pecans, and dried cranberries to the salad leaves.
Drizzle the salad dressing on top and mix everything together.
Serve the salad.
Nutrition
| | |
| --- | --- |
| Calories per Serving | 258 |
| Total Fat | 16.6 g |
| Saturated Fat | 1.9 g |
| Trans Fat | 0.0 g |
| Cholesterol | 11.1 mg |
| | |
| --- | --- |
| Total Carbohydrates | 25.0 g |
| Dietary Fiber | 4.1 g |
| Total Sugars | 16.0 g |
| Sodium | 132.1 mg |
| Protein | 6.1 g |