Strawberry Shortcakes Are The Perfect Easy Summer Dessert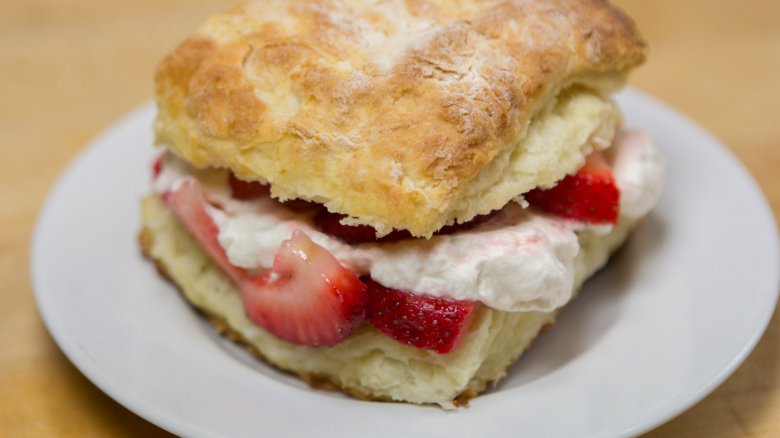 Strawberry shortcake is the quintessential summer dessert. At once rich, vibrant, and sweet, this layered treat combines seasonal strawberries with a rich biscuit. While it's unclear who decided to combine European shortcakes—aka biscuits—with strawberries, many food historians would say it's an American invention. Nowadays, you will find this dessert taking on many forms. While using a biscuit is traditional, you might find bakers who opt for sponge cake just as easily. In most cases though, whipped cream and juicy berries are involved.
Here, a rich homemade buttermilk biscuit is topped with vanilla-accented whipped cream and perfectly macerated strawberries. The satisfaction that comes with whipping up this warm-weather dish from scratch is immense, so don't miss out!
Gather the ingredients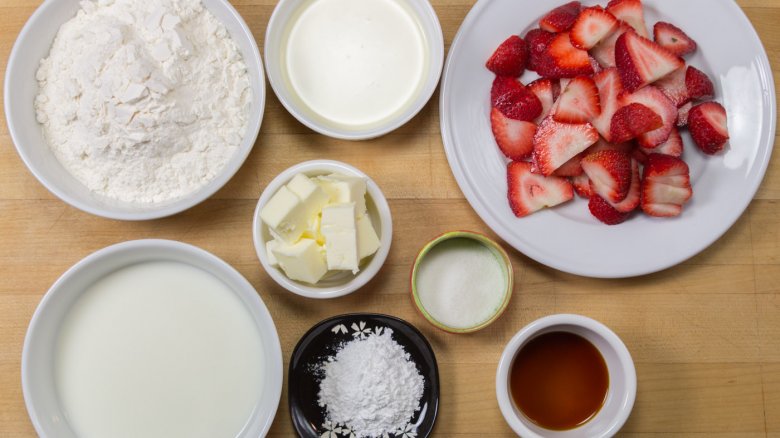 Use my go-to buttermilk biscuit recipe to whip up some flaky shortcakes. All you need are flour, baking powder, butter, and buttermilk. They are incredibly simple — dangerously so. Then, of course, you need fresh strawberries. For these, go crazy and splurge on the pricier farmers market ones. Trust me on this count. Lastly, grab the heavy cream and vanilla extract.
Make the buttermilk biscuits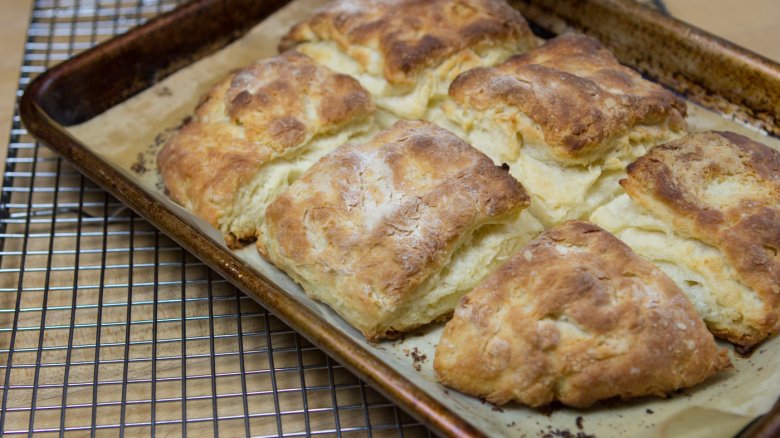 You can read the recipe for the full details on these delicious biscuits here. Make them and enjoy in the form of strawberry shortcakes, but you may be tempted to make extra to have for breakfast with jam the next day. Just saying.
Combine the strawberries and sugar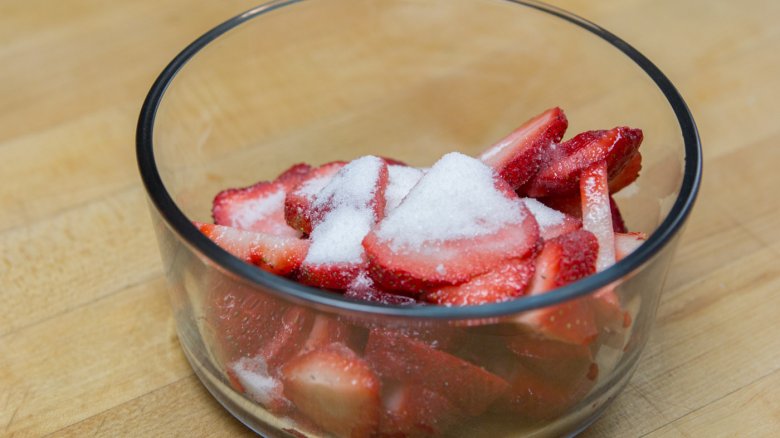 Sweet strawberries make this dish even better. Throw together the sliced strawberries and sugar in a bowl. Try to coat all the berries thoroughly.
Time to let those berries macerate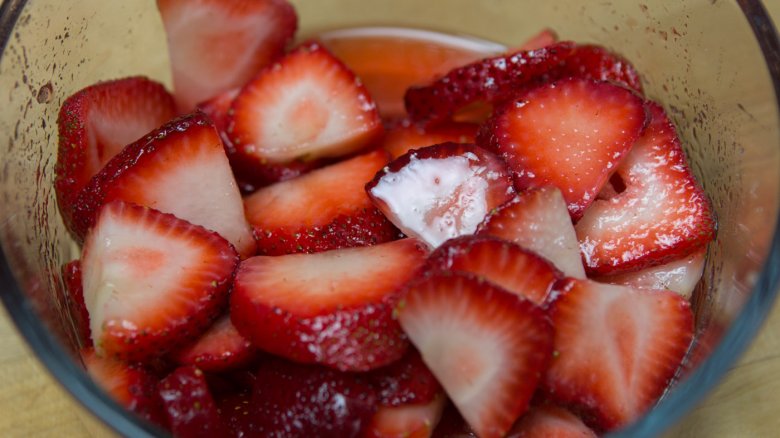 Macerate is a fancy way to explain the process of softening foods using liquid. Here, you want to macerate the strawberries by allowing them to sit with the sugar for long enough that the berries release their natural juices and become soft. This is an easy technique for creating a sweet fruity side without much effort. You can easily swap out strawberries for another type of fruit if you want a tasty garnish for another dessert.
Whip the cream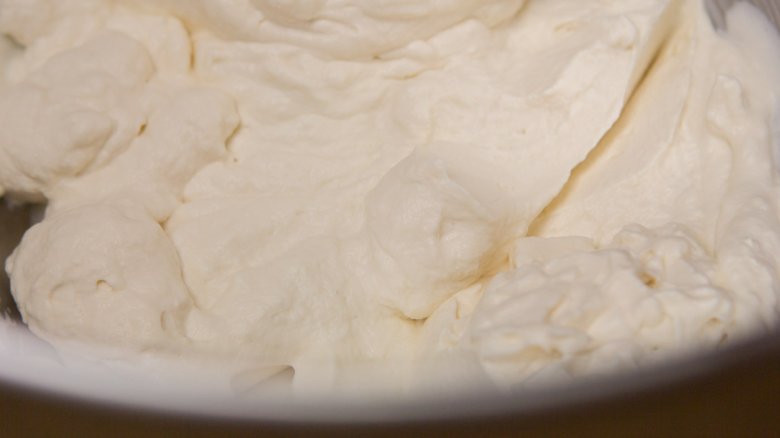 Whipped cream that comes in a can or from the freezer just doesn't compare to the real stuff you can make yourself. Don't be intimidated — it's actually really simple. Just add the vanilla to your heavy cream and whip it until you've got whipped cream. 
Whether you whip the cream with an electric mixer or by hand using an old-fashion wire whisk, pay attention to the mixture. You want to catch it just as the peaks stiffen. If you go much beyond this point, you might end up with butter. Yikes!
Assemble the strawberry shortcakes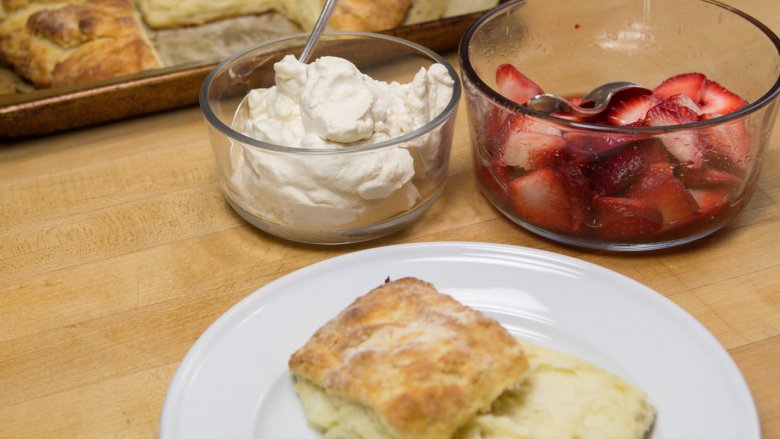 Now to the fun part: assembling the shortcakes. I like to make sure there are plenty of strawberries along with their juices, as well as generous dollops of whipped cream. This is no time to be shy or attempt to show restraint.
Serve the strawberry shortcakes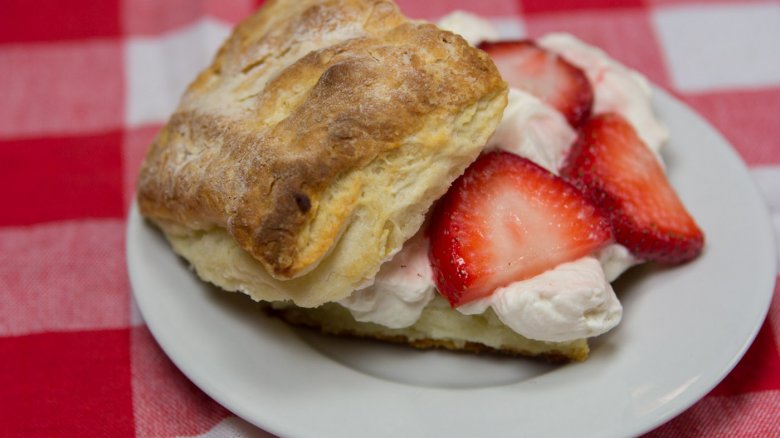 Repeat the assembly until you have 4 to 6 picture-perfect little strawberry shortcakes, depending on how much filling you use. Grab forks and dig in.
Directions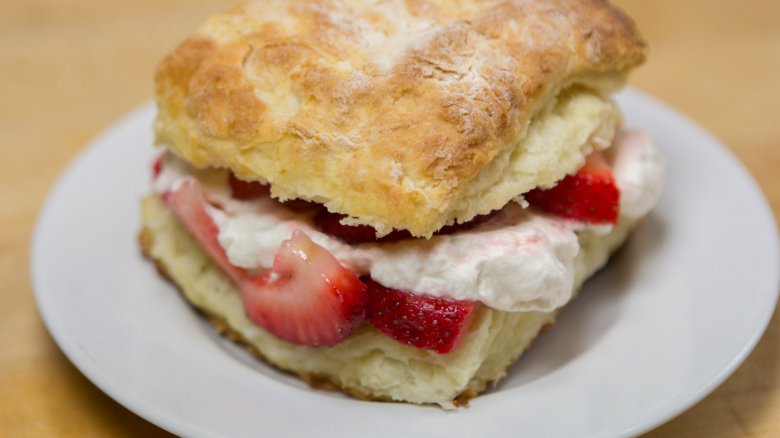 Prep time: 30 minutes
Cook time: 25 minutes
Servings: 4-6
Ingredients:
2 cups all-purpose flour
1 tablespoon baking powder
1 ½ teaspoons kosher salt
1 stick cold unsalted butter, cubed
1 cup buttermilk
1 ½ to 2 cups fresh strawberries, hulled and thinly sliced
2 tablespoons granulated sugar
1 cup heavy cream
2 teaspoons vanilla extract
Directions:
Use the first five ingredients to make bakery-style buttermilk biscuits using this recipe. Set aside to cool completely.
While the biscuits bake, in a medium bowl, combine the strawberries and sugar. Set aside until strawberries have released their juices and macerated, about 20 minutes.
While the strawberries macerate, in a large bowl fitted to a stand mixer or using a large bowl and wire whisk, whip the heavy cream and vanilla extract until stiff peaks form.
Working one at a time, halve the biscuits horizontally. Layer with the macerated strawberries, whipped cream, and more strawberries, dividing evenly. Top with the other half of the biscuit, if desired. Enjoy!