Reddit User Turned An Aldi Cabinet Into The Perfect Little Coffee Bar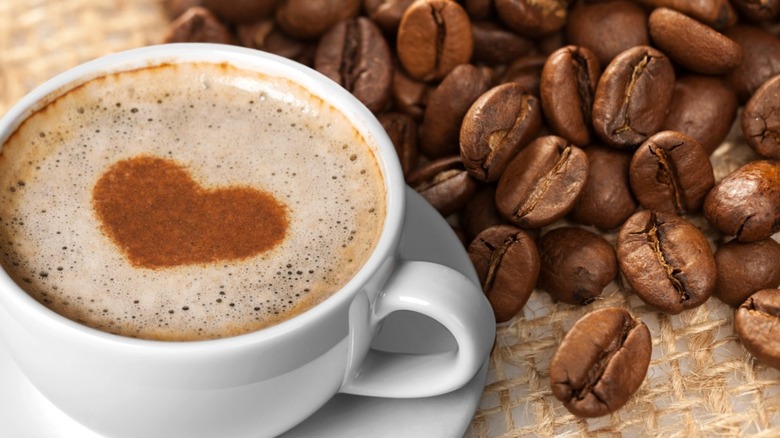 Billion Photos/Shutterstock
Mornings look different for everyone, but if there's one thing that a majority of us have in common, it's the need for a nice cup of coffee during those early hours of the day. Per Brew Smartly, 64% of the American population indulges in the caffeinated drink on a daily basis, with the average java lover downing nearly three 9-ounce cups of the stuff every day. That's a lot of joe! And while most people have one particular coffee chain that they prefer over the rest, the National Coffee Association reports that home-brewing has reached record highs in recent years, with 85% of coffee drinkers sipping at least one cup from the comfort of their own home.
If you're one of the many that have gotten in the habit of staying in for your morning coffee, you may have also invested in a few gadgets like a coffee machine or an electric coffee bean grinder to help make your first sip as perfect as it can be. Unfortunately, these appliances can also take up a hefty amount of space in the kitchen — though one Reddit user recently shared a nice solution to this dilemma. Taking to the Aldi Subreddit page, user u/Omgitsadri revealed that they had created a separate space for their java-related housewares using a somewhat surprising piece of furniture from the favorite grocery store, and their fellow Aldi shoppers on the thread are loving the results.
Aldi shoppers are loving the creative use of this accent piece as a coffee bar
We all know that Aldi is the place to go when we want to fill our fridge for a fraction of the price, but food isn't all that you can find at the grocery store. The popular chain also sells furniture, one piece of which Reddit user u/Omgitsadri recently used to make an impressive upgrade in their home. "Grey SOHO cabinet. I turned [mine] into a little coffee bar," the Redditor shared on the Aldi Subreddit page recently. The user also posted a snap of the setup, showing their Keurig machine, K-cups, and espresso mugs on top of the grey accent piece while using the enclosed shelves underneath to store a few other coffee-related goods.
Though the user said they employed the chain's SOHO cabinet to create their coffee bar, the piece they're referring to actually appears to be the SOHL Furniture Accent Cabinet. According to Aisle of Shame, the double-doored gray accent cabinet was priced at $79.99 when it hit shelves last month and can also be found in white and teal.
Typo aside, Aldi shoppers loved the Redditor's creativity and weren't shy to show their coffee bar some love. "So cute! What a great idea," one person wrote. "Oh wow! Adorable! I really want to do this too!" commented another, while a third said they wanted to do something similar as well. The Redditor may not realize it, but it looks like they've started a new trend for 2022!