This Coffee Grinder Has Thousands Of 5-Star Reviews And Is Under $20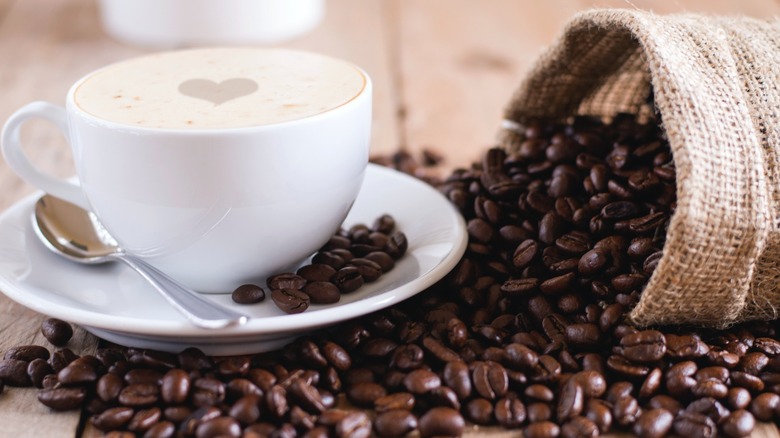 Mike Kenneally on Unsplash
We may receive a commission on purchases made from links.
Have you been wanting to up your coffee game, but have no idea where to start? I get it, shopping for coffee accessories can be extremely overwhelming. There are French presses, Keurigs, traditional coffee makers, espresso machines, and that's not even all of them. According to the National Coffee Association, 2020 data shows that the average American will drink about three cups of coffee per day, which has led to an increase in overall coffee consumption by five percent since 2015. Suffice to say, America runs on coffee. So when a Hamilton Beach electric coffee grinder has almost 28,000 five-star global ratings on Amazon, you can trust it's going to get the job done.
Why a coffee grinder, you may ask? For starters, it allows you to be in total control from start to finish, because the coffee's depth of flavor and strength is determined during the grinding process, explains Java Presse. This makes for a more customized experience, unlike store bought ground coffee grinds, which are one and the same (sorry not sorry). It's no surprise this particular electric grinder is selling like hotcakes. Not only can it grind enough beans for 12 cups of coffee at a time, but it's also under $20. It'd be a coffee crime not to buy it.
Reviews say it's the quietest electric grinder on the market
Unlike the smell of freshly brewed coffee, waking up to the sound of coffee being ground is not as idyllic ... unless you have a Hamilton Beach electric grinder, that is. Amazon customers scored the grinder a 4.3 or higher in almost every category including easy to use, easy to clean, durability, and noise level. The latter of which really deserves its own spotlight. The manufacturer notes that the addition of stainless steel blades was able to significantly cut down the noise level, making it the quietest electric grinder on the market!
And that's not just a marketing tactic — consumers agree it really is a silent machine. One review read: "This thing is fantastic ... it's definitely something I can use and not worry about waking up my kiddos." Another person noted the low noise level, writing that they were even able to grind up peppercorns without causing a raucous scenario.
Other highlights of the coffee grinder include the removable grinding chamber (cleaning has never been easier) and hidden cord storage, allowing you to safely store it on the countertop or in compact spaces. Plus, let's not forget the bargain price.
Purchase the Hamilton Beach Electric Grinder on Amazon for $16.99.