This Adorable Santa Sushi Is Making Instagram Merry And Bright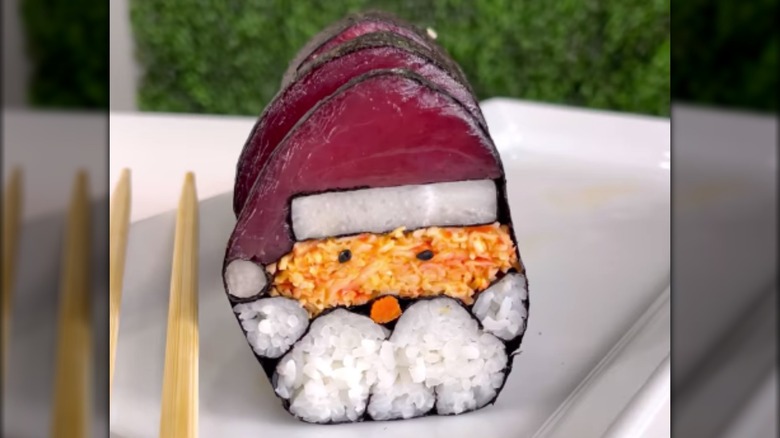 Instagram
We have once again reached that time of year when making and eating festive treats is a near-daily occurrence. There are plenty of holiday standards to enjoy, like kheer (rice pudding) for Diwali, Greek saganaki, apple cake for Rosh Hashanah, French yule log cake, and, well, about a thousand others (via All About Cuisines).
Don't get us wrong, those are all great — they're classics for a reason. But then there's the cookies that look like reindeer, Martha Stewart's marshmallow dreidels, and cheeses cut into Christmas tree shapes. It truly doesn't get much better than themed snacks.
These festive cutesy treats are practically becoming their own industry — as seen on image and video-centric social media platforms like TikTok, Instagram, and Snapchat — so we can't be surprised people are losing their minds over photos of particularly unique holiday creations. Honestly, you might lose your mind too when you see one creator's Santa-shaped sushi.
Santa's on a (sushi) roll this year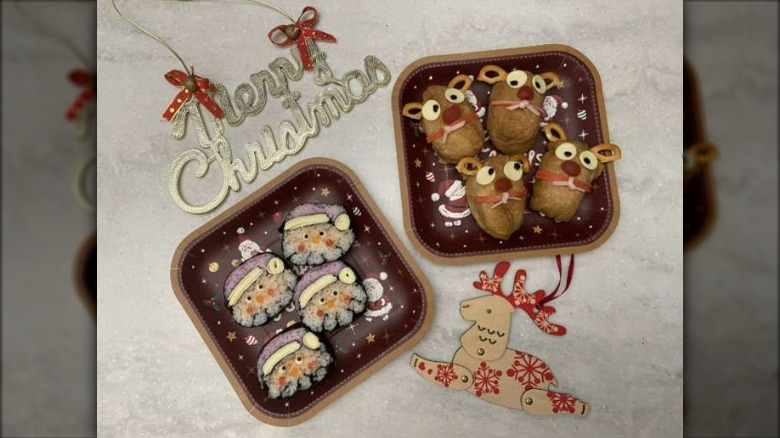 YUCa's Japanese Cooking/Instagram
In Instagram user wavemountdora's video, a Santa-shaped sushi roll comes to life before your very eyes. Rice, fish, and other ingredients like carrots are wrapped together with seaweed, ultimately looking just like Santa.
The account that reposted the video, taystytravels, called the final product "amazing," asking their followers: "Do you think Santa would approve?" More than 4000 people liked the post and nearly 300 commented. One commenter called the roll "the cutest sushi I've ever seen," adding three crying emojis for emphasis. Another, foodboytroy, said "That looks delicious and creative," followed by the heart-eyes emoji.
YUCa's Japanese Cooking also posted a rendition of Santa-shaped sushi to Instagram, and on her website, shared recipes for both her Santa sushi and reindeer Inari sushi. Instagram user Daniela_takami commented on the post, deeming the creations "So cute!"
Whether you order your holiday treats from local businesses or make your own at home, have fun with it. Be creative. And most importantly, enjoy your snacks with family and friends — that's what the holidays are all about.