Kevin Bacon Said This Viral 'Bread Turkey' TikTok Is Like A Warm Hug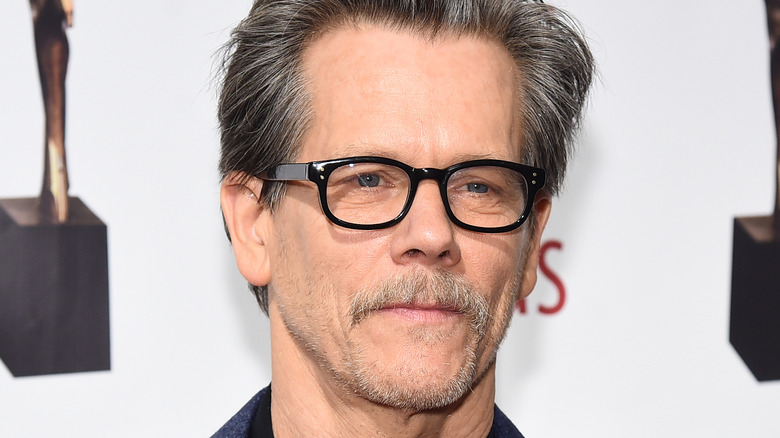 Jamie Mccarthy/Getty Images
Instagrammer and TikToker Cottage Loaves has been posting loaves of bread that are works of art since 2020. Their aesthetic is rustic, flowery, and fun. Cottage Loaves also manages to be just about the sweetest thing you'll find in social media baking, which is quite a feat considering they specialize in sourdough.
Cottage Loaves has a loaf for every occasion. On their Instagram account or TikTok, you'll find a loaf of cupid sourdough for Valentine's Day; menorah, Grinch, and Santa loves in December; and even a loaf of bread that commemorated the 2021 Rose Bowl football game between Notre Dame and the University of Alabama. For Thanksgiving 2020, Cottage Loaves showed in a TikTok video how to make a sourdough turkey centerpiece for your holiday table. They scored the edges of a round loaf to shape the tail feathers, then colored the feathers, beak, and bright red wattle using spices, vegetable powders, and citric acid for paint. As impressive as it was, that Thanksgiving project from a year ago looked like a grade-school assignment next to what Cottage Loaves came up with for Thanksgiving 2021. This year's holiday loaf was so impressive, it even caught the eye of the actor who seems to be only a few degrees of separation from absolutely everyone: Kevin Bacon.
Kevin Bacon was impressed with TikTok's sourdough turkey
TikToker Cottage Loaves actually posted a how-to video for their 2021 Thanksgiving sourdough loaf on September 26. As explained in an accompanying Instagram tutorial posted the same day, they hoped the video would motivate people to start their sourdough starter in time for the holidays. This "turkey loaf" actually looks like a turkey, complete with wings and drumsticks. The loaf even comes out of the oven looking like a roasted turkey, thanks to a sprinkle of paprika and cocoa powder over the "breast." To get the golden brown look, Cottage Loaves took the lid off the dutch oven about halfway through baking. The final touch is a baste with olive oil for a little sheen. "Perfect for those who are vegan!" Cottage Loaves wrote on Instagram.
On TikTok, commenters were impressed. "No turkeys were harmed in the making of this film," user @xdedsoncruz1 quipped. Quite out of the blue, Kevin Bacon slipped into the TikTok comments to say, "Watching this was like a warm hug" — a kind and accurate statement from the actor with more than 100 credits listed on his IMDb page. "Oh my goodness thank you sweet loaf!" Cottage Loaves replied. (They call everyone "sweet loaf," by the way.) TikToker @ccbeth27 "liked" Bacon's comment without noticing right away who had posted it. "Now we're all less than six degrees from him," @ccbeth27 said.